In January, I wrote a column making the case that cars are the new computers. I predicted that 2015 would be remembered in the technology industry as "the year of the car." If reports from the Wall Street Journal and the Financial Times on Friday are accurate, that could be truer than I imagined.
Over the years, Apple has built computers, music players, smartphones, and tablets. Now, the WSJ says, it is building an electric car—or, more specifically, a "minivan-like vehicle:"
Apple has several hundred employees working secretly toward creating an Apple-branded electric vehicle, according to people familiar with the matter. They said the project, code-named "Titan," has an initial design of a vehicle that resembles a minivan, one of these people said.
Could this be what Apple CEO Tim Cook was referring to when he said in September that the company is working on products "that haven't been rumored yet?"
Apple declined to speak with me about the report, saying it won't comment on rumor or speculation. It also declined comment to the WSJ.
So, first things first: Whenever you're basing a big news report on unnamed "people familiar with the matter," you're bound to end up with something less than the full story. That said, the WSJ is not the New York Post: It doesn't go with a story this big unless a lot of editors are convinced there's something to it. The story includes plenty of caveats, including the biggest, which is that "Apple may not decide to proceed with a car." It could just be an idea they're experimenting with.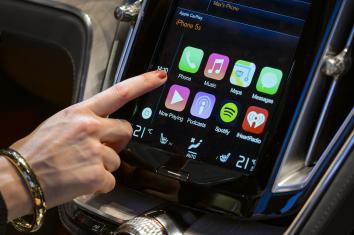 If so, however, it does not appear to be merely the idle noodling of a tech company pondering its next move. The WSJ reports that former Ford Motor Co. engineer Steve Zadesky is leading the project, approved by CEO Tim Cook a year ago. He has been given a 1,000-person team to work on it. You do not put a 1,000-person team on a product you don't have at least a very strong hope of turning into a reality. Not even if you're Apple, one of the richest companies in the history of the world.
Nor is the WSJ the only outlet that has picked up on the automotive rumblings emanating from Cupertino. Its report followed a story earlier Friday in the Financial Times that Apple has been recruiting automotive designers to work in "a new top-secret research lab." Among Apple's stealth hires: a former Mercedes-Benz research and development chief.
So far, Apple's foray into automotive technology has centered on software that turns your dashboard into an iPhone-like computer. Called CarPlay, Apple's in-dash technology is competing with similar offerings from Google and the automakers themselves. The FT acknowledged the possibility that software may still be Apple's focus. But it added that the background of the people Apple has been hiring suggests that something much bigger is in the works:
 "Three months ago I would have said it was CarPlay," said one person who has worked closely with Apple for many years, referring to Apple's infotainment system. "Today I think it's a car."
Apple would not be the only Silicon Valley giant to try its hand in the car business. Google has been working for years on self-driving car technology, and it's now said to be in talks with major automakers to bring that to market. Meanwhile, Tesla has found enormous success building all-electric luxury cars, and last year it took the bold step of making its patents public in hopes of encouraging rivals to join it in the electric-car business.
If it's true that Apple is getting into the game, Tesla may get even more competition than it bargained for. The reports come a year after reports that Tesla was meeting with Apple about a possible deal or merger. Maybe Apple wanted to explore that option before it decided to build a vehicle of its own.
Building a car for the mass market is an incredibly complex and expensive business proposition. It might still be the case that Apple's ambitions amount to something more modest than that. But that isn't going to stop the tech and auto industries from wondering just what an iVan might look like. Here are a few of the early reactions:
Previously in Slate: