Google's headquarters, known as the Googleplex, was a pretty spiffy joint when it was constructed in the 1990s as the home base for Silicon Graphics. But two decades have sapped the luster from its sprawling office-park design. Meanwhile, rival tech firms like Apple, Amazon, and Facebook have been busy erecting gleaming, futuristic monuments to their own unfathomable wealth and self-image.
Not surprisingly, Google has its eye on a sparkling new showpiece of its own. On Friday, it revealed its plans for a new Googleplex in the North Bayshore section of Mountain View, California, adjacent to its current headquarters. They're wildly ambitious, high-concept, weird, and perhaps a little naively utopian. Which is to say, they're just as Googley as you'd imagine.
Instead of solid buildings, the plans call for a series of soaring, tentlike structures with canopies of translucent glass. Arrayed beneath each glass canopy are lightweight, modular subbuildings that can be easily rearranged to accommodate different types of spaces and projects. Snaking around them are tree-studded walking and biking paths, some of which would be lined with shops and restaurants and open to the public. Meadows and creeks would link the campus to the neighboring San Francisco Bay.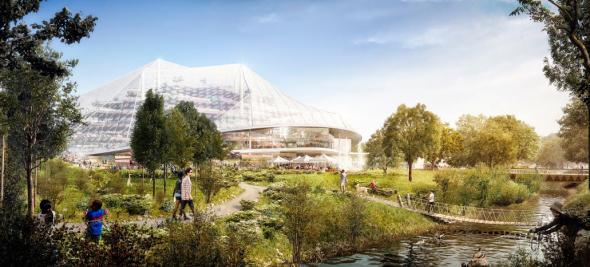 Conceptually, the project is about minimizing the boundaries between indoors and out, permanent and temporary, public and private. Architect Bjarke Ingels and designer Thomas Heatherwick and some other trendy-looking people explain their thinking at some length in the video below:
I can see them now: hordes of bright-tailed, bushy-eyed Googlers, coasting silently to work on their self-driving solar-powered bikes, saving the world by lunchtime and then rearranging their offices to save it again in a different way before dinner. All while mingling fruitfully with the diverse yet clean-cut local Mountain Viewers who for some reason will find it convenient to cut through North Bayshore on their daily constitutionals.
Radical as the drawings might seem at first glance, they carry echoes of other major office projects by tech goliaths. The Big Top superstructures call to mind Amazon's downtown Seattle biospheres. And Apple has been building Apple Stores out of transparent glass for years.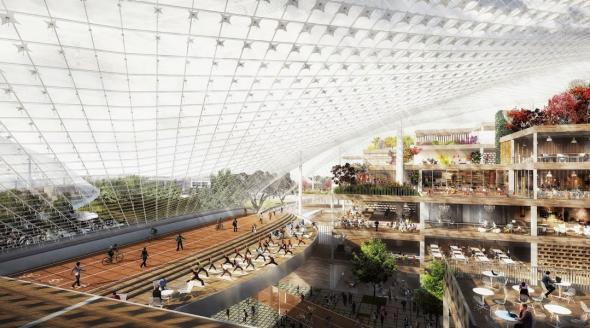 Still, the openness and irregularity of the proposed Googleplex contrasts aptly with the monolithic insularity of Apple's new "spaceship" headquarters in Cupertino. The difference in approach aptly reflects the two companies' corporate philosophies.
The big question is how much of this Google will be allowed to build. The City of Mountain View is entertaining various options for its planned development of the North Bayshore area, of which Google's is one. According to the Silicon Valley Business Journal, LinkedIn plans to submit its own proposal for the area by the city's Friday afternoon deadline.
Mountain View harbors mixed feelings about becoming Googletown, U.S.A. The company's prominence has helped to put the once-sleepy, suburban city of 75,000 on the world map. But it and other Silicon Valley enclaves, including Cupertino, are wary of becoming de facto company towns, dependent on the fortunes of a single megacorporation—especially one in an industry as volatile as technology.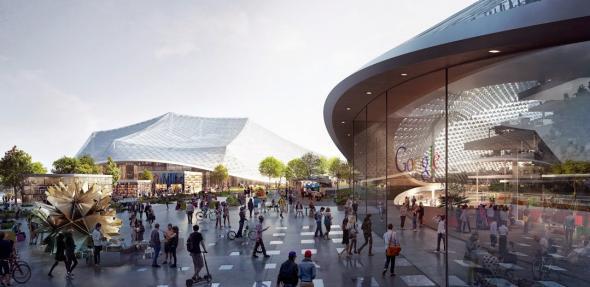 They're also besieged by traffic, thanks to zoning laws and traffic infrastructure that are better suited to a bedroom community than a global tech hub. (The plot on which today's Googleplex sits was literally a farm before SGI built on it in the 1990s.) This is despite the big tech companies' earnest efforts to help their employees get to work by bike, train, and private bus rather than by car.
Handing a portion of North Bayshore to LinkedIn rather than Google wouldn't exactly solve everything. That said, local planning processes aren't so much about solutions as they are about compromises—a word you'll rarely hear on the tree-lined bike paths of a Googleplex.
Previously in Slate: