Death has always presented a delicate problem for Facebook and other social networks. In theory, the deceased's timeline is the perfect virtual venue for far-flung friends and family to commiserate and share their memories. But people don't always leave their Facebook pages in a condition that they—or their loved ones—would want to see preserved for all posterity.
Until now, there has been no way to manage a dead person's Facebook account—and no way to tell Facebook what you want to happen to yours when you're gone. A close relative could request that it be "memorialized," which locks and freezes the account forever. Or they could petition for it to be deactivated and taken down. (Facebook users could also, of course, simply give a loved one their passwords, handing over full control of their accounts. But that was a violation of Facebook's terms of service.)
Today the social network announced a new setting that will give every Facebook user the option to have their account permanently deleted when they die. Alternatively, users can now designate a "legacy contact"—a friend or family member to take control of certain aspects of their account after death. Specifically, the legacy contact will be able to:
Change the dead person's profile picture and cover photo
Write a special post that will be pinned to the top of his or her timeline (e.g., a memorial service announcement)
Accept friend requests from real-life friends and family who weren't connected to the deceased on Facebook
Those particular features were among those most requested by Facebook users who gave the company feedback on its memorial-page policies, said Vanessa Callison-Burch, a Facebook product manager, in an interview Wednesday ahead of the announcement.
"For example, there was a mom who reached out to us and said her daughter passed away, and there were two cousins who weren't yet connected to her on Facebook" and so were unable to view her page, even as other friends and family members were posting remembrances there. In another instance, Callison-Burch said, family members asked to be able to change the profile photo of a dead relative who had recently changed her profile photo to a picture of a fish, perhaps as a playful joke. Under Facebook's old policies, the fish would have remained her profile photo forever.
Facebook users will also have the option to allow their legacy contact to download an archive of the photos, posts, and profile information they had shared on the site. The contact will not, however, be able to view or download the deceased's messages. Facebook told me it regards that information as private even after a user has passed away. Legacy contacts also won't have the power to edit or delete posts that the deceased has shared in the past, or posts that others have shared on his or her timeline.
"That was a decision we thought through a lot," Callison-Burch told me. "For this version, we're not giving [legacy contacts] the ability to curate past content." But, she added, the company will continue to think through the best way to handle dead people's accounts and might revisit what features are available to legacy contacts in the future.
Designating a legacy contact, then, won't save your Facebook memorial page from the embarrassing photos you've posted there over the years. Unless you choose to have your account deleted, those posts will remain visible to the people with whom you originally shared them. But the option to change the cover photo and profile picture and pin a new post to the top of your timeline will at least push any unfortunate content further down the page, where your survivors can avoid seeing it if they want to.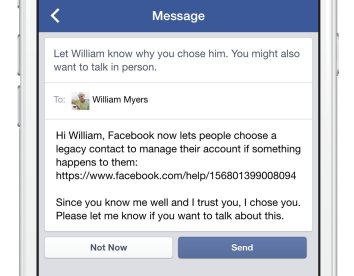 Facebook will also add the word "Remembering" above dead users' names on their timeline, which will help to distinguish memorial pages from the Facebook pages of the living.
The ability for Facebook users to make their own choice as to whether they'd like their social media profiles to be immortal is a welcome change. It would be nice to see more tech companies follow its lead in thoughtfully addressing what happens to users' data when they die. (Google, for its part, has given Gmail users similar options for their digital legacy since 2013.)
For now, however, Facebook won't take the awkward step of actively prompting users to visit their legacy contact settings. If you want to do so, here's how, via Facebook's announcement about the new feature:
Open your settings. Choose Security and then Legacy Contact at the bottom of the page.
After choosing your legacy contact, you'll have the option to send a message to that person.
You may give your legacy contact permission to download an archive of the posts, photos and profile info you've shared on Facebook.
Update, Feb. 12, 2015: Facebook's "legacy contacts" feature is available only in the United States for now. The company says it will expand it to other countries in the future.

Previously in Slate: