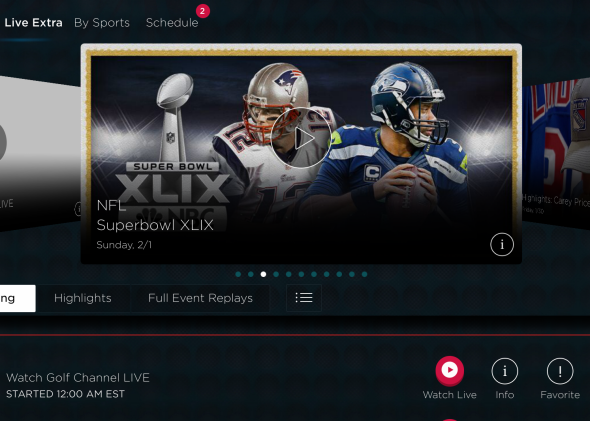 TV networks have long regarded live events, especially sporting events, as a chance to punish cord-cutters for ditching their cable packages. You could binge-watch whole seasons of your favorite shows on Netflix, but you couldn't watch the World Cup, the Oscars, or the Winter Olympics without a verified cable subscription.
Beginning with NBC in 2012, however, the networks have made an exception for the Super Bowl, streaming it live for free on their websites and mobile apps. (CBS did it in 2013, and so did Fox in 2014.)
That tradition will continue this year, with NBC offering perhaps the most comprehensive online coverage package yet. NBC's 11-hour "Super Stream Sunday" event will start at noon Eastern on Feb. 1 with pregame coverage and continue through the Super Bowl and beyond, according to Variety. It will conclude with a new episode of the show The Blacklist, starting at about 10 p.m.
You can watch it all on your desktop computer via the NBC Sports Live Extra website or on your tablet via the NBC Sports Live Extra apps for Android and iOS.
That site and those apps are part of a service called "TV Everywhere," for which networks like NBC usually require you to enter a user name and password proving that you're a cable subscriber. For the Super Bowl, and several hours before and after, the network won't. An NBC executive told Variety the goal is to "help raise overall awareness of TV Everywhere" so that more people will try it.
It's worth noting that the game won't quite be "everywhere," though. One place it won't be is on your smartphone, unless you're a Verizon Wireless subscriber. Verizon owns exclusive smartphone streaming rights to the game, and according to TechHive, you can watch it on the NFL Mobile app only if you subscribe to the "More Everything" shared data plan.
This year's Super Bowl also won't be accessible on set-top boxes like the Roku or Amazon Fire TV, neither of which offers an NBC Sports Live Extra app. Then again, if you have a TV but not cable, the easiest solution is just to use a digital antenna to pull in the signal over the air. All the barriers that networks have erected against cord-cutters over the years are almost enough to make you forget that their product was always meant to be free.
One difference between the TV version of the Super Bowl and the live stream is the commercials. As Advertising Age explains, NBC sells its online ads separately from those that appear in the broadcast, and they cost much less. Some advertisers pay for both, but others opt not to, and their spots in the live stream are taken by advertisers with smaller budgets.
This year, however, NBC will also make it easy for those watching online to see all the same ads. In a savvy move, it will post them all to its new NBC Sports Tumblr page immediately after they appear on-air.
Meanwhile, demand for ads in the live stream this year has been strong, according to an NBC executive interviewed by Ad Age. The network's digital ad sales this year are twice what they were the last time NBC carried the game, in 2012.
That's an excellent sign for the future of live streaming. TV networks haven't resisted putting their live content online just so they can prop up the cable industry. It's also because they typically make less money from online ads than from the ads that air in TV broadcasts. As the cord-cutting audience continues to grow, we should see more live events with full ad loads online, as opposed to lengthy dead spots during commercial breaks where they just display their own logo as a screen saver.
More commercials might not sound like a good thing for cord-cutters, but it is: The more money networks make by streaming live events, the more likely they are to do it.
---