Etsy, the online crafts marketplace, may be going public.
Bloomberg reports that the Brooklyn-based startup is planning an IPO that would raise some $300 million, possibly in the next few months, according to anonymous "people familiar with the matter." I contacted Etsy for confirmation, and a spokesperson replied, "We have no comment at this time."
An Etsy IPO would be a big deal, symbolically, for the New York City startup scene. As Bloomberg points out, it would be the city's largest tech-related IPO since the dot-com bubble 15 years ago. Noting that several other New York startups may also go public soon, Bloomberg calls the rumored Etsy IPO a "turning point" that is "putting New York tech companies back on the map." The company, it adds, "is about to show Silicon Valley that Brooklyn's hipsters can also do initial public offerings."

That is a true statement, as far as it goes. You can now feel free to call Brooklyn the "hipster Silicon Valley" if you like. Just keep in mind that its tech scene—and that of New York as a whole—remains a far cry from the actual Silicon Valley, not only in scope but in mentality.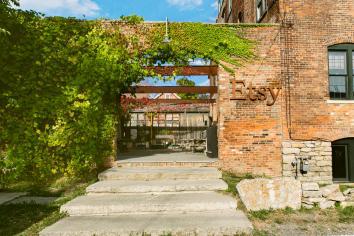 Etsy is emblematic of a cozy Brooklyn startup scene that also includes Makerbot, the 3-D printing company that sold to Stratasys for about half a billion in 2013. It's part of what Business Insider's Shane Ferro has called, only half-jokingly, "the quaint economy." I've written before about the moderate economic impact of the borough's "shaggy liberal-arts entrepreneurs." I've also written at some length about the rise of the New York tech economy, which in many respects has surpassed that of Boston, Seattle, and other startup hubs.
It really is delightful that creative tinkerers like Makerbot founder Bre Pettis and Etsy co-founder Rob Kalin have found ways to turn their ideas into successful companies. (Kalin was replaced as Etsy CEO in 2011 by Chad Dickerson, who led the company to new heights.) But neither was cut out to be a businessperson, as far as I can tell. Certainly neither possesses the killer instinct of Silicon Valley founders like Mark Zuckerberg. I mean that as a compliment: Killer instincts are dangerous, and often self-serving. And to find one in a Brooklyn hipster would just be unnerving.

There's another strain of New York tech startups, mostly based in Manhattan, whose priorities are somewhat different. These include financial-tech companies like OnDeck Capital, whose $200 million IPO last month valued the company at $1.3 billion and became the city's largest-ever venture-backed tech exit. They also include advertising-tech, media-tech, fashion-tech, and online-shopping companies, such as AppNexus and Gilt Groupe, both of which have been the subject of long-running IPO whispers. The chart below, from the venture-capital database CB Insights, shows just how few have gone public so far.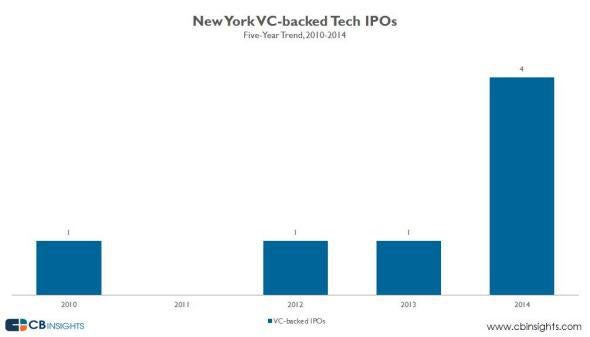 While Manhattan's ad-tech and fin-tech firms may be more business-minded, their goals tend to be limited as well, in various ways. Today's New York startups, by and large, are not out to conquer the world and overthrow Google. They're out to address a niche audience, capitalize on a market inefficiency, or solve a specific problem, often one that is faced by companies rather than, say, teens.
Again, that's to their credit. World domination should not be the goal of every startup. But in Silicon Valley, it sort of is, and that's exactly what makes it unique. Startups stay in New York or Boston or Seattle to grow steadily and gradually realize their potential. They move to Silicon Valley to get huge or go bust.
That's why, for all that has been written about New York's tech scene, including the Brooklyn cluster of "maker" startups, it's misleading to view it in the context of the "next Silicon Valley" cliché. It's like comparing apples to industrial apple orchards.  
Previously in Slate: