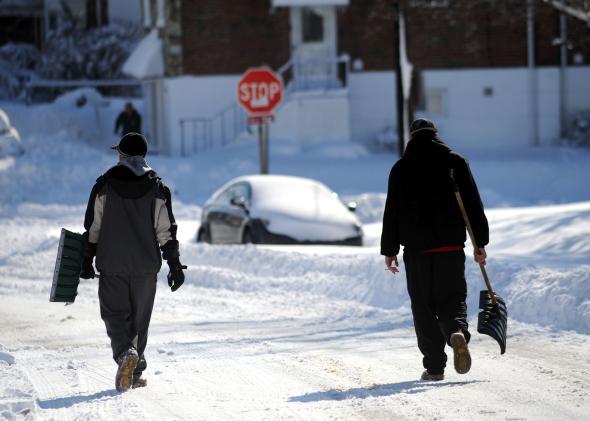 East Coast snow lovers have had a rough go this winter. They won't have to wait much longer for what could be the biggest storm of the season.
The National Weather Service is forecasting a coastal storm peaking on Saturday that could bring all manner of wintry peril to snow-starved city-dwellers from Washington, D.C. to Boston. Another storm Sunday night could bring more accumulating snow to the same areas.
The first storm is expected to undergo rapid intensification as it slides up the coast, packing tropical storm force winds and a plume of tropical moisture stretching all the way down to the Caribbean. The storm's low pressure center is expected to deepen fast enough to attain the status of a meteorological "bomb," a technical term meaning a drop in air pressure exceeding 24 millibars in 24 hours. In fact, Thursday morning's GFS model predicted a drop twice that fast, from 988 millibars Saturday morning to 964 millibars just 12 hours later.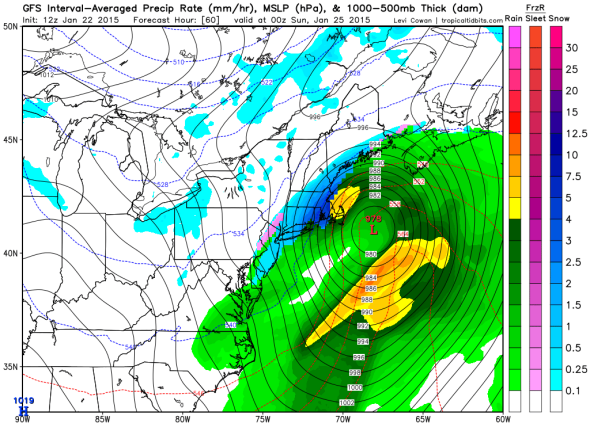 The storm's anticipated rapid strengthening throws an extra layer of uncertainty as to what we can expect, weatherwise. Quickly growing storms like this one sometimes exhibit dynamic cooling, which can help nudge the atmosphere toward producing more snow. Think of popping the top off a soda can under pressure—the exterior of the can quickly gets colder.
On the other hand, the overall weather pattern is lacking a substantial reservoir of cold air to the north right now, increasing the chances that warmer air from over the ocean could cut into the potential for what might have otherwise been a blockbuster storm. Snowflakes could turn into a messy mix of ice and slush. That's giving us an unusually wide range of potential snow totals for a storm less than two days away. In New York City, for example, 2 to 8 inches are expected. In Washington, warm air looks like it will win out, with at best a mix of rain and snow adding up to a dreary gray day. In Boston, Winter Storm Watches have already been posted for areas just inland of the coast, where brief periods of heavy, wet snow may make travel difficult and take a toll on power lines.
Oddly, Sunday night's storm seems a bit more clear cut even though it's further away. The storm will be weaker—originating over the Great Lakes—but the atmosphere should be colder. A few more inches of snow is likely, mainly from New York City northward into New England.
After that, a major cold snap could dive as far south as Miami to close out the month of January. Winter is by no means over yet.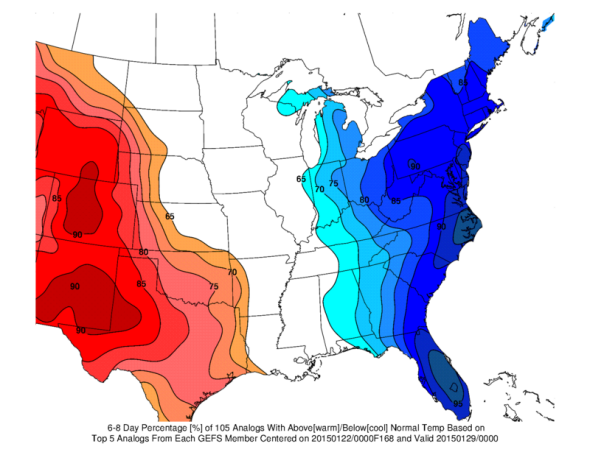 With only three inches since winter began, Washington has half the amount of snow it normally has by this point in January. New York City, which typically has racked up 10 inches by now has fared even worse, with just one-third of normal snowfall. Heck, even Buffalo—Buffalo!—now has a below-normal snow year, running 2 1⁄2 inches behind its average pace as of Jan. 21. The East Coast snow drought has led to some interesting statistics:
A 2013 report by Climate Central shows gradually warming temperatures are expected to reduce average snowfall over the next few decades, though year-to-year winter totals will continue to be highly variable.
---