This article is part of Future Tense, a partnership of Slate, New America, and Arizona State University. On Thursday, Jan. 15, Future Tense will hold an event in Washington, D.C., titled "How Will Human Ingenuity Handle a Warming Planet?" For more information and to RSVP, visit the New America website.
If plants had a climate change ambassador akin to the animal kingdom's polar bear, it would probably be pinot noir. If the withholding, thin-skinned, and heat-averse wine grape were your girlfriend, your friends would call her high-maintenance.
Even subtle shifts in climate affect pinot noir. Oenophiles worship its "transparency": the unfiltered expression of both terroir and vintage—where it was grown and what conditions it faced while doing it. Pinot noir likes to live on the edge, producing its most elegant expression when planted in warmer pockets of cooler places. As frost-tolerant as many whites, it has the narrowest agreeable temperature range of the top 15 most planted varietals.
Think of it as the Goldilocks of grapes, producing flabby and boring wine if it's too hot, flat-out refusing to ripen if it's too cold, but creating magic in a glass when conditions are just right.
But unfortunately, those "just right" conditions are becoming less predictable in pinot noir's typical stomping grounds in the United States: drought-stricken California and even farther north, in heat-buffeted Oregon. Both states saw the earliest wine grape harvests on record this fall, with many vineyards hauling in their last bin of grapes before the first bunch would have been cut in what used to be called an average year. In both states, 2014 will go down as the warmest vintage on record, beating out 2013, the next warmest.
"Is there a change? Duh," says Chehalem founder Harry Peterson-Nedry, who began making wine in Oregon in 1980 and who has been sounding the climate change alarm for more than 15 years now. "We're getting warmer and warmer."
For grape farmers farther north, the prospect of a few extra degrees can sound more like a snuggly blanket and less like an existential threat. In Washington state, New York's Finger Lakes, and British Columbia, the warming effects of climate change are improving the size and quality of pinot noir planted on the chilly outreaches of the grape's range.
"The Puget Sound right now is where the Willamette Valley used to be in the '70s," says Greg Jones, a wine climate change expert and director of business, communication, and the environment at Southern Oregon University. In those early days of modern Oregon viticulture, it was tough to get one or two of 10 vintages to ripen, he said. "Now we're ripening eight to nine good vintages out of 10."
Planting vineyards in Washington and Canada offers its own challenges, including shorter growing seasons (though more hours of daylight). There is increased risk of both frost and storms from the Gulf of Alaska that can sweep through at just the wrong times.
But as rising prices per acre in Oregon will attest, the land rush there is definitely on, with winemakers and speculators from California, France, Las Vegas, and beyond recently snapping up parcels. Vineyard real estate is still not near the $300,000-plus per acre that Napa commands, but recent sales have pushed toward $60,000 per planted acre.
"Pinot noir is always looking for the warm sites in the cool areas, and some of us are having to migrate to achieve that as time goes on," says British Columbia winemaker Grant Stanley, who moved to the Okanagan Valley in 2003, after 15 years of making wine in New Zealand and Oregon. If pinot noir could fly, it might choose to follow the path Stanley took. Winemakers, he said, "were being fried out of California, and now they are in Oregon and Washington."
He embraces the polar bear metaphor. "We might be the last iceberg," he says, gesturing at 50th Parallel Estate, a $25 million winery still under construction at the same latitude as the pinot noir mothership: Burgundy, France. Shiny mica flakes in the soil glint extra sunlight onto vines precision-planted to maximize sun bouncing off neighboring Okanagan Lake, a glacier-gouge so deep in places you could sink a 70-story building into it and not see the cellphone antennae on top.
Like a mini ocean coastline, the lake helps to modulate temperatures, protecting vines from killer winter freezes and spikes of summer heat. Its 135-square-mile surface also attracts boaters, fishermen, and a growing international crush of summertime tourists—contributing to the Okanagan Valley's recent No. 2 ranking in USA Today's "10 Best Wine Regions to Visit."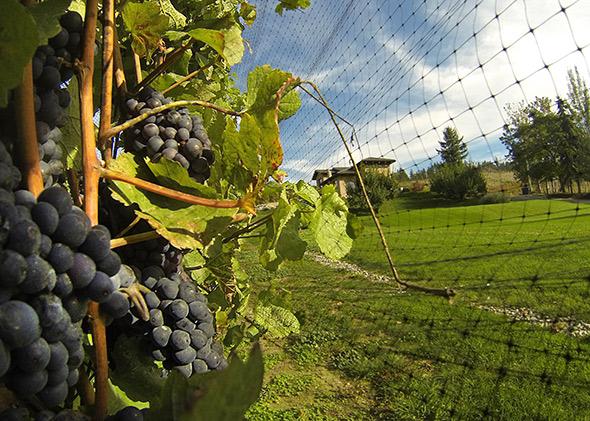 Meanwhile, predictions have been ominous about pinot noir's future at the warmer end of its range. Climate change could cut Northern California's premium wine grape acreage (all varietals) in half by 2030, according to a 2011 Stanford University study, which also forecast increased premium grape acreage development in Oregon and Washington. In the three years since the study was published in Environmental Research Letters, California has been locked in a devastating drought.
Up until this year, the drought wasn't a serious problem for grape vines, whose roots can reach as many as 20 to 30 feet down to tap the water table for a drink. Wine wisdom says the struggle for moisture adds character, which is why many pinot noir vineyards in California are "dry-farmed." But in 2014, after two parched years, many growers caved and gave their stressed-out vines a good watering at the start of the spring, said Adam Lee, a pinot noir oracle of sorts who—along with his wife, Dianna Lee—has been sourcing grapes up and down the West Coast for 20 years for Santa Rosa, California–based Siduri Wines.*
Lee believes that if the drought continues unabated, pressure from cities or fruit- and vegetable-farming could drive wine grapes out of some ZIP codes—like the Santa Lucia Highlands and the Salinas Valley—before climate change does.
In addition to the 2014 harvest being "incredibly early," as Lee put it, it was also compacted. Rather than staggered over weeks, the grapes ripened all at once and faster than double-scheduled crews could bin them up, or wineries, maxed out on fermentation tank capacity, had space to bring them in. The "numbers" coming in from the lab—which tested sugar and acid levels—produced everything from worried looks to groans to unrestrained expletives. Which is not to say 2014 will be a bad vintage for California or Oregon pinot noir. But it will be a challenging one for winemakers, who will be forced to use a heavier hand in their formulation, adding everything from tartaric acid to "Jesus units" to create anything resembling a "restrained" and "elegant" vintage. What worries some Oregon winemakers is the prospect that a glut of jammy, high-alcohol pinot noir could hit the market, confusing less-informed consumers who may not know what the varietal is "supposed" to taste like.
Short of pulling up stakes and moving their operations northward, there are many things that growers can do to adapt to climate change, stressed Jones, the Southern Oregon wine climate scientist. They can replant with later-ripening clones, at higher elevations, orienting the vines and pruning the canopy to shade the fruit and otherwise slow down maturation.
There may very well come a day when pinot noir can't move farther north to evade the effects of climate change, Jones said, but he has reason to believe that we'll find a way to arrest climate change or improve the vine's chances of survival through breeding or other forms of innovation.
"I do really believe the pioneering spirit of all types of farmers and their adaptive capacity," Jones said. "If left to fend for themselves, vines might be vulnerable, but winemakers aren't polar bears."
*Correction, Dec. 23, 2014: This article originally misspelled Dianna Lee's first name. (Return.)