Not long ago, my spaceship ran out of fuel, 150 million miles from the nearest gas station. She is the European Space Agency's Venus Express, launched in 2005 on a two-year mission. She's lasted more than eight. For the past year she's been using the very last dregs of her fuel to plunge through the upper atmosphere, but now she's out of gas; her orbit will decay until she ends as a spectacular fireball shooting through the cloudy skies of Venus. I started out as a student working on one of the Venus Express instruments, and since then have been a member of one of her science teams, telecommuting to work at Venus. She is the ship that launched my career as a space explorer, and I'm very sad to see her go.
Even among space scientists, being a Venus explorer makes me a bit of a nerd. The heyday of Venus exploration was the late 1960s to the early '80s, when both NASA and the Soviet Union hurled dozens of unmanned probes at our nearest planetary neighbor. Since then, only two spacecraft have made orbit, including mine. What personally draws me to Venus is how Earth-like it is in so many ways, and yet how differently things turned out there. Like Earth, Venus is a rocky planet with an atmosphere, and it's about the same distance from the sun (only about a quarter closer in than Earth). It's about the same size, so if you were standing on the rocky, lava-covered surface, the horizon would be about the same distance away, and you'd weigh about the same. Venus has no magnetic field, so a compass wouldn't work and navigating around the volcanic terrain would be tricky. Of course, since the surface temperature is about 723 degrees Fahrenheit (450 degrees Celsius), you'd probably be on fire at the time, but that wouldn't matter since the pressure of its incredibly dense atmosphere (about 90 times higher than Earth's atmospheric pressure at sea level) would likely have crushed your body like an egg.
Venus today is really quite an unpleasant and inhospitable place. But here's the thing: It needn't be. Venus is technically in the potentially habitable, "Goldilocks" zone of our solar system. If you work out how hot the surface should be by virtue of being that little bit closer to the sun than Earth, by all rights it should only be about 150 F (60 C). This is definitely toasty (you'd want to pack shorts when you visit), but still in the range where it would be possible for oceans of liquid water to exist on its surface. Unfortunately, however, Venus suffers from a very nasty case of global warming, and any oceans have long since boiled away. So here is a world like our own in so many ways—that might even have started out like the Earth—where the surface is now so inhospitable that landing there is a suicidal one-way trip. In this blast furnace, the life span of robotic landers is measured in hours. So how did Venus get so unpleasant? If we can understand what happened to it, maybe we can learn more about what happened differently on Earth that enabled life here to flourish.
The aptly named Venus Express went from an idea to the launch pad in only five years (when usually you need at least 10 if not more) and for a fraction of the cost of a typical mission of her size and complexity. Her designers achieved this by ingeniously building a spacecraft almost entirely out of spare parts and designs cribbed from the European Space Agency's Rosetta and Mars Express missions. While many of her scientific instruments are new, mine (which measures electrons) was a bargain-bin spare left over from the Mars Express.
When the instrument was designed for Mars, it was clear that building such a compact sensor was going to require manufacturing to a higher precision than you'd find in the finest watch. New techniques had to be developed to do this, and one of the byproducts was a complete set of practice parts, never intended for flight. None of the bits of this prototype instrument were quite where they should be. Imperfect as the instrument was, when it came to building the Venus Express, the thrifty nature of the new mission meant that the choice was either to fly this instrument or nothing. So, that was how I got my ride to Venus. I was just a first-year Ph.D. student at University College London and as such was the least qualified member of the team, but I was very enthusiastic, and more importantly I was cheap labor. It took me about a year, but I finally figured out what was wrong with the instrument and helped the small team of scientists get a handle on its performance so we could properly measure the electron environment at Venus.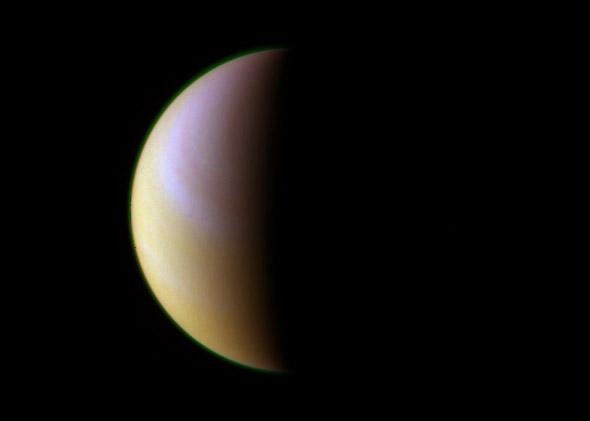 Venus Express spent most of its time acting as a weather satellite, hanging high over the south pole, studying the swirling clouds. If you were riding aboard, you'd see Venus like you were looking at a half-moon. You probably wouldn't see the clouds with your own eyes. All of the photos that are out there of Venus showing a yellowish streaky ball with bands of dark clouds are taken with a camera that can see into the ultraviolet. To the naked eye, Venus' clouds would make it appear almost uniform white, but startlingly and blindingly bright. It would hurt to look at it without sunglasses. For a few action-packed hours out of her very elliptical 24 hour orbit, Venus Express came whipping over the north pole at an altitude of about 180 to 250 miles (300 to 400 kilometers), about the same as the altitude of the International Space Station at Earth.
This is when we do our science. Interplanetary space isn't a perfect vacuum. It's filled with a stream of particles and magnetic fields that come spiraling off of the sun. It's called the solar wind, and it flows out at supersonic speeds to beyond the orbit of Neptune. Earth's magnetic field projects a bubble that deflects this flow, but at Venus, with no magnetic field to protect it, the solar wind slams into Venus' upper atmosphere. I've been using Venus Express to see what happens when this seemingly unstoppable force hits this proverbial immovable object. The answer is: chaos. I found huge (but invisible) explosions called "hot flow anomalies" that engulf the entire planet. Just recently, I've been finding out that Venus is really sensitive to space weather, and all kinds of nasty things happen when a big cloud of plasma from the sun (called a coronal mass ejection) whacks into it.
With no fuel, Venus Express can't be turned to point its main antennae at Earth to send back its data anymore, and the mission is effectively over. She'll spend her last month of existence dropping nearer and nearer to the beckoning clouds, until one day in January 2015 she'll slip beneath them, burning in a bright fireball through the sky. Of course, there's still a mountain of data to look at, so she may be gone, but not forgotten, and I bet some great discoveries may still lie ahead.