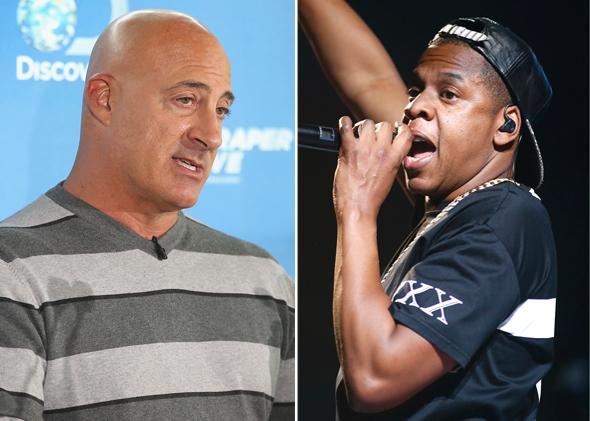 This is the greatest tragedy in the history of television meteorology. The Weather Channel has made an epic rap music video, featuring some of its most well-known on-screen personalities—but the company doesn't want you to see it.
The video, set to Jay Z's "Roc Boys," was online for a few glorious hours on Monday, but promptly taken down after challenges by Weather Channel's legal team. We can't even show a screenshot, but you can imagine it by watching Jay Z's (inferior) rendition below:
Featured are Tom Niziol, the channel's winter weather expert, showing off a glitzy "ICE" ring; Greg Postel, the hurricane specialist, with a giant blinged-out gold Weather Channel logo around his neck; and, most memorably, Jim Cantore in a fur, surrounded by female meteorologists. All the while, there's a party atmosphere, with Champagne flowing freely and close-in shots of weather forecasters puffing cigars.
At the end of the video, a dapper David Clark, the Weather Channel president, drops the mic, literally.
According to FTVLive, a television gossip site that posted the clip on YouTube, the video was made about 10 months ago: "TWC President David Clark asked his team to produce rap video because he thought that things were going so well and that TWC 'had it's swagger back.' " FTVLive continues: "The rap video was to be used as a sales tool as it showed The Weather Channel's talent, sales and marketing people all partying it up."
But, alas, unless you were one of the lucky few who happened upon the video Monday morning, you're out of luck. A spokesperson for the Weather Channel, Shirley Powell, confirmed the video's existence in an email to Slate:
This video was created for an internal ad sales meeting earlier this year.  Like many videos that get made for internal purposes only, it was made in the spirit of fun by our TV group to energize our ad sales force. It was never intended for external use.
We are not authorizing any publication of the video.
It's a shame that no one will get to see this little slice of weather-nerd heaven.
Since it was filmed, business has become decidedly gloomier at TWC, and two rounds of recent layoffs have put 6 percent of the staff out of work. As usual, Gawker's Dennis Mersereau had the best take:
The network recently ordered a second season of Fat Guys in the Woods, which plops a couple of cubs in the forest to munch lichen while a survival expert talks down to them for thirty minutes (plus commercials and Local on the 8's, of course). The second installment of Scruffy Huffing Woodsfest will stand alongside their other quality programming, Highway Thru Hell and American Super/Natural, the latter of which posits pressing questions like "what is the dew point of a ghost?"
As WLKY meteorologist John Belski notes on the station's weather blog, The Weather Channel's ratings have fallen over the past couple of years down to around 214,000 daily viewers. The network doesn't even crack the top 25 most-watched cable networks, pulling ratings 79% lower than bottom-of-the-list Lifetime.
The Weather Channel rap video is amazing and will go down as legendary for the lucky few who got to see it. No one can argue that the Weather Channel can't pull off cool. It's just a shame that it doesn't bring this kind of confident swagger to the airways more often.
If you want to see the video yourself (and you should), it's up to you now, America. Tell the Weather Channel to #freecantore.​
---