If you're still debating when you should time your Thanksgiving travel to beat Wednesday's East Coast snowstorm, the latest round of weather models should make that decision easy: Leave now.
Winter weather watches and warnings have already been posted from North Carolina to Maine, and the National Weather Service is calling for "significant impacts which will disrupt travel." Heck, they're even sending the Hurricane Hunters out into this storm:
The airlines have already announced a plan to waive change fees, and with the snowstorm expected to peak during Wednesday afternoon and evening, I'm expecting airline delays will be measured in hours, not minutes. Low visibility and clouds hovering near the ground—exactly the conditions that are expected in this snowstorm—can force airports to restrict the rate of aircraft arrivals in half.
But, as always, most of us will be traveling by car. AAA estimates 41 million of the more than 46 million travelers this weekend will be going by road, the most in nearly a decade. As we saw last week in Buffalo, intense snowfall rates can quickly overwhelm highway crews, and you don't want to be spending your holiday in a snowdrift. (But to be fair, 1 foot of snow is much different than 7.)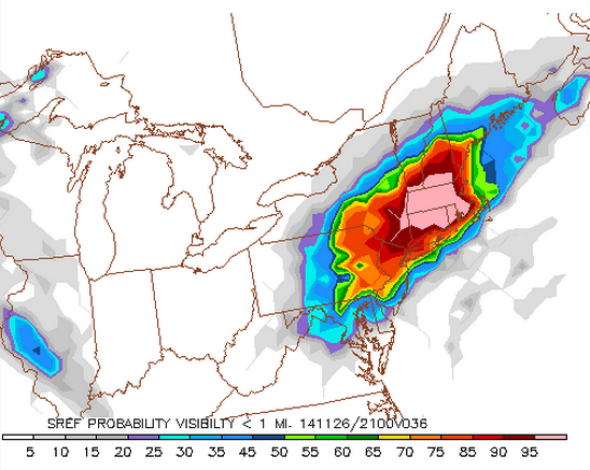 The brunt of this storm will be felt north of Philadelphia. If you're in New York City and don't have to travel: congratulations! You've got a nice long weekend of snowball fights and hot beverages ahead of you. If you're in central Massachusetts (basically anywhere west of Cambridge), well, you may not be going anywhere for a while.
What follows is a breakdown of what to expect from this storm throughout the Northeast. I'll also be running a live blog all day Wednesday to keep track of latest developments.
If you're planning to travel somewhere that's not covered by these maps, check out the National Weather Service's interactive snow forecast map and road trip planner, which usefully gives you the weather along your journey.
Boston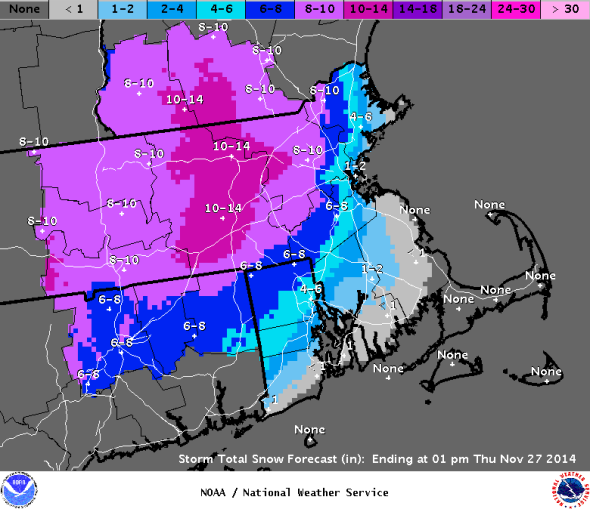 The storm starts as rain in the Boston area on Wednesday morning, quickly changing over into snow and peaking Wednesday evening, with snow continuing until Thursday morning. Snowfall rates could reach two inches per hour at the peak.
There should be significant banding and even localized brief whiteout conditions with this storm in the interior. At the coast and on the Cape, this will be a strong rainstorm. Expect coastal wind gusts in excess of 60 mph. The city of Boston, and I-95 in general, forms an approximate boundary between the two, with most of Boston on the snowy side.
If you're in New England and don't have to travel, don't.
New York City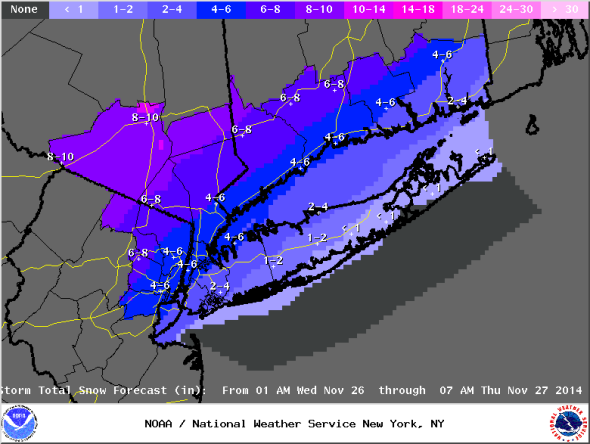 As it turns out, this storm is taking an ideal track for heavy snow in New York City—with the center passing over the 40°N/70°W benchmark.
The storm will likely be a mostly snow event for New York City, starting by daybreak Wednesday morning, peaking Wednesday afternoon, and continuing until early Thursday morning. Some sleet may mix in at times.* There will be less snow on Long Island, because temperatures will be just 1 or 2 degrees warmer. The result will be mostly slush from JFK to Montauk. The latest models have shown a potential for banding and heightened totals directly over the city, so there's still a bit of a wild card in play. Anything from 4 inches to a foot is possible in Manhattan.
Philadelphia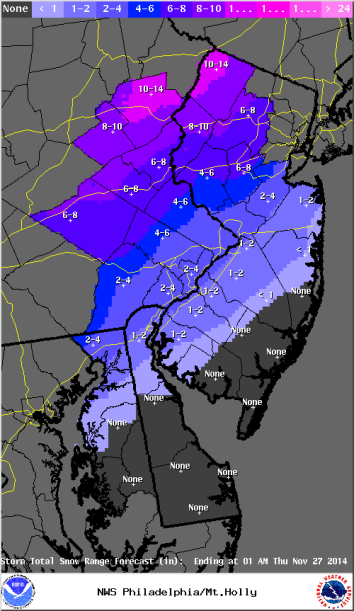 The storm starts as rain in the Philadelphia area on Tuesday night, with accumulating snow starting by Wednesday morning and continuing until Wednesday evening. Timing may keep snow totals from getting too high in Philadelphia: The heaviest snow is expected during the daylight hours on Wednesday, and those 2 or 3 degrees of additional warming may be enough to melt much of it before it reaches the ground. The result may be, according to the local National Weather Service office, "sloppy, wet snow that could cling to trees and wires and obscure road signs." Power outages are a concern should snow totals come in just a bit above the current forecast—and the NWS says 3 to 6 inches in Philadelphia is definitely possible.
The National Weather Service in Philadelphia has issued some travel guidance:*
SUGGEST TRAVEL INTO EASTERN PENNSYLVANIA AND NORTHWEST NEW JERSEY BE COMPLETED NO LATER THAN 7 AM WEDNESDAY, OR WAIT TIL AFTER 7 PM  WEDNESDAY NIGHT (IE…AFTER ROADS ARE CLEANED UP/CLEARED OF SLUSHY  SNOW). ITS THAT 12 HOUR WINDOW DURING THE DAY WEDNESDAY THAT IS  GOING TO BECOME A SIGNIFICANT TRAVEL PROBLEM, ESPECIALLY THE HILLY  AREAS.
Washington, D.C., and Baltimore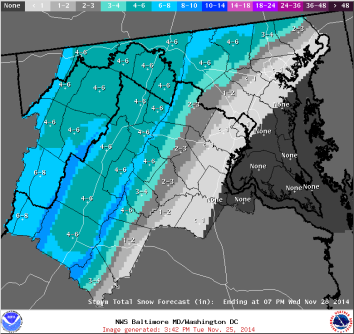 The storm starts as rain early Wednesday morning in Washington and Baltimore and will likely morph into a slushy snow by midafternoon. There could be some nice big snowflakes as the storm winds down, but don't expect them to accumulate much on the ground. You'll probably have to go to higher elevations to build a snow fort. Keep in mind, Washington hit a record high of 74 degrees on Monday.
* * *
Even if you're not on the East Coast, it's likely that this storm will impact your journey to Grandma's house if you're going by plane. Airlines run a tight schedule around the holidays, and this is just the kind of storm that could cause cascading delays coast to coast.
One place where snow won't cause travel delays is Alaska. At the Alyeska ski resort just outside of Anchorage, there hasn't been enough snow for a traditional Thanksgiving Day opening. What's more, it's been too warm even to make snow. According to KTUU in Anchorage, this weekend local ski shops are planning to promote mountain biking instead.
Update, Nov. 25, 4:15 p.m.: This post was updated to include new snow maps for Philadelphia, New York City, and the Washington, D.C., area. It was also updated to include new travel advice for eastern Pennsylvania/northwest New Jersey and to note that the latest forecasts call for New York City to receive mostly snow; previous forecasts suggested it would be a snow-only event.