Lifestyle guru Martha Stewart cannot resist a shiny, new technology. She has confessed her affinity for drones with an op-ed in Time, "Why I Love My Drone," and only last week detailed her affection for 3-D printers on CNN. So it seemed a natural progression this week, when desktop 3-D printer manufacturer MakerBot and Martha Stewart Living announced a homeware collaboration, the Trellis Collection. Martha fans will be able to purchase a 3-D-printed coaster, napkin ring, place card holder, or LED votive holder in specially branded filament colors named like Disney characters: Lemon Drop, Robin's Egg, and Jadeite.
The collection will be available in MakerBot stores in New York, Boston, and Greenwich, Connecticut, as well as online. Individual designs (basically the templates for the objects) start at 99 cents, and the full collection is available for $2.99, although the filament necessary to create the goods will cost $25 for a half-pound spool and $65 for the 2-pound package, according to Variety.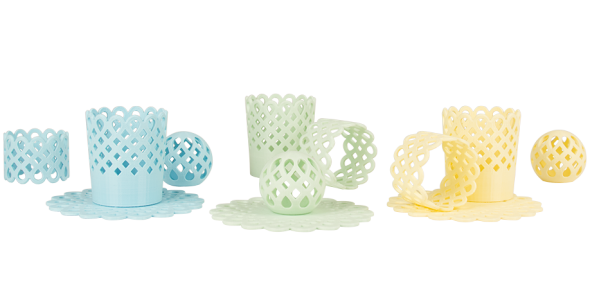 So far, so good. But Martha, did you have to go ahead and call the thing "artisanal"?
In her CNN piece, Stewart wrote, "With these tools, any inspired individual, in just about any design realm, can turn out a polished, finished product, quickly and economically, that still has the artisanal character of a handcrafted item."
In a statement this week, she doubled down. "We are thrilled to work with MakerBot to bring our signature color palette and designs to the world of 3D printing. … 3D printing allows for cost-effective product design without compromising artisanal character."
It's 2014, so I'm sure by this point the word artisanal is deader than Google Reader, but let me object just this one time. If you press a button, enter your credit card details, and a robot arm builds a spool of plastic into a napkin holder, I think you're pretty far away from the world of traditional handicrafts. DIY, maybe, but artisanal, no. The artisanal craze may have started with bearded urban youths killing and skinning their own elk to make Ugg boots, but it took a left turn at pickles, and has now gone belly up with Martha Stewart's Trellis Collection.
So what other buzzy high-tech gadgetry can Martha deem artisanal? We can't be that far from "Martha Stewart: Why I Love the Microbiome," with tips on how to build your own artisanal microflora. How about Martha's own artisanal e-payment system, MarthaCoin, that only lets you buy classic, investment pieces in neutral colors. Or even Martha's artisanal augmented reality goggles? I'd wear those, if only they promised to transform whatever room I was in to Martha's farmhouse living room on a crisp Thanksgiving morning.