"Freemium" is all around us. The portmanteau refers to a business model in which the central product is given away gratis with the hope that customers will later pay for premium add-ons. Freemium has grown particularly popular with content sites like the New York Times (which offers a limited allotment of free articles to everyone, more generous access for paying subscribers, and a whole separate tier of goodies for Times Premier members) and, yes, Slate (where we offer you superb journalism for free and then invite you to enjoy further perks by enrolling in Slate Plus, which you should totally do).
The freemium approach has also exploded in the world of smartphone apps. There are oodles of productivity tools, time wasters, and games that you can download at no cost—with a catch. Once you're hooked, you'll be steered toward making in-app purchases. A free music app like Pandora might charge you to banish advertisements. A free messaging app like Line lures you into buying special emoji characters to spice up your texts.
For some time now, the two top-grossing freemium apps (for both iOS and Android) have been Clash of Clans and Candy Crush Saga, each of which rakes in well north of $1 million per day. They are free to download and to play, so their seven-figure daily revenues come entirely from people who are willing to pay for extras. What sorts of enticements could persuade them to open their wallets? I decided to find out.
If you're not already a Candy Crush addict, you've surely seen the game on the screen of the person sitting next to you in the dentist's waiting room. It's a puzzle game in which you shift around little jelly beans and marzipans, sliding the treats this way and that to create matching rows and columns. Make enough matches and you pass the level. Fail a level too many times and the game punishes you with a cooldown period, forcing you to wait before you play again. Here's where the monetization magic happens: Instead of waiting patiently, you can choose to pay (real money!) to keep going. I've spoken to people—smart, employed, mentally well people—who've spent a couple hundred bucks this way. They found themselves bored at an airport gate or aboard a bus, they were desperate to kill time, and they couldn't bear to wait 15 minutes to play Candy Crush. So they forked over the toll.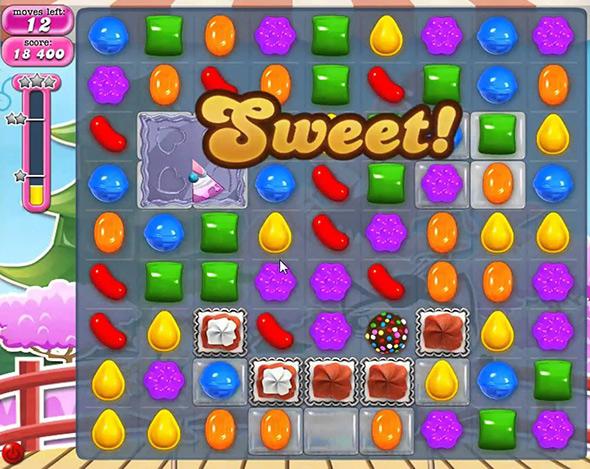 I've been attempting to make myself fall under the Candy Crush spell, for reporting purposes. But it's not happening. Whenever I fail on a level and get that cooldown notice, I'm quite happy to bide my time until I'm allowed to play again. I've got other stuff to do. In fact, I'd be OK with never playing again at all. There are plenty of other puzzle games out there, and lots of them are free. If I were truly jonesing, I could try one of those instead. Or, you know, just read a book.
I was beginning to feel superior to all those chumps who part with hard-earned cash to play a silly mobile game. But then I tried Clash of Clans. I'm still playing it—many days and dollars later. And I don't feel superior anymore.
In Clash of Clans—a sort of medieval, fantasy Sims—you build your own tiny village in a fictional realm, mining for gold, erecting defenses, and bolstering your fortifications. You can raid other folks' villages to steal their resources. And, as the name suggests, you can form a clan with other players and launch all-out wars against other rival clans.
I'm aware that this sounds dorky. But it's engrossing. There's something about the act of tending my village—arranging the walls and cannons and gold mines just so—that taps into my brain's longing for tidy order. There's a feeling of pride when an enemy tries to attack me and gets repelled. It is strangely gratifying to watch my carefully arrayed defenses do their job. As my village grows, there is an ego-boosting sense that I'm building my own mighty empire. It's tough to stop playing and give all that up.
Don't believe me? A teamwide Clash of Clans craze nearly ruined the season of the American League champion Kansas City Royals. OK, perhaps that's a minor exaggeration. But there was a perception in the locker room, at least, that the Royals were so distracted by this app that it stole their focus—that they were more passionate about village construction than they were about baseball. After a somber team meeting, players resolved to cut down on their Clan time, or even delete the app entirely. "I'm ending it," said outfielder Jarrod Dyson—before hastily walking back that promise with the classic, weaselly language of addiction: "I'm winding it down. I'm toning it down. I'm trying to tone it down. It's going to be hard, but I'm trying to tone it down." Luckily for the Royals, other players were made of sterner stuff, and in the wake of the anti-Clan meeting, the team won 16 of its next 19 games.
The company that created Clash of Clans has become fiendishly adept at designing mobile games that worm into our brains. Helsinki-based Supercell has also launched Hay Day (a farming game) and Boom Beach (a game of warring islands), both of which are currently among the top 10 highest-grossing iOS apps. Last year, on the strength of the company's performance, two of Supercell's founders became the biggest individual income tax payers in Finnish history.
A Forbes feature on Supercell's astonishing success noted the many "small details that lead players deeper into [a] game, such as the charming aesthetics of game characters like sheep that overflow with wool when it's time to shear them or pigs that become so fat they cannot walk." The visuals in Clash of Clans are indeed adorable (tiny, bearded wizards and cute, tunic-clad archers), and they create a cozy environment that you're delighted to spend long stretches in. But the game's stickiness derives more from the mechanics of its play. First, you are encouraged to collaborate with fellow clan members—donating troops to help them defend their own villages and receiving donated troops in turn—which creates a sense of solidarity and obligation to other gamers. You don't want to let anybody down, so you keep coming back to do your part. Second, you find yourself hankering to unlock the next tempting gewgaw in the game, be it a fun new character or a jazzier magic spell.
Getting this stuff requires waiting for your mines to produce enough gold, or for your "elixir" drills to suck enough enchanted purple fluid out of the ground. Each new character costs more elixir to unlock than the last. Each new village edifice takes longer to build than the ones that came before. My next town hall refurbishment will take eight days to complete. Real, nonfantasy Earth days. It is a diabolical, escalating process: The deeper you're drawn in, the more you want that next upgrade, and the more cruelly you're forced to wait for it. How do you accelerate? Yup. You pay real, nonfantasy Earth dollars. With enough money, the upgrades are instant. It's a tough shortcut to resist.
I asked Supercell if they purposely extend the waits to goad players into parting with cash. They responded via email: "We build games for people to enjoy playing and all our efforts go into that. If we focused on anything else then people wouldn't play our games for weeks and months. Everything we do is designed to give our players the best possible game experience that we can." Hmm, seems like the best possible game experience would not involve using my credit card to buy a minor upgrade to my barbarian-class fighters. But the Finns have their own customs.
What really chafes my armor-clad regions is the way the game encourages people to—well, not exactly cheat, but buy their way to victory. I grew infuriated at enemy players who had clearly dropped loads of cash to strengthen their villages ahead of schedule. To me, the key strategic challenge of the game was to husband resources and deploy them wisely—making excruciating choices between, say, building a sweet new cannon or unlocking a more furious goblin. To sidestep these dilemmas by throwing money at them was to transform the game into a meaningless spending war.
Yet, soon enough, I spent: $4.99 here, so I could build a laboratory to research deadlier spells, and $9.99 there, so I could unlock a flock of wizards to better storm my opponents' strongholds. We buy thicker fortress walls that will be, for a short time, impervious to the brutal, wall-smashing giants bought by other players. We purchase air defenses to shoot down the fiercer, weaponized balloons purchased by our rivals. We are pitted against fellow, similarly addicted schmoes, mirroring each other in an endless, escalating struggle. And the only real winner is Supercell—its own little military industrial complex, selling deadly virtual wares to both sides.
To be fair, at least one study suggests that only about 20 percent of app users are actually suckered in to paying for extras—the rest are content to stick with the basic experience that comes for free. I admit I might not have spent the roughly $40 I blew if I hadn't been pretty sure that Slate would let me expense it. (Right, Slate? This was for work!) I also acknowledge that Supercell is not the first software maker to run this swindle. Zynga's games, like FarmVille and Mafia Wars, ploughed these same freemium fields. People are fickle and always looking for novelty. No doubt there will be a new freemium kid on the block soon enough, and Clash of Clans will look passé.
This freemium money pit, then, is deeper than any one game. I would totally lead a charge to resist it, but—well, my clan needs me. Gotta keep up with the Joneses, lest they defeat us in the next war. This is very serious business. In my clan's chat room, one guy apologized profusely for his failure to get online and wage battle at a key moment. "I've got two jobs and a family," he typed. "It's tough." No one responded.
So we beat on, barbarians against the wind, buying new archer platforms and elixir drills. And, oh man, I'm so close to unlocking that next-level dragon! I could wait a week, or I could just spend 20 bucks …