An encore snowstorm is in progress in the Buffalo area Thursday, just two days after possibly the snowiest 24-hour period on record in the United States produced stunning images from a buried city.
Another 2 or 3 feet are on the way, falling in largely the same area that received a whopping 5 to 6 feet on Tuesday. As was the case earlier this week, the National Weather Service has again maxed out its forecasted snowfall graphic, which simply shows "greater than 30 inches" now expected for the south Buffalo region.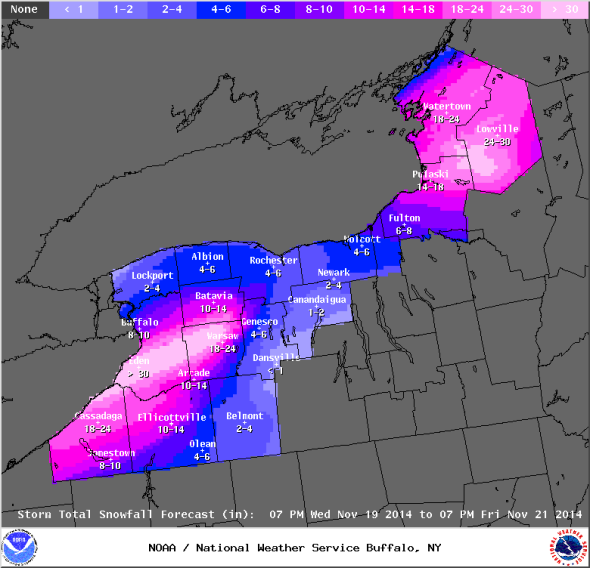 Tuesday's has already been called the most extreme Lake Erie lake-effect snowfall on record. Should the path of Thursday's snowfall align with Tuesday's—and it mostly is so far—totals could top out near 100 inches. That's about as much snow as the region typically gets all winter—and it's not even technically winter yet. For perspective, Gawker's Dennis Mersereau calculated that it's taken Atlanta most of the last 44 years to record as much snow as will fall in Buffalo in just five days. (Atlanta famously had its own version of a civilization-paralyzing snowstorm last winter when just 2 inches fell.)
On Tuesday, as the first round was winding down, the National Weather Service tweeted that a qualified national record may have been set as well:
Truth is, we may never know if the record was broken. According to the Associated Press, some of the regular snow spotters the National Weather Service relies on to take measurements couldn't get out of their house on Tuesday. For a snow measurement to be official, it must be taken every three hours, with the surface wiped clean in between to prevent compaction.
NASA points out that the wind pattern responsible for the current round of lake-effect snows can be traced back to Super Typhoon Nuri's metamorphosis into a Bering Sea superstorm earlier this month.
Filmmaker and Buffalo-area resident Jim Grimaldi shot some gorgeous 4K video by drone in the midst of Tuesday's epic snowstorm:
And also captured a surreal timelapse:
I reached him by phone in his snow-encased home in West Seneca, New York, to chat about what inspired him to make this video.
There's really nothing else to do, I'm totally hemmed in here. The streets are totally impassable, and we're getting another 2 feet tonight.
We've been through this before. It's a whole lot of snow, but we're Buffalonians, we can handle it. When storms like this come down, you see little villages up here. You see little communities that come together.
I opened my garage and I thought, "I'm not even going to try to shovel this." I realized I had my little drone with a camera on it, and I said, "Ah, what the heck."
On Wednesday, Grimaldi followed up with a day-after flight of the snowstorm's aftermath:
Grimaldi said he did have a mishap with the drone being buffeted by the storm's strong winds. "There's a whole other video, I haven't even looked at it, but I crashed into a tree. I had to devise a 20-foot pole to get it down."
Did it feel kind of pointless to try to carve yourself out in a snowstorm like this? "Yes, absolutely. I'm just going to wait it out. I'm not going anywhere soon."
Once again, the branch of the National Weather Service typically involved in forecasting severe thunderstorms and tornado outbreaks turned its attention to the potential of thundersnow in New York. Snowfall rates of more than 2 inches an hour are expected for most of the day Thursday.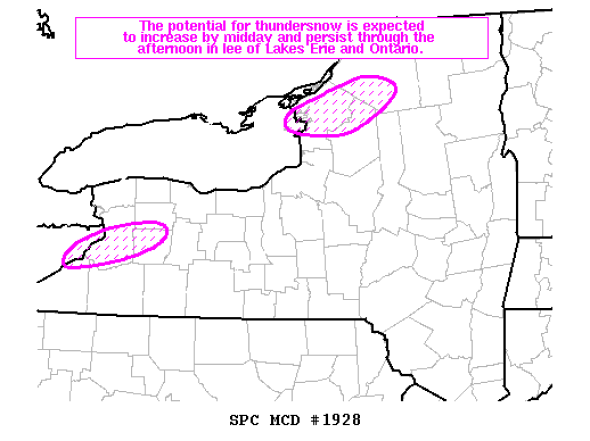 The Buffalo Bills, whose football stadium is currently buried under more than 200,000 tons of snow, called for volunteers to help shovel (in return for $10 an hour and free tickets) in advance of a scheduled Sunday afternoon game with the New York Jets. "We have not had this much snow, as far as we know, in the history of our team." Andy Major, a Bills vice president, told USA Today. "This is four times more snow than we've ever seen at our stadium." However, New York Gov. Andrew Cuomo, citing the ongoing state of emergency, has called a Sunday game in Buffalo "impractical."
Tragically, at least eight people have died so far in the snowstorm, most from shoveling-induced heart attacks. Latest forecasts show the snow may disappear as quickly as it came: A warm-up is on the way this weekend for Buffalo and the rest of the East. With temperatures in the 50s and 60s and rain expected, the streets of Buffalo could quickly turn from winter wonderland to a raging Niagara.