You may have heard that food in the future is going to be weird. Lots of insects and kelp. But the goal is to help everyone mentally prepare so when we get there it won't seem weird. This is an especially important concept for lab-grown meat (also called cultured, test-tube, or in vitro meat). There's just something creepy about the idea. But The In Vitro Meat Cookbook is trying to move the conversation forward.
Created by the Next Nature Network think tank in Amsterdam, the book was funded last fall through an Indiegogo campaign that raised almost $26,000 to get the cookbook off the ground. The goal of the book is to make people more comfortable with the idea of lab-grown meat. The video below explains, "The In Vitro Meat Cookbook presents speculative meat products that might be on your plate one day. Think knitted steaks, meat fruit salads, crispy colorful magic meatballs for the kids, meat ice-cream, or even revived dodo wings."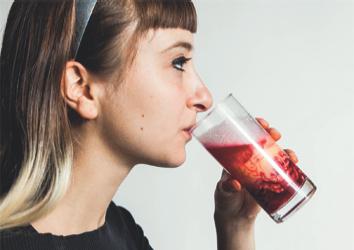 The cookbook is a great example of design fiction, the concept of acclimating to and evolving ideas about the future by presenting them in a realistic and believable context. But even as The In Vitro Meat Cookbook is trying to make people more comfortable with lab-grown meat, it's also pretty blunt about what interacting with test-tube meat would be like. In vitro oysters, for example, look bloody and basically gross, while the meat cocktail looks seriously, not subtly, meat-y. The cookbook certainly pushes the limits of what looks "good" to people in the present.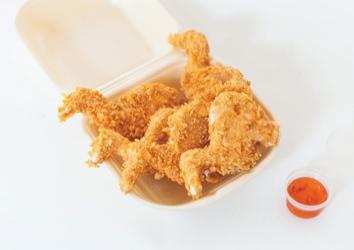 The book—which is nicely designed, with a traditional textured cover—includes information about how lab-grown meat is created and what meat production is currently doing to the environment. The 50 recipes in the book include "beer and bourbon braised muscle mass," "meat fruit tartlets," "maple smoked labchops," and "meat moss risotto." The book also includes essays and commentary on the lab-grown meat movement.
The foreword by creative director Koert van Mensvoort explains:
All recipes have been created by a team of chefs, designers, and artists. While some dishes are innovative and delicious, others are uncanny and macabre. Our aim is not to promote lab-grown meat, nor to predict the future, but to visualize a wide range of possible new dishes and food cultures to help us decide what future we actually want.
The In Vitro Meat Cookbook may not motivate you to put down your old-skool hamburger just yet, but it's compelling in its organization and very existence. It might not be so bad to trade chicken wings for dodo wings someday.