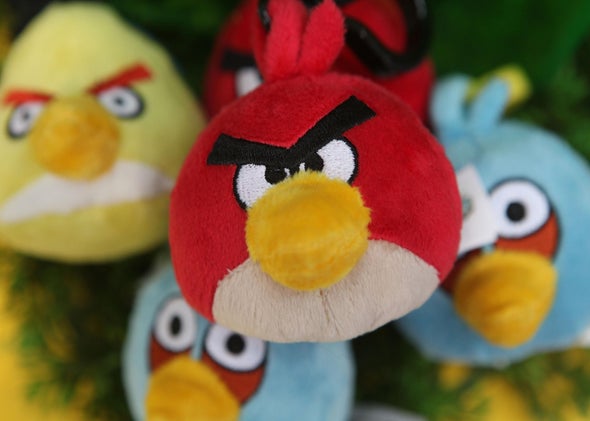 The birds presumably aren't the only angry ones at Angry Birds right now. Rovio, the Finnish gaming company behind the hit mobile app, said Thursday that it plans to lay off up to 130 people, or 16 percent of its workforce, after growing more slowly than expected. "We have been building our team on assumptions of faster growth than have materialized," Rovio CEO Michael Hed wrote in a blog post. "We plan to simplify our organization around our three key businesses with the highest growth potential: games, media, and consumer products."
The decision is undoubtedly a bitter one for Rovio, which in 2012 spoke ambitiously of becoming a comprehensive entertainment company that was "much bigger" than Disney. Crazy as that might sound for a relatively small organization built around plush toys and birds that seem utterly incapable of independent flight (no wonder they're dying off), in 2012 business at Rovio looked pretty good. That year, Angry Birds tallied 263 million monthly active players and reported revenue of $195 million. Sales were up 101 percent over the previous year and consumer products—toys, books, and so on—were taking off. Rovio was ready to think big.
Unfortunately for Rovio, some time between then and now the mobile gaming industry underwent a fundamental shift. Instead of charging people up front (Angry Birds costs $0.99 in the App Store), recent smash hits like Candy Crush Saga and the Kim Kardashian Game are free to download and then make money by luring addicted fans into in-app purchases. So successful has this model been for Candy Crush that King Digital, its parent company, staged an initial public offering in March. (How it's fared since is another story.) Rovio has struggled to adapt to the new model; at last count, its monthly active players were down at least 63 million.

By now a handful of examples—Tetris, Farmville, Angry Birds, Candy Crush—have suggested that viral games have a tendency to flare up and then burn out. The companies behind them have also often proved to be one-hit wonders. Rovio thought it was different. Back in 2012, it talked of launching not just a game but a franchise, building out an Angry Birds empire that would live long after the initial gaming fad had passed. Judging from Thursday's layoff announcement, that confidence might have been a little premature.

---