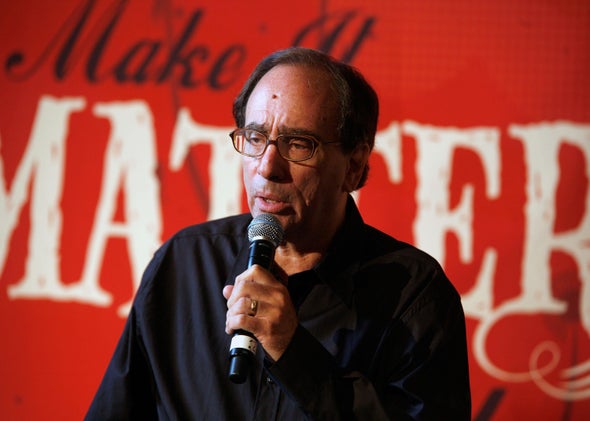 On Tuesday night, Goosebumps author R.L. Stine crooned his latest spooky ditty on Twitter. The Halloween tale, which comprised 15 tweets, is his third contribution to the Twitfic canon. (His first, from 2012, concerned a haunted kitchen, and his second related a farmer's bedevilment by a ghost named Yost.)
In "What's In My Sandwich" (Stine told me in an interview last year that he always begins with the title, and that his all-time favorite from his own oeuvre is Little Shop of Hamsters), a tribe of bristly, clawed creatures climbs out of the protagonist's egg salad sub. The guy takes the half-eaten lunch home, planning to document the new life form and get rich. But his young son finds the sandwich, does what you do with sandwiches, and disaster ensues:
This is vintage Stine, a compressed Theremin wail of youth-horror tropes. You've got the cliché of the useless parent (and here, Dad is worse than useless—he's actively negligent and coldhearted); and the eerie recursiveness of tiny animals erupting out of the tiny animal that is the narrator's young son. You've got the everyday yuckiness, the queasy plausibility, of unearthing something gross in your food. (As a rule, egg salad accrues disgustingness the more you contemplate it, so, good filling choice, Stine.) And there's the twist: the situational irony of the final tweet, in which the narrator detects a silver lining in his child's alien infestation—that where is my camera a uniquely Goosebumps-ian stab of terror, humor, and surprise.
Now, of course, is Stine season. The ghoul-whisperer for kiddies will appear at McNally Jackson bookstore in New York tonight, and this afternoon he takes the reins of the Scholastic social media accounts to talk to fans. Even during off-peak months, though, Stine has a warmly oddball partnership with his readers, wherein he freaks them out, and they send him inscrutable mail. On a Nerdette podcast episode from 2013, the king of gentle thrills gleefully described some of his correspondences, most of which, he said, look pretty similar. (Dear Mr. Stine, the teacher is making us write to an author, and I picked you. Where do you get your ideas?) When a note deviates from the pattern, he told the Nerdettes, it sticks in his memory. (He recalled one that read: Dear Mr. Stine, you are my second favorite writer. No signature.)
In order for your Twitfic to work, you need an audience: Luckily, Stine has 136,000 followers. (That is far more than Freddy Krueger, Leatherface, and Bunnicula combined.) Read his latest here. Happy Halloween!
---