It's the early days of California's rainy season. Problem is, rain isn't in the forecast.
For a state racked by drought, there couldn't be much worse news.
"California's record-setting drought will likely persist or intensify in large parts of the state," NOAA said Thursday in an online statement.
In their annual winter outlook and accompanying press conference Thursday, NOAA officials painted a grim picture. Odds are, rainfall and snowpack will again be below average this year, worsening the state's position and forcing more extraordinary measures to protect the state's wildlife, agricultural industry, and growing coastal cities. As an example of the kinds of actions that may become more common, the state is making plans to install nearly $1 million worth of water chillers to insulate salmon from warming water in dwindling streams.
According to NOAA records, California has just completed the warmest and driest three-year period on record. Because of this, Kevin Werner, NOAA's western regional climate services director, said the state "is now exceptionally vulnerable."
Due to the drought, Werner explained, "groundwater has been significantly, and in many cases, severely depleted." He said that fact was "unlikely to change even if we get a normal rainfall year." As a response to the worsening drought, California legislators recently enacted the first ever regulations on the pumping of groundwater, which is used as a primary source of irrigation by farmers in the state's vast Central Valley.
Mike Halpert, acting director of NOAA's Climate Prediction Center, agreed. "Given the magnitude of the drought that's there, even in a best case, there's still going to be drought in large parts of California when the winter's over."
Any hope Californians had that the coming El Niño would substantially reverse the drought now seems in vain. In a best-case scenario, the southern and northwestern parts of the state might see some drought relief from El Niño-fueled bouts of coastal rain showers, but it's the snowpack in the mountains that really matters. With a forecast of another warm winter, the average snow line will likely continue to climb, a trend linked to long-term global warming. California's intricate system of canals and aqueducts channel snowmelt to agriculture and urban areas in the spring and summer. The less snow, the less water the rest of the state receives.
The really bad news is that NOAA's official forecast for this winter may be optimistic.
When you dig down into the numbers, the forecast for this year's rainy season looks even worse. For December through February, typically the wettest months of the year in California, this week's update of NOAA's National Multi-Model Ensemble seasonal forecasting system is particularly dire. Seven of the eight seasonal climate models now show several months of below normal precipitation ahead for California.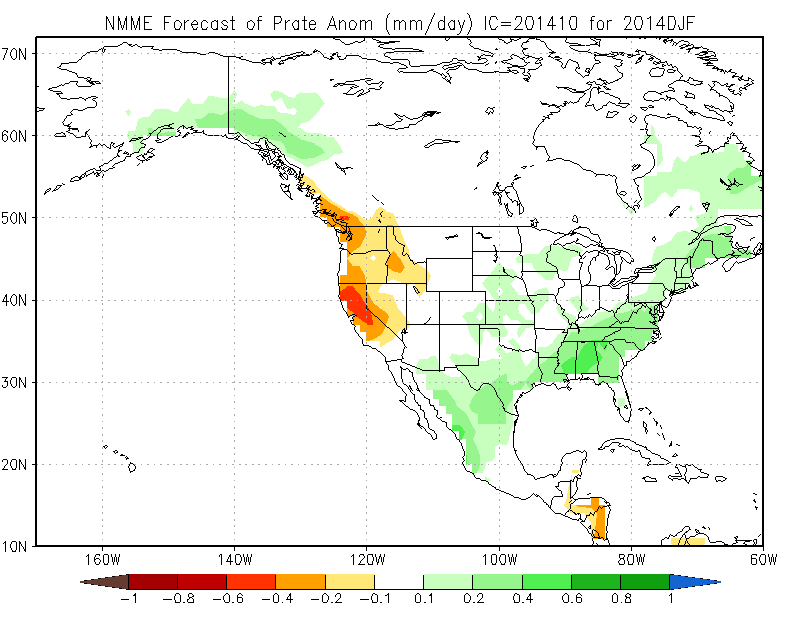 But thirsty Californians should look on the bright side: At least you're not in Brazil. A severe drought and lingering water shortage threaten to shutter São Paulo—South America's largest metro area—within a month if the remaining bit of water is not withdrawn from a reservoir system that's already been 96 percent depleted. Brazilian scientists have linked the current drought to a mix of Amazon deforestation and global warming.