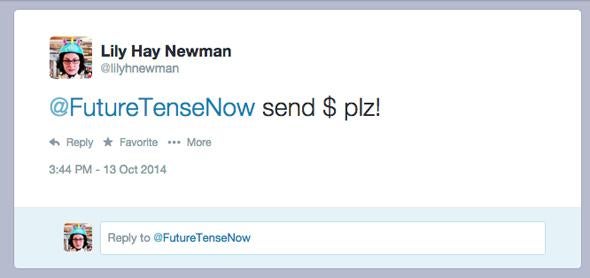 Mobile and embedded payments are picking up steam, but the only way for companies to figure out what users want is to try … lots of things! Twitter has already been experimenting with a "Buy" button that allows users to make purchases directly from tweets. Now Group BPCE, one of the largest French banks, is working with Twitter to allow money transfers by tweet in France.
BPCE is going to facilitate money transfers on Twitter no matter what bank French users have. Senders won't even need to know the bank information of the person they're sending money to.
BPCE is processing the transactions through its S-Money service, which already facilitates text message transfers. Reuters reports that S-Money uses data security standards established by the credit card industry (not terribly reassuring, I admit).
Twitter and BPCE will announce more details on Tuesday about how the process will actually work for French users. The partnership seems to show Twitter's a desire to get involved with online payments without having to create the infrastructure or security framework in-house.
If you want to send money casually and in full public view (and you live in France), Twitter is about to be the place for it.
---