The half-page advertisement in the Sun Gazette, a weekly newspaper in Arlington, Virginia, contrasted sharply with offers for dog training and discounted window treatments.
Opposite an editorial about a local feud over building a streetcar to promote development in two areas of the county, the ad depicted the silhouettes of three backpackers trudging toward the horizon. In black all-capital letters printed across blue skies, "IN CASE OF EMERGENCY …" the ad proclaimed. White type, also in all capitals, advertised 160 wooded acres in which to bury underground bunkers stocked with food and water on leased lots. It touted having a private airfield and being just a tank of gas away from Washington, D.C.
"Is this for real?" my wife, Patty, asked.
It was a good question. The ad did seem cryptic and out-of-place in a newspaper with multiple pages of advertisements for million-dollar homes. According to the U.S. Census Bureau, Arlington County had the country's highest median family income, at $137,216, in 2012. And the Washington region as a whole grew three times as fast as the rest of the country since 2007, according to the New York Times.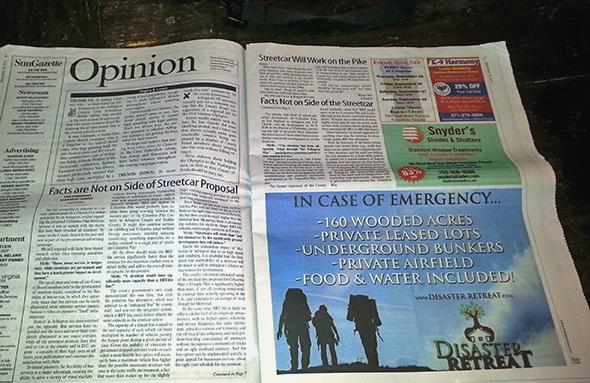 Klinton Kranski, a Richmond, Virginia-based chiropractor who lectures on weight loss at corporate events as his day job, is listed as the owner of the domain for the website promoted in the ad: Disasterretreat.com. In an initial phone interview, he said the ad is aimed at "more serious-minded families and executives. It's doctors and lawyers and dentists."
The idea, he said, is that busy professionals sense a need to have a safe haven away from the cities in the event of a catastrophe, but they lack the time or inclination to spend their days prepping for an unforeseen disaster. "We don't know if it'll be nuclear explosion or a terror event or a solar flare from the sun," he said.
It's not quite prepping for the 1 percent—most of these professionals can't afford to build multimillion-dollar bunkers under multimillion-dollar mansions or buy into seven-figure bunker communities springing up in abandoned mines and missile silos in the Midwest. But they do have enough money to lease a plot on his land in central Virginia, Kranski said. And just as they outsource landscaping, housework, and child care while society is functioning normally, they'll happily pay someone to prep for doomsday on their behalf. He compares it to buying insurance. Confidentiality and privacy are assured.
"We're talking higher earners out there," Kranski said. "They can afford $100,000 for a bunker; they can buy whatever they like. But most of them live in subdivisions, and most of them can't just go pop a shelter under their house. They want to have a place where they can go. Away from a town, because that's where looters and everyone else is going to go. They want to get out to the country."
Perhaps most important: "A lot of people don't want to have to deal with the details." Call it concierge prepping. Kranski said the Disaster Retreat staff keeps the bunkers' food stocks current and replenishes water supplies. There is game, and natural sources of water including wells. Full-time security guards live on-site, and a caretaker keeps trails clear and bridges working. Just in case.
* * *
Peter J. Behrens, a psychology professor at Penn State Lehigh Valley, has spent years studying the doomsday prepping phenomenon, which has been popularized—and caricaturized—in recent years by the National Geographic Television series Doomsday Preppers.
Behrens has watched people hunker down and profess fear about everything from a space alien invasion to the far more rational concern by South Koreans about a new conflict with the North. According to a 2012 global survey by the research firm Ipsos, conducted shortly before Mayan prophecy had scheduled the apocalypse, 14 percent of people worldwide think the world will end in their lifetimes. In the United States, the proportion was 10 percentage points higher.
Yet Behrens said he said he has never previously encountered a concierge prepping service.
"This is a whole new twist," Behrens said. "It's not just your mom and pop prepping anymore. It's an economic venture to make money off these people. They're tapping a potentially lucrative market. They're targeting people with surplus income."
Luxury is another selling point for this market. Mike Peters, a Utah-based builder of underground steel bunkers who is one of Kranski's suppliers, says his units don't resemble the claustrophobic backyard concrete bomb shelters installed during the Cold War. Today's bunkers have wood paneling, carpet and padding, baseboards, TV rooms, and luxury kitchens. They are outfitted with state-of-the-art air filtration systems and sustainable energy generation such as solar. They have grow-rooms for vegetables, microwaves, and self-composting toilets. A family could live in one for months.
Like Kranski, Peters said he's wooing the top end of the market. "I'm trying to target the people who don't know anything, who just want it done for them, who don't care what it costs," he said, adding that includes executives and politicians.
Peters said his clients used to express fears that an electromagnetic pulse from a solar flare or nuclear detonation would destroy electronic components, leading to a collapse of society. Such an event is fictionalized in the book One Second After and the television show Revolution explored the violent aftermath of a permanent blackout before concluding its run in May. "Now it's more civil unrest."
Kranski, too, said his customers are citing fear of "unrest," although he cannot articulate precisely what that means. In just two months of operation, he said clients have already put four bunkers in the ground—the largest is 300 square feet. He said he is on the verge of signing leases for three more quarter-acre plots, which rent for $1,000 per month and come with $400 in food. Talks with about 100 other people are in various stages of negotiation, he said.
After I agreed not to disclose the actual location of the property and assured him that I'm not looking to start a competing enterprise, Kranski invited me to take a tour. But he wouldn't give me the address—I would have to meet him at a nearby location and then follow him after he checked me out.
* * *
As I pulled out of my driveway at 6:30 a.m. on a mid-October day, radio newscasters were reporting on the first transmission of Ebola in the United States and speculating that the air campaign against the ISIS caliphate in Syria and Iraq was failing. There were new fears terrorists were infiltrating the borders, talk radio intoned.
The season premiere of The Walking Dead was also on my mind, which proceeded to catalog the canon of post-apocalyptic entertainment I'd consumed through the years. Books such as Stephen King's The Stand and Cormac McCarthy's The Road are favorites. Stanley Kramer's On the Beach made a huge impact on me, as did the 1985 New Zealand film The Quiet Earth. I have vivid memories of being traumatized by The Day After in 1983. I'm not just a sucker for the genre—I understand the impulse to prep. After Sept. 11, for example, my wife and I packed "bug-out" packs of freeze-dried food, camping stoves, sleeping bags, and other essentials and stashed them in a closet. With the memory of non-working cellphones fresh on our minds, we even purchased two-way radios and chose a special channel we'd use to communicate in the event of another emergency and cellphone network failure.
Eventually we used the backpack contents on an actual camping trip, and our children got the two-way radios. But even today we keep extra water and batteries on hand, a lesson learned from a five-day power outage following Hurricane Isabel in 2003.
Urban gridlock gave way to suburban tailgating and improper lane changes. Eventually, the exurbs disappeared in my rearview mirror and I was speeding along the interstate. Ninety minutes later, I exited onto a four-lane highway that quickly collapsed to two lanes once I was clear of the chain restaurants and gas stations clustered around the interchange. After a while, I pulled into a town that lacks even a stoplight, and passed a Dollar General store. I waited for Kranski in the weed-strewn parking lot of a long-abandoned gas station and general store.
Moments later, he pulled up in a silver Toyota Tundra and waved for me to follow. Then, my phone chirped. "It's about 20 minutes ahead," he said.
We turned onto a poorly marked gravel road and passed a series of dilapidated ranch homes, one of which had seated a straw model of a hockey mask-wearing Jason Voorhees from the Friday the 13th horror film series in a lawn chair. Another turn brought us to a lane that ended at a locked gate. Kranski got out, unlocked the gate, and we parked in front of a cabin that had no street address posted on its facade. But for a couple of faded and ripped "no trespassing" signs, there was nothing remarkable about the entrance, let alone anything that announced "bunker community ahead."
Kranski prefers it that way. He and his partners briefly considered installing high concrete walls, but he concluded that would only attract attention. "We purposefully are trying to keep it nice and quiet," he said.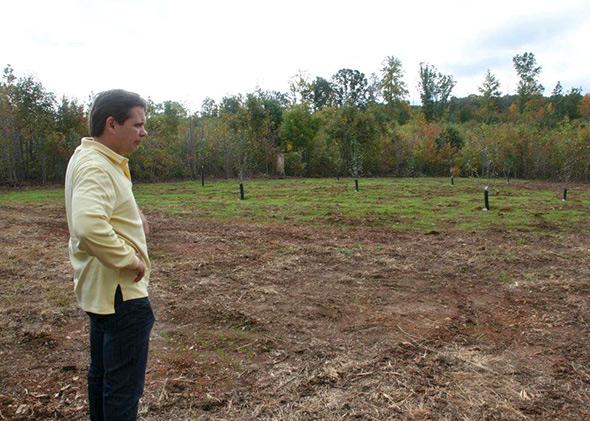 Kranski speaks with the slow, lilting drawl of a Virginia gentleman; when making ominous predictions about the future, for example, he frets about the "crap" hitting the fan. Wearing jeans, a polo shirt, and boots, he gestured to the blue Kawasaki Mule all-terrain vehicle we were going to take on our tour of the various neighborhoods, air strip, and future landing pad, and told me to climb in.
Apologetically, he reached for his holstered pistol in his truck and put it in the glove box of the Mule. "Hope you don't mind. It's for the bears," he said. Apparently, security cameras recorded a family of black bears frolicking near the caretaker's cabin only the day before.
After explaining that the caretaker keeps spare parts including an alternator and spark plugs for the Mule in a Faraday box that can withstand an EMP, Kranski put the ATV in gear. We lurched forward, and then up a steep grade, the tractor's tires straining to grip the muddy terrain. As blackberry thorns poked at my arms, I asked Kranski about his advertising strategy. He explained that so far they had only advertised in local papers in the Washington, D.C. area and in Raleigh, North Carolina. More recently he has started running ads on Glenn Beck's The Blaze.
The marketing effort yielded results almost right away. To date, all of his serious inquiries have been from the nation's capital. Again, that surprised me. But then I thought of a possible reason why: The Washington, D.C. region has experienced more trauma than most communities through the years.
During the Cold War, there was the constant threat of nuclear annihilation and the realization that the nation's capital made it Ground Zero for an enemy attack. Since the new millennium began, Washington suffered in new ways: the Sept. 11, 2001 attack on the Pentagon and the belief that Flight 93 was destined for the Capitol building before passengers overcame the terrorists over Pennsylvania struck a chord. Mail handling policies changed after anthrax was mailed to journalists and senators still leave paper correspondence fried and yellow, and every U.S. mailbox on Capitol Hill remains sealed to this day.
The Beltway sniper attacks made everyone wary of white vans. The preponderance of jersey barriers around town didn't prevent shootings at the Holocaust Museum, Capitol building, and Pentagon. The mass shooting at the Washington Navy Yard last year and the 2007 rampage by a gunman at Virginia Tech University five hours away also weighed heavily on people in Northern Virginia, home to numerous alums of the school.
Now there are indications the economic buoys that made it easier for the Washington area to float above the depths of despair are sinking. George Mason University professor Stephen Fuller, the godfather of Washington regional economists, is warning that job growth has lagged in the D.C. area since budget sequestration went into effect. Pay is down too. "In relative terms, we are worse than Detroit," Fuller told an audience this summer, according to a report by the Washington Business Journal.
This may be what people from the D.C. area sense when they tell Kranski they fear "unrest." But Kranski is hesitant to elaborate, probably because he knows such concerns go hand-in-hand with anti-government sentiment. His bunker community has no ideology, he said, and he doesn't want to be lumped in with Doomsday Preppers. Among other things, while tenants are welcome to store firearms in their bunkers, he doesn't want people shooting on the property.
 "The number one reason people call us is families," he said. "We don't want people running around with camouflage and AK-47s." This seems wise, given how one Doomsday Prepper nearly shot his own thumb off during filming.
Kranski pulls the Mule up to a clearing he said will be designed to be a helipad. Several hundred feet ahead, on the summit of a small hill, a landing strip for private aircraft is being built. Bigger planes, such as Lear jets, could land on the state highway if necessary, he said. He anticipates great demand for both the landing strip and helipad, saying that very wealthy people now have private pilots on retainer to fly them out "when the crap hits the fan."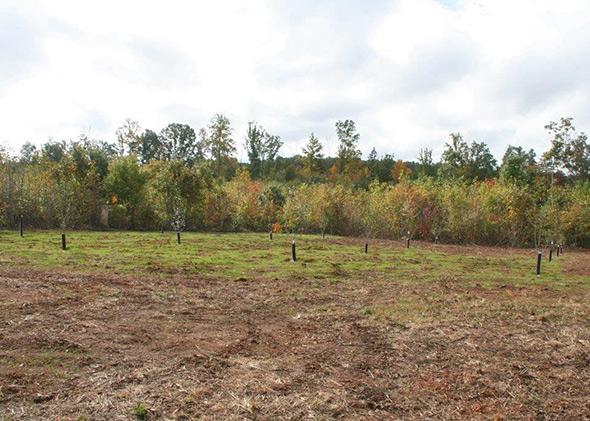 In an old hunting hide that gives a panoramic view of the property, Kranski points out a couple of red tags marking plots in one of the "neighborhoods." The four neighborhoods—Black Bear Hill, White Tail Crossing, Black Bear Ridge, and Cottontail Hills—each offer different attractions. Some provide more seclusion, for instance, while others face the sun, making it easier to generate solar power. All cost the same, although lots can be combined for a higher monthly fee.
The plots themselves loosely resemble tent sites at a campground, although they are completely overgrown with brush. But that's the idea. Once a bunker's in the ground, it's nearly impossible to detect unless one happens upon the steel entrance. There's so much vegetation, in fact, that people can be in abutting quarter-acre plots and not see each other through the brush.
My tour ended anti-climactically, for there was no bunker to see. Kranski apologized, explaining he couldn't show me the four buried on-site already because they are individually owned by tenants. He said he's working on having a model built to show prospective clients, just as one would find in a gated community.
The comment struck me as yet another example of Kranski stressing the normalcy of his venture. At varying times, he compared the business model to a trailer park and a marina. "This whole thing is no different than having a boat slip," he said at one point. "If you can afford a boat, you choose between a yacht or a cabin cruiser, but you still need a boat slip."
As I climbed back into my car, I was filled with all sorts of logistical questions to challenge Kranski, chief among them: It can take an hour to travel five miles on any given day on the Beltway, so how long would it take to travel the equivalent of three hours in a car if all motherboards were fried by an EMP? Would Washington denizens really make good neighbors with Glenn Beck's audience during a crisis? And who would want to survive a truly catastrophic world-ending event, anyway?
Behrens, the Penn State psychologist, said in an email those questions are "pertinent and reflect clear thinking" but are unlikely to occur to people wooed by Kranski's pitch in the first place. Sustaining an aura of normalcy will be critical to the success of the venture, Behrens said. "The strategy is normalization of extreme beliefs that defy logic (and science), just like 19th-century snake oil hawkers," he said. "There is no room for critical thinking, because that would undermine the message and intent to 'win' people over and validate the movement."
And to be sure, Kranski gave normal and seemingly reasonable answers when I sent a follow-up email posing those same questions. On transportation, he said anyone interested in his service would likely have a contingency plan for traveling. He downplayed the potential clash of ideology between tenants by saying "it's just about whoever is interested in a back-up plan for their family." And on the larger existential question of wishing to survive Armageddon in the first place, he replied that survival is a basic instinct. "Keep in mind, the government is planning for this with all the top elites so you wouldn't be alone," he added. "If the government is doing this, it begs the question why shouldn't everyone else be planning to a degree as well?"
In any case, I wasn't sure Kranski was making a hard sell. All it has taken to get his project off the ground is a handful of half-page ads in local newspapers that cost less than $1,000. His entire endeavor is far more modest than the widely publicized project in Atchinson, Kansas, where entrepreneur Robert Vicino planned to build a 2 million square-foot underground community to be populated by 5,000 carefully chosen people exhibiting specific skills. Yes, it was called the "Ark."
Vicino this summer pulled the plug on the Ark, although the company operates other, smaller prepper communities. He blamed safety concerns caused by underground structural issues in Kansas; local business leaders cited a lack of interest. Whatever the reason, it seems Kransi's understated approach may be resonating where Vicino's ballyhoo did not. At least for now. After the Ebola panic ends and fear of "civil unrest" dies down, another threat will loom large for those of us fond of imagining the apocalypse—and the market will have an answer for that one, too.
This article is part of Future Tense, a collaboration among Arizona State University, New America, and Slate. Future Tense explores the ways emerging technologies affect society, policy, and culture. To read more, visit the Future Tense blog and the Future Tense home page. You can also follow us on Twitter.