The Internet scandal of the day is that the dog above wasn't exposed to Ebola. That's a good thing! But it's bad for news outlets that included the photo in their coverage of a very similar-looking dog being quarantined because of Ebola exposure.
The New York Post and Daily Mail—along with others that followed their lead—included the bath photo in their coverage of Bentley, the Cavalier King Charles Spaniel owned by Nina Pham, the Dallas nurse who contracted Ebola last week. Legitimate photos of the real Bentley being quarantined were also included in both articles, but the bath photo doesn't depict some type of anti-Ebola rinse. It simply shows a different dog of the same breed taking a bath.
As you can see above, it seems that the bath photo originally came from the Instagram of user pennytigerlilly and was published around June 2013. It's a cute picture, and Imgur versions have circulated on Reddit a number of times. But the apparent owner, whose Reddit name is also pennytigerlily, has been consistently trying to defend his or her ownership of the photo with comments like "NOT YOUR PICTURE. STOP REPOSTING." And, "Very strange to have someone else tell me my dog is on the front page of reddit—when I didn't even have an account."
Pennytigerlilly must have gone through the roof when he or she realized that the photo had traveled beyond the front page of Reddit, to news stories implying that the pooch had been exposed to Ebola. (Slate messaged pennytigerlily for comment on Instagram, but we haven't heard back.) The Instagram account hasn't had a post since April 2014 and pennytigerlilly hasn't been active on Reddit for a year. But here's bath pup in drier post-bath times.
So how did the Post and Daily Mail end up making this mistake? The bath photo had also been circulating on Pinterest, and Pham pinned it to her board, along with other snapshots of anonymous Cavalier King Charles Spaniels. The Pinterest account that appears to be hers, ninapham88, has been taken down. But the Daily Dot credits two Cavalier King Charles Spaniel photos to her Pinterest.
Cute animal photos plus an Ebola tie-in are a great recipe for Internet traffic, so it seems like the Post and Daily Mail were just excited to take the story live and either didn't bother to verify that the photo was of the same dog or planned to piggyback on the cuteness as a (misleading) symbolic example of the breed. Both sites seem to understand, at least in this case, that that was a bad idea. The Post took its article down for a while and put it back up without the bath photo (it also never had a caption claiming that the bath dog was Bentley), and the bath photo no longer appears in the Daily Mail story.
The Daily Dot calls inclusion of the bath photo "an act of journalistic malpractice that boggles the [mind]." That seems a little excessive. It's likely that in their rush to post, the sites just assumed that the bath dog was Bentley because the photo was on Pham's Pinterest and the dogs look extremely similar. That's certainly bad journalistic practice and shows questionable knowledge of social media, since Pinterest is less of a site for sharing personal photos and more of a place for media discovery. Still, it's definitely not the worst photo gaffe ever.
Now let's all return to the real Bentley—who is just as adorable as bath dog, is (presumably) lonely in isolation, and has an owner who is legitimately sick.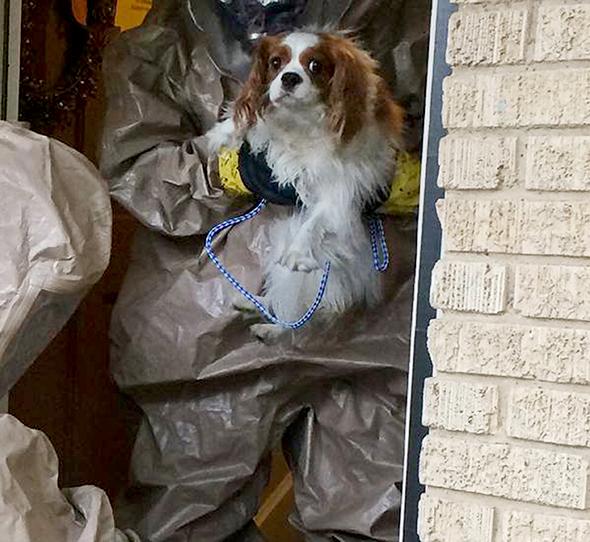 ---