The chimpanzees arrived by truck before sundown. They'd had a long day. At dawn that morning, they were sedated and loaded into cages inside a 36-foot trailer. The truck driver and a veterinarian checked their cargo, moving from cage to cage. The chimps were awake when their odyssey began: north on Interstate 49, past Opelousas and Natchitoches, leaving the lab they knew as home in southern Louisiana and heading to a new place, a sanctuary nearly 250 miles away. There was a break for sliced apples and bananas along the way—and stunned travelers at the truck stop took notice, snapping pictures on their cellphones. Then it was back on the highway, the chimps rocking the trailer so hard, raging against the cages, that the driver could feel it swaying on the road—until, finally, they arrived at the sanctuary in the woods. As the driver unlatched the padlocked doors to the trailer now, letting in the late afternoon sunlight, the chimps made their concerns known, howling, banging the walls, and throwing feces at the woman in the doorway.
"It's OK, baby. It's OK," veterinarian Raven Jackson cooed, speaking in a soothing whisper. "You want to get out? You want to see your new bedroom? Yes?"
Wearing scrubs, rubber gloves, and a plastic shield across her face, Jackson went to work. As the full-time veterinarian at Chimp Haven—the only federal sanctuary for chimps formerly used in research—she has retired dozens of chimps over the years, moving them from labs across the country to the 200-acre sanctuary in the piney woods of northern Louisiana, not far from Shreveport.
But this shipment was different. It was the first since last year's announcement that the National Institutes of Health was retiring all but 50 of its 360 federally owned test chimps. These nine animals, moved in February, were the beginning of an exodus of sorts, the controversial beginning of the end of a century of governmental research on the beasts most closely related to humans.
A four-person crew, including Jackson and the truck driver, began unloading the chimps one by one off the trailer. First, they unstrapped each 300-pound aluminum cage from the wall. Then, careful not to be grabbed, scratched, or bitten by the chimpanzee inside, they rolled the cage down two wooden planks to the ground. After that, the team would push each cage into the quarantine area—past the emergency air horn and the can of bear mace, in case of an escape. They would strap each cage flush to the wall of the chimps' new temporary home, open the doors, and ask the chimps to "jump" into the new area—a skill the animals had honed well in labs.
"Ready?" Jackson asked her team. "Here we go."
"Good boy, Pepi."
"You're all right, Hayden."
"Oh, sweetie, it's OK."
"This is exciting," Jackson said. "This will be exciting."
It will also be a fight. Despite the NIH decision 15 months ago—and the fact that the government already spends about $1.8 million a year to keep chimpanzees at Chimp Haven—officials are making no promises that the 300-plus newly retired chimps are headed to the Louisiana sanctuary or to any other sanctuary anytime soon.
Part of the problem is space. Chimp Haven, with its large, forested habitats, doesn't have any left. To accommodate even the 58 chimps leaving Louisiana's New Iberia Research Center this year—chimps the lab voluntarily agreed to give up prior to the NIH decision—the sanctuary had to build new play yards and enclosures with $2.6 million in private donations. And Cathy Spraetz, the sanctuary's president, isn't sure where she'll find financing for future build-outs, given the government's reluctance to help. "They're drawing a line in the sand," she told me, "and saying they're not going to fund construction."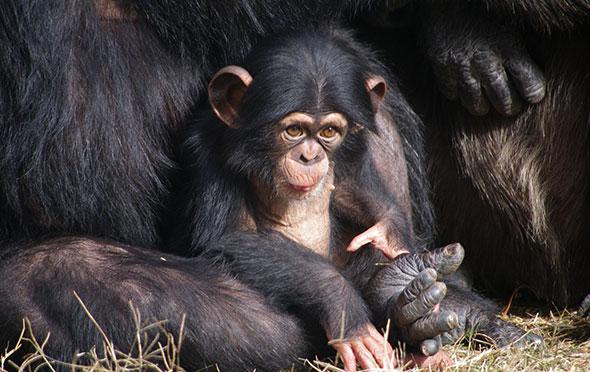 The problems go well beyond space and money. Some labs resisted the NIH decision to shelve the chimp research, believing the animals still have scientific value. And in defeat, they are not giving up. Instead, they're arguing that the retired chimps should stay right where they are: in the labs.
Chimp advocates argue that lab staffers are just trying to keep their jobs. The labs get paid for each chimp they hold. The NIH has spent, on average, about $12 million a year on chimp care. And without that money, and the chimps, lab administrators admit layoffs are possible.
But Susan Lambeth says losing her job isn't what worries her. She works in the hills of Bastrop, Texas, 35 miles east of Austin, in a lab that's part of the MD Anderson Cancer Center. Most of the 158 chimps there were born in captivity. Labs like this one are all they've ever known, and Lambeth believes it's the best place for them.
"Chimp Haven's beautiful," she told me on a visit to Bastrop this year. "And if we thought for one minute that our animals would be better off there, we could lose our jobs. We could say goodbye. We could move again. But we don't feel that way."
* * *
America has had a chimp problem for decades. Since the 1930s, chimps have been lobotomized, placed in sensory deprivation studies, and raised without the use of their arms and legs. Scientists integrated chimps into families to see what might happen. (Not much did.)
The animals have also been used in studies that led to important medical breakthroughs—including life-saving vaccines for polio and hepatitis. And our understanding of chimpanzees continues to make contributions today. A new clinical trial for an Ebola vaccine, which began this month, uses a chimpanzee adenovirus—effectively, a chimp cold virus.
From the start, regardless of the goals, research on chimps has sparked debate. As early as 1937, one prominent scientist argued that chimps were no more effective in research than rats—and a lot more expensive to keep—raising prescient questions about whether they were worth the trouble.
Most early lab animals came from the booming animal import business. Primates and other creatures streamed into New York City, by propeller plane and ocean freighter. The cargoes at times bordered on the preposterous: elephants, caged next to pythons, crated next to chimps, nestled up near monkeys, which inevitably would escape. But the risk was worth it. Rhesus monkeys sold for $25 apiece, chimps for $600—steep prices 60 years ago. And few were better at moving the product than Henry Trefflich, a German immigrant and natural showman who owned a pet store in lower Manhattan and took pride in delivering what he called "first-class stock."
Over the course of 40 years, Trefflich imported roughly 5,000 chimps and more than a million monkeys, most of which ended up in labs. What started as a small import business became a $1 million annual enterprise and Trefflich became famous. The Yonkers man was dubbed the "Monkey King of America." But by the 1970s, sales were down, undercut by competitors and gutted by new rules, which ultimately banned the import of chimpanzees. "You could see where things were going," said Henry's son, Richard Trefflich. "It was collapsing."
The monkey king died in 1978, his animals and his store, all gone. As Trefflich was losing everything, the NIH was trying to ensure that it would stay in the animal research business. In 1974, it established a committee to secure "long-term supplies of nonhuman primates for biomedical research." The main concern: monkeys. "There was almost nothing said about chimpanzees," said Robert Whitney, chief of the NIH's Veterinary Medicine and Resources Branch at the time. "We weren't using many of them. They were expensive." Also, they were dangerous. "There's just all kinds of reasons," Whitney said, "why you go to chimpanzees as the last resort."
By 1980, however, that policy was shifting. Scientists began worrying there weren't enough chimps available for research; about 1,300 were in the United States at the time. The NIH began discussing systematically breeding the animals to increase the population—a discussion that took on new urgency four years later with the growing AIDS epidemic, the discovery of its cause (the HIV virus) and research that showed that chimps, like humans, could be infected. Chimpanzees were selected for breeding specifically for the purpose of finding a vaccine for this new and terrifying disease, $4.5 million was earmarked for the program, and Whitney was given a new job: to make it work. "It was a lot of pressure," said Whitney, who's retired now and living near Seattle. "The heat was there. You've got to get chimps. You've got to have them. You've got to have them now."
The breeding was successful. The research in chimps, for the most part, was not. Other models, like monkeys, were ultimately determined to be cheaper and just as effective. And the breeding program was shut down. The fact that it had worked—that chimps had actually reproduced in great numbers—was now the new crisis. The government had given birth to 400 additional chimps, baby apes that might live 50 years or more, with little to do and nowhere to go.
* * *
The only way to get to Chimp Haven in north Louisiana is along lonely back roads: past the double-wide trailers and the red-dirt farms, through the dense forests and not far from the tiny church with a block-letter sign out front. "We trust in God," the sign reads. "Not in the government."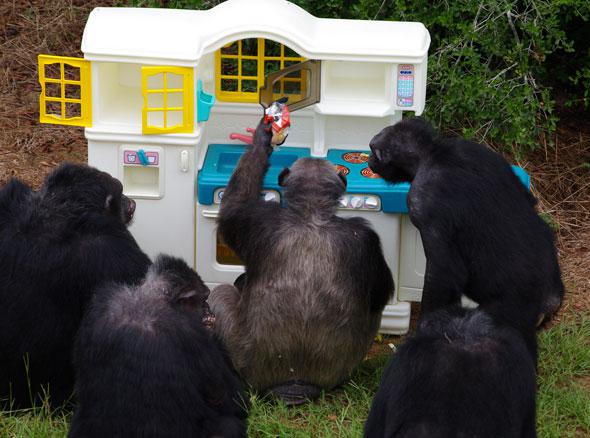 Sanctuary construction began in 2003 after its founders, former laboratory caregivers, won the first federal contract under the CHIMP Act, legislation designed to provide American test chimps a place to live out their lives. Then-Rep. Jim Greenwood, a Pennsylvania Republican, called the act a "no-brainer." "We are spending millions of dollars now to keep these animals in inhumane conditions," he told his colleagues during debate. "We have to get beyond this."
Greenwood, now president of the Biotechnology Industry Organization, had some trepidation, politically, about introducing a bill that set aside $30 million for chimps—not people. "It would have been easy for somebody, some political opponent, to make a big deal out of it," Greenwood said recently. But the idea passed easily and the test apes began arriving at Chimp Haven in 2005, starting with a pair of females.
Today, Amy Fultz, the sanctuary's co-founder and full-time behaviorist, cares for more than 200 chimpanzees living in 3,200-square-foot enclosures, 4,500-square-foot play yards, and wooded habitats, up to five acres in size, that allow the chimps to live in a forest for the first time, foraging amid the trees in large social groups, just as they might in the wild. "They're amazing," Fultz says. "You look in their eyes and you see them looking back."
Jackson, the sanctuary's veterinarian, believes just being at Chimp Haven is therapeutic for the animals, who often arrive from labs with a host of problems: rotten teeth, tumors, hair falling out, unhealthy skin, anger, and depression. "All of us here have come from the laboratory," Jackson says. "We know what goes on in the laboratories. We see it. Some of us have partaken in it."
The idea that the retired chimps might stay where they are—in the labs—is upsetting to animal rights advocates. They are demanding the NIH move all its chimps and set aside money to expand the sanctuaries—either Chimp Haven or one of the other seven members of the North American Primate Sanctuary Alliance. "The government spent a whole lot of money creating the problem," says Sarah Baeckler Davis, the alliance's executive director. Now, she believes it's time for the government to solve it. "It's a moral issue," she says. "It's an ethical issue."
* * *
The New Iberia Research Center, a department of the University of Louisiana at Lafayette, began retiring its 58 government-owned chimps in February. But 230 university-owned research chimps—apes not owned by the federal government—remain on the premises. And Joe Simmons, the lab's director until recently, was happy to give me a tour of their enclosures earlier this year. Many were smaller than Chimp Haven's; some had no grass. But Simmons didn't believe wide-open spaces, or grass, to be a requirement. "You come out here on a hot day and the chimps are all inside," he said, from the air conditioning of his car. "They're just so awesome," he said at another point, marveling at the chimps. "One of the things I enjoy doing is going up to some of the offices here on the third floor and just watching them."
Five years ago, the government cited the lab for failing to properly care for its chimps and monkeys. An undercover activist, working for the Humane Society of the United States, captured footage of lab workers scaring chimps with tranquilizer dart guns, a sedated chimp tumbling off a perch to the ground, and self-mutilation among monkeys, a sign of distress.  
But Simmons, who wasn't at the lab then, says things have changed for the better. "The chimps here," he said, "are very well cared for." The lab has even considered transitioning into a nonprofit sanctuary, he told me. With New Iberia's government-owned apes gone to Chimp Haven—and the government funding gone with them—Simmons said the lab has to find funding for the remaining chimp colony somewhere, maybe even, he hopes, from the NIH itself. "If we look at the 230 animals that are here, 219 of them have NIH fingerprints all over them," he said, meaning they had been used in government studies or bred for that purpose. "The question is, does NIH have any future responsibility for them?"
The government, flatly, says no. The NIH has always provided funding for any chimp being used in a government study. But the agency balks at supporting the university-owned chimps in New Iberia, which have generated income over the years from pharmaceutical companies that have paid to use the chimps in research. And besides, NIH officials have other problems: The chimps they do actually own.
James Anderson, the director of the NIH division that oversees chimp management, admits it could be a while before retired government-owned chimps move to sanctuaries. "It is going to cost a considerable amount of money," Anderson said. "And that would come out of the other worthwhile research activities that NIH does. So we would have to think carefully: Do we want to spend funds to expand the sanctuary this year—versus research for pediatric cancer or something? It has to come from somewhere."
Which is why—for now, anyway—most retired chimps are right where they were a year ago: just waiting. And recent decisions don't seem to bode well for them. In April, the NIH ruled chimpanzees need 250 square feet of living space—far less than the 1,000 square feet recommended by the agency's own working group. The decision was seen by many as a victory for the labs. Some, like the Keeling Center for Comparative Medicine and Research in Bastrop, Texas, had fought the notion of larger standards. As the center's director Christian Abee told the NIH last year, the need for larger spaces is "arbitrary" and would be "extremely expensive" to implement.
Still, Abee believes he's doing right by his chimps—and he hopes to keep them in Bastrop for years to come. Earlier this year, he greeted me in his office and walked me around the 12-acre chimp facility. There are no wooded habitats there, like there are at Chimp Haven. And presumably, given Abee's public comments about space requirements, there's little inclination in Bastrop to create more room for the center's 158 government-owned chimps.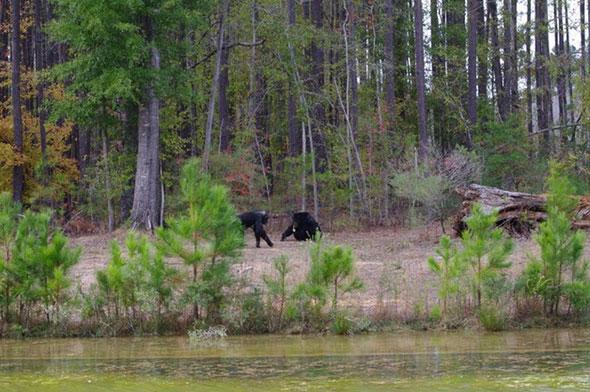 But Abee's facility has plenty of positive features: large, open-air corrals; chimpanzees who happily volunteer to have their blood drawn in exchange for treats; and a staff of seemingly invested, long-term caregivers doting on the animals. In Bastrop, veterinarians even offer acupuncture to aging chimps, believing it helps their aches and pains. "Would we survive if all of this disappeared?" Abee asked. "Yes." But if the government moved the animals to Chimp Haven or another sanctuary, staffers would lose their jobs, Abee said. The Texas facilities, built with taxpayer dollars, would go empty. "And the chimpanzees would suffer for it," he said. "They would have to be moved cross-country to a new place."
The transports can indeed be stressful. On rare occasions, chimpanzees have even died en route. But then, they've died in Bastrop, too. There's a small memorial garden on the grounds, with stones paying tribute to the chimpanzees no longer with them. The death of Tony, the chimp, was especially hard to take.
The 18-year-old male, smart and muscular, escaped from a corral in Bastrop six years ago, leaping from a play structure, to a wall, and then down to the soft earth below. From there, he ambled into a nearby field—"chasing some cows," Abee says. Staffers deemed the situation nonthreatening. Armed with tranquilizer guns, they expected to bring the 140-pound chimp back. But a police officer got to him first. He shot and killed Tony just across the road from where the chimp was born, where his mother lived, where he sat day after day, eyeing the walls, stuck in that corral, his home: an American lab, in the hills of Texas.