The remnants of Hurricane Norbert caused extensive flooding across the desert southwest on Monday, bringing half a year's worth of rainfall to Phoenix in half a day.
I mentioned the risk for flash floods in the southwestern desert from Norbert last week, but today's rainfall came with unprecedented ferocity. In fact, it was the most rain that's ever fallen on Phoenix in a given day since recordkeeping began.
Today's rains were five times what Phoenix normally gets in the entire month of September.
Until now, Phoenix had been having one of its driest years on record. Today's deluge greatly boosts its heretofore meager total, putting the city almost exactly in line with historical averages for this time of year. Of course, an oppressive drought plus a ridiculous rainstorm has given new meaning to the concept of an "average" year. The drought is so bad, even a rainstorm with never-before-seen ferocity won't be enough to end it.
It's not unusual for a hurricane's remnants to draw tropical moisture northward into California and Arizona this time of year, but a direct hurricane landfall is very rare due to the cold waters that tends to dampen storms' strength on approach. The last one was in 1939. Norbert didn't make landfall, either, but nevertheless was very effective at boosting the moisture available for today's monsoon thunderstorms.
Today's floods have been widespread, hitting Tucson, Southern California, and the Las Vegas area as well. (In a seven-minute period this morning, Tucson had a week's worth of rainfall.) That led to a number of water rescues:
The rainiest spot in California today was in the desert near Palm Springs, where less than two inches of rain prompted an estimated 40 rescues. But in general, rainfall in California was much more spotty and did little to stem the intensifying drought there.
When it rains this much this quickly in the desert, most of the water makes its way into dry creek beds and river systems, failing to recharge the dwindling water table. According to the National Weather Service, it would take three more days like today to end the drought in the Phoenix area. In California's Central Valley, where the drought is even worse, hardly any rain fell today.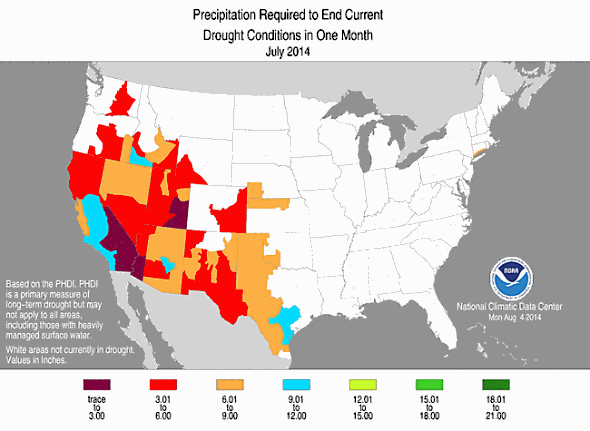 As with other mega rainstorms so far this year in Seattle; Detroit; Baltimore; Long Island, New York; and Pensacola, Florida, it's very likely that global warming played a role in today's desert deluge. According to this year's National Climate Assessment, heavy rainfall events have been increasing all across the United States since the 1950s, boosted by a quirk of atmospheric physics: Warmer air can hold more water vapor. That means thunderstorms in climate-change-altered 2014 can now pack a heftier punch.
More rain is possible throughout the evening across the Southwest.