As I wrote earlier, BuzzFeed has been taking heat for deleting thousands of old posts earlier this year without telling anyone. (Gawker's J.K. Trotter was the first to report on the purge.) The site's founder and CEO, Jonah Peretti, told me that, as far as he knew, all of the deleted posts were published prior to December 2011. That's when, in his mind, BuzzFeed morphed from an experimental tech startup into a bona fide editorial operation with the hire of Ben Smith as its first editor in chief. You can read his full explanation here.
In the story, though, I also pointed out at least one embarrassing BuzzFeed post of more recent vintage that fell down the memory hole. It was headlined "What's the Deal With Jazz?", and the author was Amy Rose Spiegel. At the time of its publication in February 2013, it was roundly ridiculed by other journalists on Twitter.
At some point along the line, unbeknownst to the public, it disappeared from the site. As Trotter pointed out, an Internet Archive lookup suggests it was taken down sometime around July 2013, long before BuzzFeed's methodical purge of thousands of older posts. If it were true that BuzzFeed has been secretly deleting more recent stories as well, that would puncture Peretti's explanation.
Well, here's one mystery solved: BuzzFeed spokeswoman Ashley McCollum told me Thursday afternoon that the culprit was none other than Spiegel herself.
"The author of that post, who no longer works here, deleted it without notifying anyone," McCollum said in an email. "It has been reinstated and an editor's note has been added." Sure enough, you can now find the post back online at its original URL, right here. Happy hate-reading!
I contacted Spiegel, and she confirmed McCollum's story in a phone interview. "Yeah, I deleted it," Spiegel said. "That was a decision I made totally on my own. It was long enough [after the story's publication] that no one noticed."
Why would a blogger delete her own post without telling anyone? Her answer is one that a lot of young online journalists can probably relate to, even if they wouldn't have taken the same action. I imagine it might resonate particularly with those who have come of age at a time when the industry's incentives skew toward page-views and Facebook likes.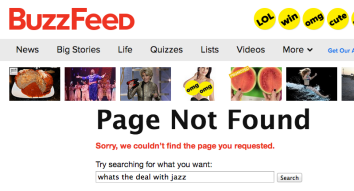 "I deleted it because I was deeply embarrassed by it," Spiegel told me. "It's an embarrassing thing to have written."
In fact, Spiegel went on, the post wasn't exactly her idea in the first place. At the time, she was 22 and had been out of college for less than two months. BuzzFeed had hired her as an associate editor for its new music section the day after she graduated from Pace University with a degree in English literature.
She was drawn to the job, she says, by the promise of editorial freedom and the chance to write long-form essays. And, in fact, she did get to do some work she was proud of in her 10 months at BuzzFeed, which does more thoughtful journalism than it tends to get credit for. They included an essay about her first time seeing the band she idolized in concert and another story that looked at whether social-media platforms were enforcing their bans on "thinspiration"-related content.*
But one day in her second month on the job, Spiegel said, she happened to mention to her editor that she didn't particularly like jazz.  (She declined to name the editor.) "My editor was like, 'You should really write about about "What's the deal with jazz?"' I was like, 'No, I don't want to do that.' … He sort of pushed me into it, and so finally I wrote the post and didn't think it would be a big deal. I was doing a lot at BuzzFeed at that point that didn't feel in line with what my beliefs were as a writer."
"And so," Spiegel continued, "the reaction that it got was really deserved, and I totally understood it. I was really ashamed at having my name on it. I'm sorry I did it. It was the ultimate, like, Amiri Baraka 'Jazz and the White Critic' kind of thing. I was so sorry about having done it, and I didn't want it in the world, and I also didn't feel like I should be taking full responsibility for it because I had been bullied into doing it after saying no. So I deleted it, and I knew that was against BuzzFeed's editorial policy, but I didn't care."
BuzzFeed declined to comment on Spiegel's claim that she was bullied into writing the post.  
Spiegel told me on Thursday that she was not thrilled to see the story back online, and that she wishes she could put it behind her. She's now an editor at Rookie magazine and a freelance writer, and she believes she's learned from the backlash over her jazz post. "I feel like it was criticism that was absolutely deserved, and it taught me to be more thoughtful and more nuanced in my writing and also not just to say yes to people because they're my boss."
*Correction, Aug. 15, 2014: This post originally cited and linked to the wrong Spiegel post about The Replacements.

Previously in Slate: