Aug. 29 is the ninth anniversary of Hurricane Katrina's landfall. This year, thankfully, it's almost certain that New Orleans can breathe easy, despite rapidly spreading rumors to the contrary.
The latest chapter in amateur weatherperson crazy talk was posted Tuesday night on Facebook under a banner labeled "SHARE IMMEDIATELY IF YOU SEE THIS." (Pro tip: "Share immediately" in all caps may be a giveaway that perhaps you shouldn't take the information thereunder very seriously.) Unfortunately, lots of people did "share immediately." Since Tuesday, the post has spawned numerous media reports (including one from the local Times-Picayune) and is needlessly freaking out people who deserve a chance to not be freaked out by fake hurricane threats after dealing with so many real ones in recent years.
There is, in fact, a tropical system in the formation stages just east of the Caribbean, but at the time the above post was made forecast models showed an eventual path ranging from Texas to Bermuda. That's a lot of real estate. As of Thursday morning, the National Hurricane Center raised its five-day formation odds to 70 percent and most models had all but ruled out a threat to the Gulf Coast.
It's safe to say we can file the arrogant and dangerous prediction of a "major hurricane" with a "track … very similar to Katrina's landfall" to the "not so fast" collection. Why am I so sure? Well, for starters, the storm hasn't even formed yet.
If you still don't believe me, here's the National Hurricane Center:
Kevin Martin, the ego behind WeatherAlertCentral.com, where Tuesday's irresponsible forecast was posted, is a master of this sort of thing. Gawker's Dennis Mersereau did a fabulous takedown of him when he publicly threatened Facebook just last month for removing several of his prolifically misleading weather pages. Here's a brief excerpt:
Kevin Martin is the anatomical equivalent of the weather community's stony gallbladder. A thirty-something southern California man armed with little but a collection of fedoras, a first-grade-level understanding of the weather, and a marginal following of internet outcasts, he thrives on creating and spreading false weather information on Facebook for profit.
Mersereau continues:
In June 2011, the National Weather Service had to issue a public statement denouncing Kevin Martin and his website after his style of hype became an issue for the government's weather agency. Martin to this day issues his own severe thunderstorm and tornado watches, calling them "official," and people actually believe him because they are almost identical in format and wording to the official products issued by the National Weather Service.
Shortly after the NWS issued that statement, Kevin Martin filed a handwritten lawsuit against NOAA. No, really, he wrote it by hand.
Earlier Wednesday, Mersereau called Martin's latest a "steaming pile of viral nonsense."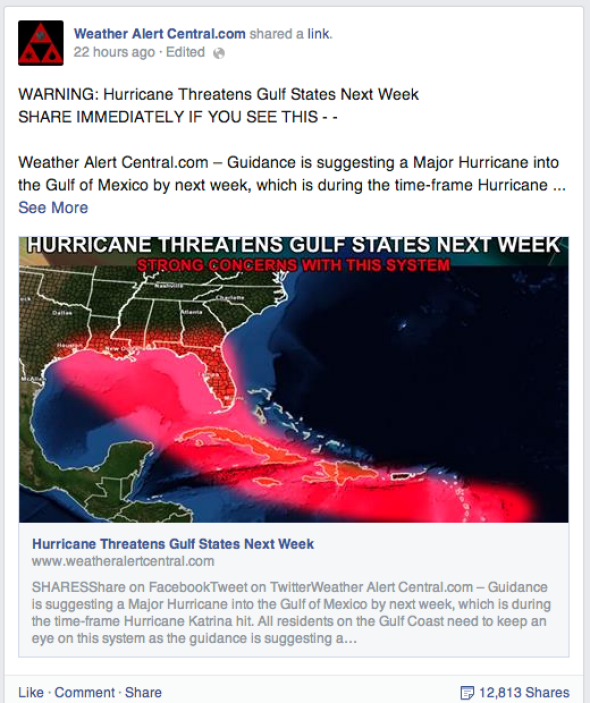 For bringing attention to these hype-infested waters, Mersereau received death threats from Martin's brother. Mersereau posted those, too, and they're worth a read, seriously.
Kevin Martin's Facebook site is perhaps the most egregious example of this genre of dangerous weather misinformation. But he's not the only one.
Of course, according to Gawker, the Drudge Report also ran with the idea, with an egregious headline of its own: "New Orleans Hurricane Exactly 9 Years After Katrina?" (The headline linked to a different blog post).
There is absolutely no reason why the National Weather Service should have to spend vital hours responding to people like Martin, but that's the situation we're in when raw weather model data are publicly available and untrained weather enthusiasts can use them to produce a torrent of misleading content through social media.
This issue isn't unique to the weather world. Back in February, Slate profiled Natural News, which has recently claimed, among other things, that eating whole lemons prevents cancer or that bathing in Himalayan salt rids the body of harmful toxins. Facebook posts there routinely get hundreds of thousands of shares.
The Washington Post's Jason Samenow has made something of a cottage industry of tamping down viral amateur Facebook weather posts, but on Wednesday he appeared to finally have had enough. Said Samenow: "It's a never-ending and unwinnable game of whack-a-mole." His suggestion? "[Meteorologists] should re-double their efforts to effectively discuss what is known and not known when a hazardous weather event is showing up in the long-range."
All of Wednesday's attention must have crashed Martin's server, because as of press time the offending website appeared to be having problems. Even the error message was self-serving: "If you are looking for the weather story for the Gulf Hurricane, then LIKE US ON FACEBOOK."