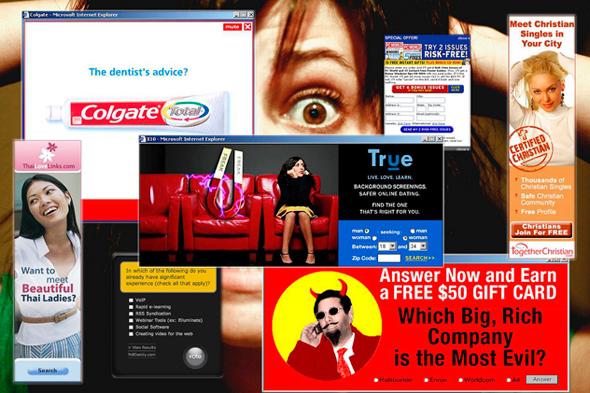 We've suffered. We've cried out in despair. We've given up and gone to bed in defeat. We know outrage. We lived through the pop-up riddled Internet of the late '90s and early 2000s. And we are changed because of it.
But hearing an apology helps.
In an essay for the Atlantic, Ethan Zuckerman, the director of the MIT Center for Civic Media, makes a stunning admission: "I wrote the code to launch the window and run an ad in it. I'm sorry. Our intentions were good." Zuckerman details his time at Tripod.com, a startup that perpetually and wildly reinvented itself during the dotcom bubble until it found an approach—advertising—that got it funded and later acquired.
As Tripod and other companies floundered around looking for a way to monetize the Web, turning to advertising was a natural but not inevitable choice, Zuckerman argues. "I have come to believe that advertising is the original sin of the web," he writes. "The fallen state of our Internet is a direct, if unintentional, consequence of choosing advertising as the default model to support online content and services."
Zuckerman goes on to outline the problems he sees with an ad-based Web. Whether or not you end up agreeing with him, it's useful to have someone do the leg work to organize a thesis and lay everything out. Online advertising is such a vast topic that most users would rather ignore it than grapple with it, even though they make privacy concessions and view targeted ads every day.
Zuckerman writes, "There is no single 'right answer' to the question of how we pay for the tool that lets us share knowledge, opinions, ideas, and photos of cute cats … but 20 years in to the ad-supported web, we can see that our current model is bad, broken, and corrosive."
Thanks to pop-up blockers pioneered by companies like Netscape, browsing the Web doesn't produce the soul-crushing volume of windows it once did. And we probably all thought that we started to move on years ago. But the emotional scars are still there. Now that we have Zuckerman's apology, the real healing can start.
---