Elon Musk is a busy man. Between running Tesla and SpaceX, chances are he doesn't get to inbox zero very often.
So when a pair of Tesla Model S owners from New York wanted to get the CEO's attention, they tried something different. They took out full-page ads in a pair of Palo Alto local newspapers, including my former employer, the Palo Alto Daily News.
While the medium was novel—everyone knows the easiest way to reach tech magnates is on Twitter—the approach was tried-and-true. Open letters have a history of catching Musk's eye, especially if they're heavy on the flattery. Just ask The Oatmeal's Matthew Inman how he got Musk to help fund a Nikola Tesla museum.
The ads were addressed to "Elon Musk, Automotive Visionary," and detailed eight changes the owners would like to see to their beloved Model S sedans. Here's how the ad appeared in another local paper, the Palo Alto Weekly: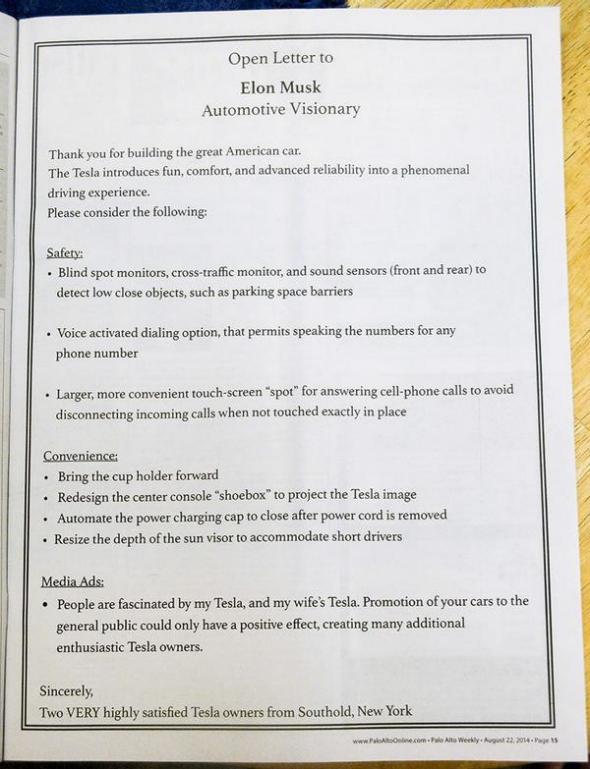 Advertising in a Palo Alto paper might seem like a strange way to reach Musk, who lives in Bel Air. But it worked. (Tesla is headquartered in Palo Alto, so presumably it caught the eye of some employees.)
On Saturday, Musk tweeted his reply:
Which suggestions, one wonders, does Musk plan on implementing? A Tesla spokeswoman declined to comment. But several of them seem easy enough to accommodate, and safety improvements in particular are almost certain to be included in future Tesla models. Based on a few days' worth of test-drives, I'd agree that the voice controls in particular could use some improvement
If anything, the relative triviality of the suggestions underscores just how few flaws owners have found in the Model S, which is among the most decorated cars of all time. Who needs "media ads" when you already have the media fawning all over you for free?

Anyway, it's nice that Musk is open to constructive criticism. But if I could put in just one request on behalf of the vast majority of drivers who can't afford a full-page ad, let alone a Model S, it would be this: Forget the cup-holders, and stay focused on building that long-awaited $35,000 electric sedan for the mass market. That, and not the position of the Model S's cup-holders, will shape Tesla's legacy—and the future of transportation.
Oh, and just in case you need a little extra motivation: As Quartz's Steve LeVine explains, if you don't build the electric car that wins over the masses, General Motors will.
Update, Aug. 25, 2014: It seems Musk has heard my request as well. Here, via Twitter, is his reply:
He's right, of course. For more background, here's a piece I wrote in May about exactly that: Why Tesla needs a gigafactory.

Previously in Slate: