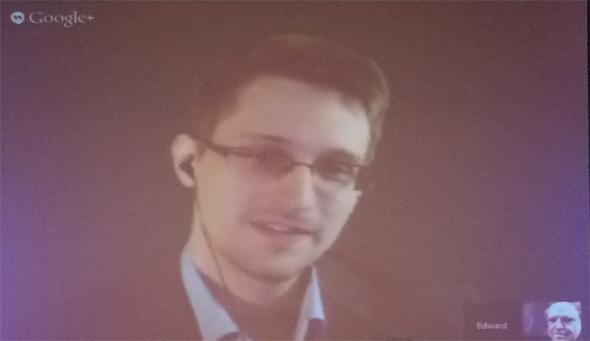 In an extensive profile of Edward Snowden released Wednesday in Wired, the now-famous whistleblower went over many familiar details about the NSA documents he leaked and his views on technology and privacy. But Snowden also revealed new information, an approach that, whether intentional or not, creates great dramatic effect each time he is interviewed.
Perhaps most surprising is Snowden's claim that in 2012, the NSA's TAO hacking group was attempting to install surveillance malware when it accidentally brought down a crucial router at a Syrian Internet service provider, and the nation's Internet connectivity with it. James Bamford explains in the Wired piece:
The public didn't know that the US government was responsible. (This is the first time the claim has been revealed.) Inside the TAO operations center, the panicked government hackers had what Snowden calls an "oh shit" moment. They raced to remotely repair the router, desperate to cover their tracks and prevent the Syrians from discovering the sophisticated infiltration software used to access the network. But because the router was bricked, they were powerless to fix the problem.
Conveniently, the Syrians were so distracted with scrambling to get their Internet back up, that they don't seem to have ever realized what happened or who caused it. But Snowden says the NSA hackers joked that "If we get caught, we can always point the finger at Israel."
Presumably, Snowden is talking about the November 2012 Syrian Internet outage. At the time, observers speculated that the Bashar al-Assad regime was behind the blackout, which could still be true of other outages that have occurred. It's worth noting that it's not clear whether Snowden provided Wired with any documents to back up this story, or whether he's just going on his own recollections.
Another new Snowden revelation in the Wired story has to do with an NSA cyber defense program called MonsterMind. The system is autonomous, so it guards against foreign hacks and then retaliates all on its own. MonsterMind would work by analyzing the NSA's huge pot of metadata to establish baseline norms for network traffic and then detect variations that could be malicious intrusions.
But Snowden told Bamford that retaliating instantly without any type of human involvement could lead to problems—even tragic mistakes. The Wired profile explains:
The initial attacks are often routed through computers in innocent third countries. "These attacks can be spoofed," he says. "You could have someone sitting in China, for example, making it appear that one of these attacks is originating in Russia. And then we end up shooting back at a Russian hospital. What happens next?"
Since we don't know what form the retaliation would take or where MonsterMind is in development, it's unclear how worried we should all be about this particular NSA project. But Snowden's new tidbits keep coming, and as long as he has something shocking and new to reveal, he'll remain prominent on the world stage, even as he hides from sight.
---