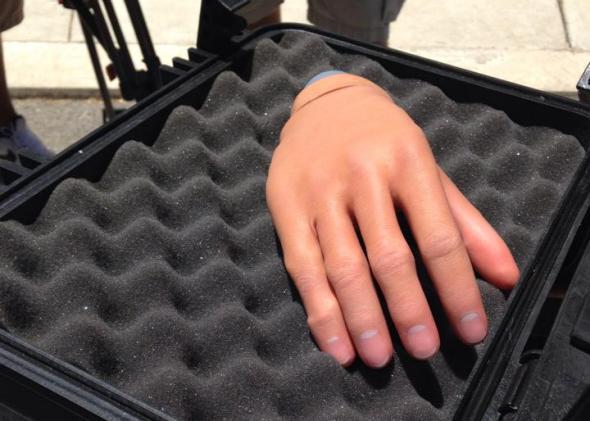 A fascinating and troubling story about a wounded Army veteran has been circulating on the Web this week. The story, which first appeared in the San Antonio Express-News on Aug. 22, goes like this:
A U.S. Army staff sergeant named Ben Eberle lost his right hand and two legs when he was hit by a makeshift explosive in Afghanistan a few years ago. Through one of the miracles of modern technology, he was able to regain dexterity with a prosthetic hand, which he controlled with the help of an iPod Touch app called i-Limb. But in another terrible misfortune, Eberle lost control of that hand again on Aug. 22 when a thief broke into his pickup and swiped his iPod. Here's the kicker, as explained by the Express-News's Alia Malik (italics mine):
While the latest model iPod Touch normally costs about $240, the thief or thieves in this case, if caught, could be charged with felony theft between $20,000 and $100,000, police said.
That's because Eberle's prosthetic hand is programmed to only work with the stolen iPod, and vice versa. Now that the iPod is gone, he said he has to get a new hand and get it reprogrammed with his prosthesis. "That takes a long time," Eberle said. "It's tedious and it's a lot of work with the hand itself."
The money will come from the government, but a new hand is worth $75,000, authorities said.
The story, if true, would be galling and poignant on a personal level—a careless thief robbing a brave veteran of his hand for a second time. But it would be even more troubling on a technological level, which is why the story has circulated far beyond San Antonio to outlets like Fox News, the Daily Mail, the Houston Chronicle, Military.com, and the influential tech-news hub Slashdot.
Why on Earth would Touch Bionics' $75,000 prosthetic limb be locked to a single mobile device? And does that mean that people all over the world with prosthetics are at risk of losing everything they've worked for years to gain if they drop their phone in the toilet or leave it in the back seat of a taxi cab? Here's how an incredulous Slashdot member with the handle "kdataman" reacted to the story:
I see three possibilities: 1) The article is wrong, possibly to guilt the thief into returning the Ipod. 2) This is an incredibly bad design by Touch Bionics. Why would you make a $70,000 piece of equipment permanently dependent on a specific iPod Touch? iPods do fail or go missing. 3) This is an intentionally bad design to generate revenue. Maybe GM should do this with car keys? "Oops, lost the keys to the corvette. Better buy a new one."
As it turns out, the first possibility appears to be the correct one. Somehow, it seems that hardly any of the dozens of national and international outlets that have run with this story bothered to confirm it with Touch Bionics. At least, that's what Touch Bionics told me when I contacted them this week.
"I'm afraid the information noted in the San Antonio Express-News is not correct," said Karen Hakenson, Touch Bionics' director of global marketing. "If an iPod is lost or stolen, a user does not lose control of their i-Limb hand or require buying a new prosthesis. We offer the my i-Limb app for free on the App Store, which can be downloaded to several compatible devices to help program and change settings within the hand's firmware—all of which can be accessed again upon reconnecting to the app, as it recognizes the hand based on its unique serial number."
Phew. This makes perfect sense, and should reassure people considering high-tech prosthetic devices of their own. Eberle himself explained in a Facebook post this week that "I do not need a new hand. … It's not that big of a deal." He added, apparently referring to either the police or the media, "They just wanted another story about a wounded warrior."   
That doesn't mean replacing the app won't be an annoyance. While he can keep the same hand, it's possible that he'll have to reprogram some specific settings on his new device, said a spokesman for the Brooke Army Medical Center in San Antonio, where Eberle is a patient. Hakenson said Touch Bionics was very sorry to hear that it was lost and plans to send Eberle a replacement iPod Touch for free. 
How did almost everyone get this story wrong? When I called the Express-News reporter, Malik, she was on deadline with other breaking stories but said her recollection was that it was Eberle who thought at the time of the crime that he would need a new prosthetic. Perhaps Eberle himself misunderstood the ramifications of losing his device or was understandably caught up in the frustration of the theft. (I have not been able to reach Eberle for further comment.) Malik told me she recently got an email from Touch Bionics requesting a correction and plans to look into that as soon as she has time.
Regardless, that's less important to me than the fact that so many other national and international outlets picked up such a fishy-sounding anecdote without bothering to check it out. (The Daily Mail, in a rare instance of actual reporting, did at least take note of Eberle's Facebook post.) I suspect it's because the truth takes time to uncover, and often ends up being less conducive to sensational headlines. In an age when Internet media are often criticized for their breathless reporting and uncritical aggregation, it's a reminder that just because is first reported by a good old-fashioned print newspaper doesn't mean the facts are ironclad.
Previously in Slate:
---