New data released Tuesday from NOAA's National Climatic Data Center shows that so far in 2014, the temperature of the contiguous United States has been almost exactly normal. Boring, right? Wrong. From the recurring polar vortex to catastrophic floods to California's stunning drought, the weather this year has been anything but normal. What gives?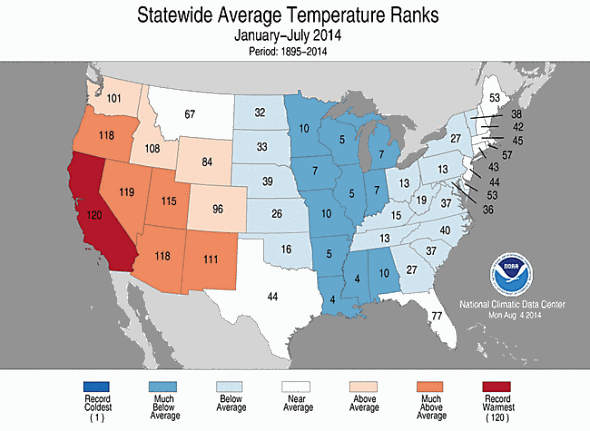 In 2014, Eastern cold waves have matched the incessant heat out West almost one-for-one. Thanks to a "ridiculously" resilient weather pattern, for many people this year it probably feels like summer hasn't really even started yet. Arkansas and Indiana just had their coldest July on record. I can hear the contrarian chorus already: "So much for global warming, amirite?" Here in southwest Wisconsin, we've barely even made it to spring. Yesterday afternoon, on Aug. 11, it was 65 degrees and misting (it felt kind of like the inside of the produce aisle when those fake thunderstorms are going off.) On this morning's walk, I wore wool socks and a jacket. My wife and I have run our air conditioner only twice this summer.
Part of the reason this summer feels so cold in the Eastern half of the country is that it's been so warm for so long. Per Tuesday's NOAA data, this year is on pace to be the coldest nationwide—on average—since 1993. That means we've gone over two decades without a year approaching "normal."
The U.S. Climate Extremes Index (which is maintained by NOAA) says January-July 2014 was the seventh most extreme on record. That index factors in things like drought, extreme temperatures, and flooding. If you look at the chart, you can see the frequency and severity of extreme weather events have been steadily increasing for decades.
Nowhere's been more extreme this year than California. The state's ongoing drought has helped spark an intense heat wave that's almost literally off the charts, helping to spark massive wildfires and play havoc with the nation's food system.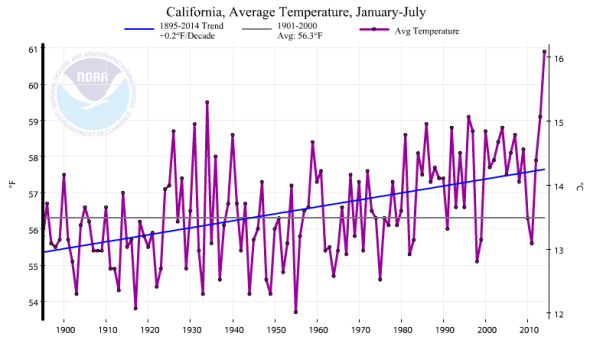 Seven of the 10 hottest 12-month periods in California history (since 1895, when comprehensive records begin) have occurred in the last year, according to my analysis of NOAA data.
September-August 1996: 60.5 degrees Fahrenheit
August-July 2014: 60.4
July-June 2014: 60.4
June-May 2014: 60.4
April-March 2014: 60.4
March-February 2014: 60.4
August-July 1996: 60.4
May-April 2014: 60.3
October-September 1996: 60.3
August-Jul 2013: 60.2
Extreme weather patterns like this year's may become more of the norm in the years ahead. A new study published Monday is another feather in the cap of scientists pursuing the possible connection between melting sea ice in the Arctic and crazy weather further south. In an email conversation with Mashable, the study's lead author says that since 2000, observed changes in the jet stream have increasingly led to "a synchronization of extremes around the hemisphere."
The new study examines how frequently weather patterns get stuck during July and August, when sea ice is nearing its annual low.