Nebraska-based aerial photographer Jim "Hazy" Haseltine has a passion for flying fast. He's flown in fighter jets before. Many times, all over the world.
But last Thursday evening, while returning home from a training mission with a group of F-15C's from the 173rd Fighter Wing of the Oregon Air National Guard, he encountered an amazing scene: Lightning had sparked a rapidly growing forest fire (that was quickly named the Oregon Gulch fire) near the Oregon-California border. The thunderstorms hovered ominously over the flames, billowing skyward to form giant pyrocumulus clouds. "It almost looked like a nuclear bomb."
Pyrocumulus clouds (from the Latin pyro for fire and cumulus for pile—so literally, it's a fire pile cloud) are billowy puffs that tower upward from the site of a fire's smoke plume. They're a bit different than regular cumulus clouds, though they may look similar from a distance. Pyrocumulus form only in close proximity to large wildfires. The heat from below literally boosts warm air skyward, lifting and condensing water vapor into a bright cauliflower shape. Sometimes, the clouds can even spark fresh bolts of lightning, spawning new fires nearby.
In this case, it appears pre-existing thunderclouds were already in the area, igniting the very fires Haseltine saw earlier that day. The pyrocumulus formed later.
A few of his photos were posted on Facebook Monday by the National Weather Service in Medford, Oregon. After watching them spread like, well, wildfire around the Internet, I gave him a call to get more of this story and see if he had any more photos from the day.
He did: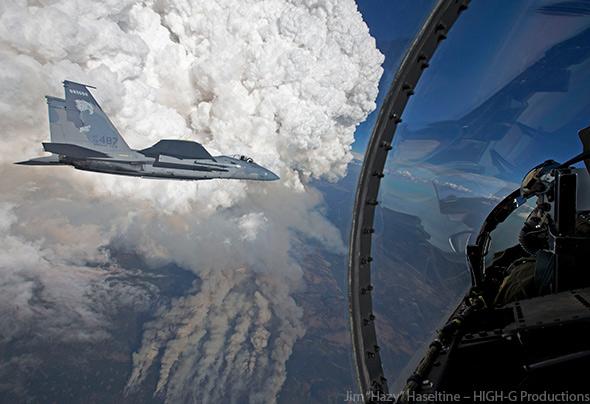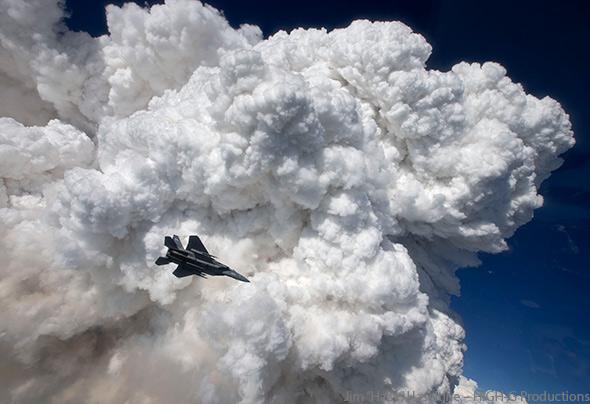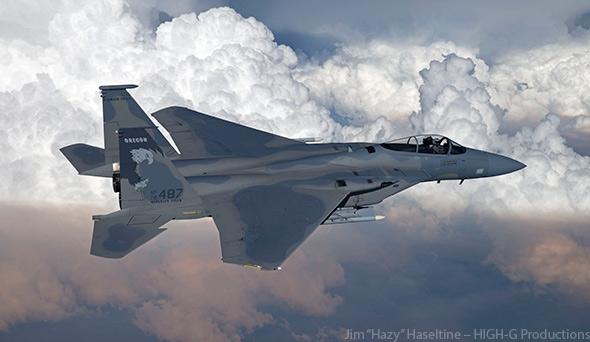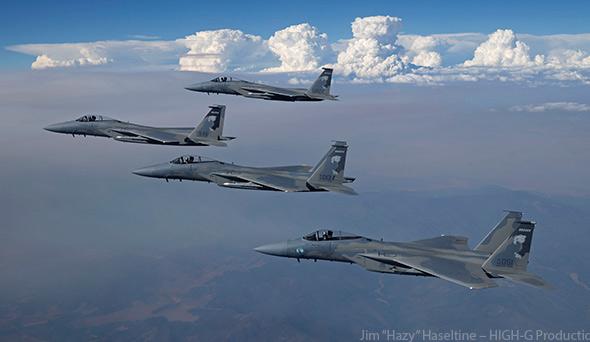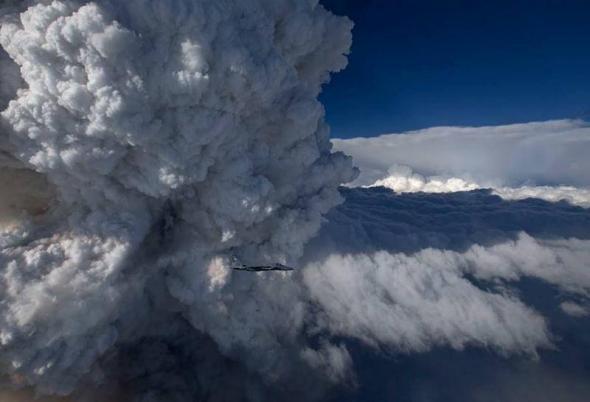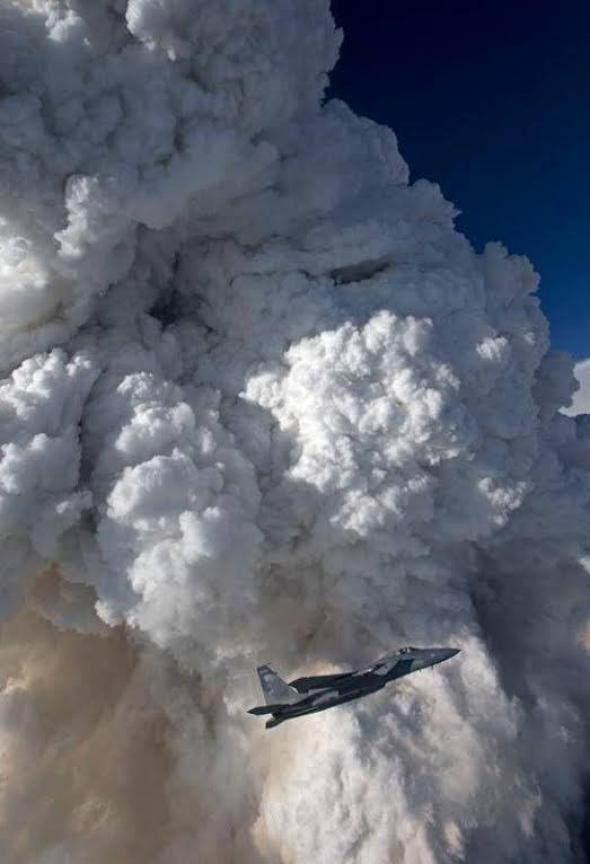 Said Haseltine: "On the way back, we had to deviate around the storm. I took that opportunity to take some really neat pictures of the storms brewing. It was a beautiful day. As we were returning to base, I thought: 'Holy cow, there's a beautiful weather system coming through there.' The clouds had moved right over where the fires were. The whole bottom of the sky was turning red-orange with the glow of the smoke."
He went on to say: "Some days are kind of boring, with a hazy background. On that day, mother nature provided us with a whole lot of spectacular backgrounds."
Since Thursday, the Oregon Gulch fire has grown massively. It's still just 30 percent contained and is being jointly managed with another fire to form the huge Beaver Complex.* Together, they've grown to cover more than 50 square miles, about one-third the size of Portland, and crossed over into California, adding to an already active fire season there.
Mashable interviewed wildfire scientist Neil Lareau of San Jose State University, who has documented how pyrocumulus clouds can alter fire behavior in ways that are currently tough to predict:
The researchers have also documented cases where a fire's upwardly moving column of air, like the exhaust from a car's engine, broke through a barrier and into a stable layer of air aloft, such as an area of ocean-dominated air known as the marine layer. Marine layers are common in southern California, where wildfires are notoriously fickle.
"Once the updraft from the fire is free of this "lid" it can explode upward," Lareau says. "The rapid ascent can change the dynamics of the fire by rapidly drawing more air into the area that is burning. The fire may intensify and move in a new direction."​
As Western wildfire seasons become more active thanks to a boost from global warming, scientists are also beginning to study what role pyrocumulus clouds may play in the global climate balance. Previous evidence suggests pyrocumulus clouds seeded with wildfire smoke may be longer-lasting than "clean" thunderstorms, and may help temporarily reduce temperatures locally.

*Correction, Aug. 19, 2014: This post originaly misstated that the Oregon Gulch fire merged with the Salt Creek fire to form the Beaver Complex. The two fires never merged, but they are being jointly managed.