Californians have enough to worry about these days, what with the historic drought. Are they also unwittingly ice-bucket-challenging their way to an earthquake disaster? Probably not.
Sunday's magnitude 6.0 earthquake was the Bay Area's largest since 1989, when a magnitude 6.9 famously hit during the World Series. A new estimate by the U.S. Geological Survey shows the weekend quake dealt a billion-dollar blow to the state's economy. The damage was concentrated in the wine region of Napa and Sonoma Counties, where the value of individual bottles can run into the thousands (and also made for some impressive post-quake photos).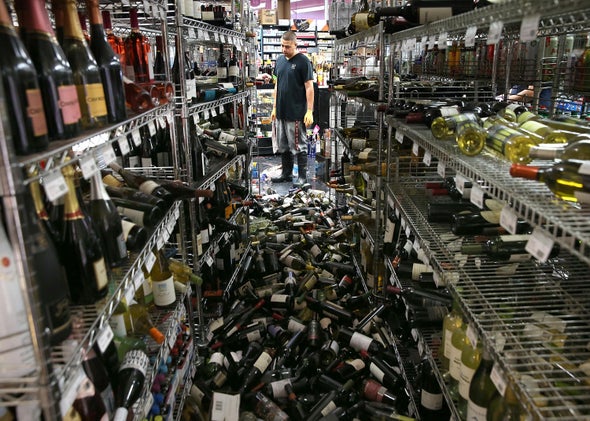 Although this weekend's quake wasn't the "Big One," its location along an extension of the San Andreas fault system and timing amid the drought is raising exaggerated fears about a connection between big earthquakes and excessive groundwater pumping. But despite speculation on local talk radio and misinterpretations of groundbreaking (pardon the pun) research published earlier this year, it's very likely there was no connection between this weekend's Napa quake and California's ongoing megadrought.
The recent research is relatively straightforward: Over decades, humans have withdrawn vast quantities of groundwater along the western margins of the San Andreas fault system, mostly for irrigation of Central Valley agriculture. That groundwater withdrawal has literally changed the shape of California, causing a seasonal uplift in bedrock as the weight of the water is removed during the dry summer months. Recent research showed a direct link to an increase in the frequency of tiny earthquakes along the central portions of the San Andreas, nearer to Los Angeles, where groundwater is being pumped at the fastest rates. (Fracking, which involves groundwater pumping, has also been linked to earthquakes.)
Earlier this week, I spoke by phone with Colin Amos, a geologist at Western Washington University and lead author of an important study that appeared in Nature back in May, to ask more about his research in light of the Napa quake. When it first appeared, Amos' paper garnered a lot of attention, though some news media stretched his findings beyond their intention.
Amos says Sunday's quake came about the same way every other big quake does: "This is just a consequence of plate tectonics doing its thing." Amos explained the effect of groundwater pumping is just too small to modify large quakes directly.
Amos' research was among the first to attribute the seasonality of California seismicity to a human-modified hydrologic cycle, and did so by looking at tiny changes in uplift reported by a smattering of GPS receivers throughout the state. In drought years, the effect is even more pronounced.
Amos said you can think of the effect of groundwater pumping as another mechanism for what he called "earthquake triggering," a well-known process by which large quakes can modify the tension on surrounding seismic zones. "Faults that have earthquakes on them don't occur in isolation. An earthquake can change the stress on faults nearby."
A post-quake modeling effort showed the energy released on Sunday did in fact redistribute pressure on surrounding quakes, adding a small amount of additional stress to the Hayward Fault that runs through the East Bay. That's a fault that geologists consider overdue for a major quake, which could have impacts far exceeding Sunday's. There's no way of knowing if that boosted near-term odds of another Bay Area quake.
In the case of groundwater pumping, that's leading to an uptick in the frequency of small earthquakes. "The seasonal stress of groundwater pumping is in the ballpark of the stress of a nearby earthquake." According to Amos, the effect that groundwater pumping may have on triggering a big earthquake "would just be speculation."
In their paper, Amos and his team cite previous research by James Famiglietti, whose work to measure the massive amount of Central Valley groundwater depletion also made headlines earlier this year.
By email, I asked Famiglietti about Amos' conclusions. If anything, he believes increased San Andreas seismicity linked to groundwater pumping may actually be good news:
The mechanism is mainly one of unloading, that is, if you remove water mass from the Central Valley then you have less force holding the fault together, or "locking" it. The groundwater depletion that we discuss in California leads to more unloading and unlocking along the San Andreas. It seems to result in more frequent, smaller earthquakes. Maybe that's a good thing that will preclude the build up of too much stress that could result in "the big one."
The drought might have actually helped avert a crisis: In a worst-case scenario, a big California earthquake could break through the state's fragile levee system and flood irrigation districts and drinking water intakes with saltwater. Since those levees are bone-dry right now, they're a bit sturdier than they would have been during an abnormally wet period.
Of course, that's not to say that groundwater overuse itself is something to be celebrated. The research linking human modification of the water cycle to earthquakes is still new. And of course, the effect on earthquakes is only one small consequence of California's ongoing water crisis.
Amos is quick to note that this problem is probably not going away. In his paper, Amos notes that "human activity may give rise to a gradual increase in the rate of earthquake occurrence" due to long-term depletion of California groundwater. He also thinks climate change will probably aggravate the problem, through more frequent droughts and shifting rainfall patterns.
But, he says, "I've been trying to be careful in explaining one of the things we didn't say: that somehow humans are going to cause the next 'Big One.' The next 'Big One' is going to happen no matter what humans do."
Correction, Aug. 27, 2014: A home page headline for this post ("The Idea That Intense Groundwater Pumping in California Will Cause More Earthquakes Is Nonsense") misrepresented the theory debunked by the post.  The headline should have referred to "Big Earthquakes," not "More Earthquakes."