With a fidgety volcano on their hands, officials in Iceland have begun preparations for what could be a busy week.
An intense earthquake swarm began Saturday deep beneath Bárðarbunga, Iceland's largest volcano complex. (Here's how to pronounce it.) As of Tuesday, the Icelandic Met Office cautions there's no evidence yet of magma moving toward the surface or that an eruption is imminent. Still, Iceland is springing into action, which suggests the threat is real. These people know their volcanoes.
Due to the weekend's heightened seismicity, on Monday the Icelandic Met Office raised its aviation color code for Bárðarbunga to orange to signify a "heightened or escalating unrest with increased potential of eruption." (In response, the stock price of Icelandair fell by 4.35 percent.)
Prime Minister Sigmundur Davíð Gunnlaugsson met with civil defense officials on Monday, and roads near the remote volcano have been closed. Iceland Magazine reports that Iceland's National Commissioner of Police has declared a Civil Protection Uncertainty Phase, increasing surveillance of the volcano and its surroundings. The Icelandic Coast Guard deployed additional seismic monitors by helicopter over the weekend.
[Update, Aug. 20, 2014: Iceland's National Crisis Coordination Center has been activated, and a large uninhabited area surrounding the volcano has been evacuated. The Icelandic Met Office reports that about 1,000 small earthquakes occurred near the volcano on Tuesday. Also on Tuesday, Iceland's Civil Protection raised the nation's threat level from Uncertainty Phase to Alert Phase.]

The Icelandic National Broadcasting Service has positioned a webcam to keep an eye on the volcano.
How likely is an eruption? And how bad could it be?
Bárðarbunga is a big volcano directly beneath Iceland's largest glacier. Over the past 10,000 years, it has erupted "more lava than any other volcano on the planet." Still, not much is known about it, mostly because it sits below so much ice. Plus, the last major eruption here was more than 100 years ago.
In a country so defined by its seismicity, even the politicians are scientists. Geologist Ari Trausti Guðmundsson was a presidential candidate in 2012, and he laid out a broad overview of possible scenarios in a blog post Monday:
It is impossible to predict how the processes will develop. A volcanic eruption could start under the ice east or north of Bardarbunga. In this case it would produce ash and pumice but in unknown quantities and with an unknown force. A large flood (jökulhlaup) is not to be ruled out and the flood path would most likely follow the glacial river Jökulsá á Fjöllum in the northeast of Iceland.
An eruption could, however, commence outside of the Dyngjujökull outlet glacier as a lava-producing event. In that case, air traffic disturbance is highly unlikely.
The third scenario would be a combination of the other two.
GPS measurements from a station just north of Bárðarbunga in recent days show movement well beyond the bounds of readings taken over the last year.
Via an email conversation, Gísli Pálsson, an anthropologist at the University of Iceland agreed that even in Iceland, an earthquake swarm like this is raising eyebrows. "There is a risk of false alarm, but on the other hand we should try to be objective and say something immediately. The alarm signal is orange and rescue teams are preparing for eruption. This could either be outside the glacier, with floods to the north, or under the glacier, with risks for air travel."
Before this week, earthquake activity near Bárðarbunga had been increasing for years. It is near the apex of the Mid-Atlantic Ridge that separates the North American Plate from the Eurasian Plate.
An Icelandic anthropologist at the University of Oslo, Ásdís Jónsdóttir, said that judging by the region's history, a large-scale event isn't out of the question:
It is perhaps interesting to note that the theory is that Iceland is formed because a hot-spot and the mid-Atlantic ridge coincide. This part of Iceland (Bárðarbunga-Grímsvötn) is thought to be at the center of the hot-spot. Bárðarbunga and Grímsvötn have fed some of the largest eruptions in Iceland, such as the catastrophic 1783 eruption in Laki (not situated under the glacier) which is the greatest natural disaster in Iceland's history. There are also signs of huge floods from this area in northern Iceland before the settlement—such as the canyons of Ásbyrgi and Jökulsárgljúfur in northern Iceland.
In a post on his blog late Monday, geologist Carl Rehnberg went a step further, saying an eruption is now probable, and a small one may have in fact already begun somewhere deep below the ice. Until we get official confirmation of this, he's assembled a comprehensive list of ways to track the volcano.
Rehnberg's (unofficial and admittedly unlikely) worst-case scenario is frightening: "Forget flying for half a year." His disclaimer? "What I write are just the musings from someone who has read everything ever published on Icelandic volcanism. A lot of what is happening is in unknown territory."
His team at Volcano Café made a scouting flight over the area on Monday to see what they could see. The photos are stunning.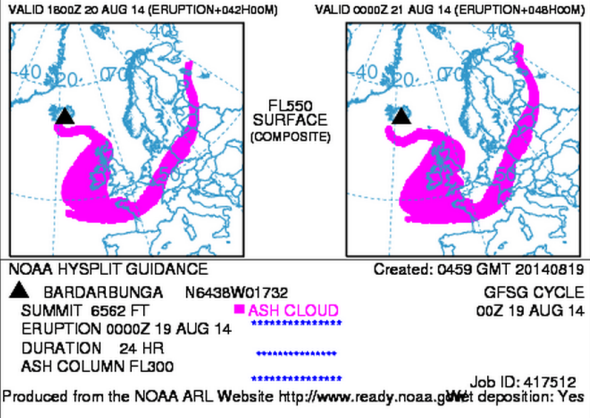 Should the volcano erupt on Tuesday (and again, there are no official indications an eruption is imminent), upper level winds are aligned such that ash would be transported southwards toward the UK, Ireland, and France. I ran a volcanic ash trajectory model, with results below:
A 2010 eruption of the Eyjafjallajökull volcano shut down most of Europe's air travel for days. In an interview on Monday with The Conversation blog, British volcanologist Dave McGarvie said a similar eruption today wouldn't cause nearly as much disruption, thanks to changed guidelines and improved ash forecasting.
He's been the most active scientist on Twitter covering the volcano:
He also shared some stunning photos from his fieldwork:
Thanks to Ben Orlove at Columbia University for arranging the email thread with the Icelandic anthropologists.