It's been years since surfing has been this good in Southern California.
The big waves turned deadly for one surfer on Tuesday morning at Malibu, where the pier was closed for safety reasons. The high surf also damaged several homes in Orange County on Wednesday morning after sand berms meant to hold back the waves failed overnight. Huge crowds of onlookers flooded to the "Wedge" in Newport Beach, where some waves were estimated to reach at least 25 feet.
For a Kansas native like me, it's almost impossible to imagine being out there on a day like today:
Wednesday's epic surf is coming thanks to Hurricane Marie, a storm so big it's already gobbled up a fellow hurricane (Karina) this week. Earlier in the week, Hurricane Lowell also brought great surfing conditions for south-facing beaches. I put together this two-and-a-half day animation that starts around when Marie was at peak strength—Category 5—on Sunday afternoon. (The right-to-left swipes are sunrises and sunsets.)
Surfer Matt Meyerson summed up his experience in one word: "Unreal. … It was so good Sunday, I went back and surfed Malibu in the afternoon. It was the best I've ever seen. It was so good, I was high for the rest of the day." Though he said Wednesday morning's waves were "gnarly," in his opinion, they didn't live up to the hype, partly due to the crowds. "This morning I was up at 4:30, and it was still dark when I got in the water at Topanga. Still, the beach was packed. When it gets this good, everyone's out there."
At Newport Beach, Diogo Maltarollo broke his board this morning. "It was on a beautiful wave too." His story:
I rode the barrel for three to five seconds. As it started breaking, I flew to the front of the wave, grabbed the base of my board, and when I came up, there was only half of it left. It really gave me my money's worth, that's for sure. That was my big wave board right there, and it couldn't handle it.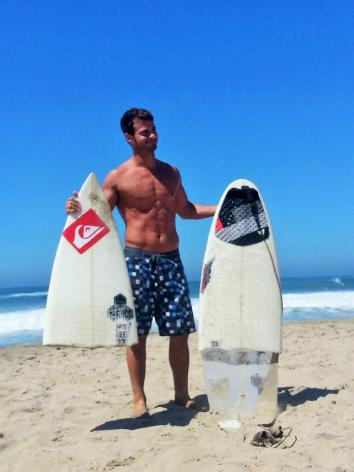 Mary Hartmann, who runs Girl in the Curl surf camp at Doheny State Beach in Orange County, is sitting this one out. "We can't have surf camp in these conditions, but I'm stoked for the people that can take it."
Since the waves are coming in from the south, parallel to most of Southern California's beaches, they're generating exceptionally strong rip currents, requiring extra paddling. Even for experienced surfers like Dan Bialek, that's made the waves "almost unsurfable."
"I've been running two or three miles a day after work all week just to get in shape for today. This morning, at Seal Beach Jetty, my buddies and I probably paddled at least a couple miles. It was basically nonstop paddling."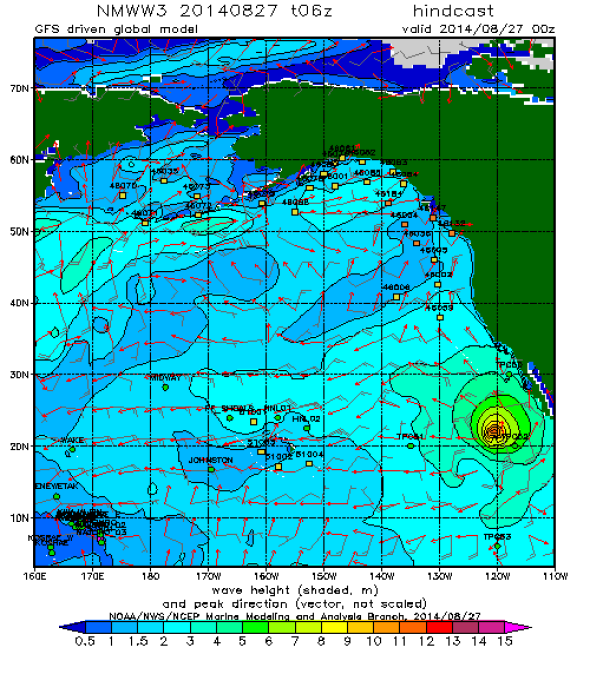 This weekend, Hurricane Marie briefly became the first Category 5 hurricane in the Eastern Pacific since 2010. Since comprehensive records began in 1949, there have been 15 storms in that part of the ocean that, like Marie, topped out the hurricane strength scale. All but three of these storms have occurred since 1994. On average, global warming is expected to boost the number and intensity of the strongest tropical cyclones, but this year, at least in this part of the world, El Niño may be to blame for the Pacific's frenetic pace so far.
Update, Aug. 27, 2014: This post was updated to add additional credit information for the photo of the broken surfboard. The photo was taken by Alex Bogni.