After days of anticipation and false starts, the geological unrest in Iceland finally resulted in an eruption in the wee hours of Friday morning, Iceland time.
The eruption is emanating from a 40-kilometer subterranean magma dyke in an area called Holuhraun, about midway between the Bárðarbunga and Askja volcanoes. For a few hours on Friday, Iceland's Met Service raised the aviation code for both volcanoes, but it has since reduced the threat level.
According to Iceland Civil Protection, the dyke still contains hundreds of millions of cubic meters of magma. One geologist speculates that activity could continue at about this pace for days or weeks but likely won't worsen.
While it's occurring, you can watch the eruption on a live webcam via Iceland's RUV media network. (The server seemed overwhelmed last I checked.) Iceland's Coast Guard has also released video from an impressive Friday morning flyover.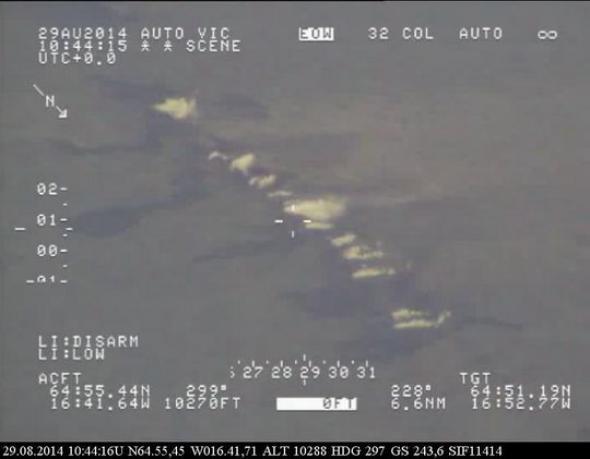 You can also watch the first hour of the eruption in just 36 seconds via the Icelandic news site Visir.
Early indications are it's the best possible scenario: a small fissure about a kilometer in length just beyond the Dyngjujökull glacial margin. Since the eruption is taking place on barren ground and not beneath the ice cap (which may have flash-boiled vast quantities of water), it's very unlikely to produce an explosive ash cloud that would disrupt European air traffic. In fact, it's very likely not a single person will be adversely affected by this eruption.
Icelanders should instead turn their attention to the seas. Over the weekend, Iceland will bear the brunt of another variety of nature's fury: the post-tropical remnants of Hurricane Cristobal.
Since 1960, only two former tropical cyclones have taken a path close to Reykjavik—a phenomenon much rarer than volcanic eruptions in that part of the world. As Cristobal's remnants approach on Sunday morning, winds in the higher elevations could gust near hurricane force, with tropical storm force winds possible in Reykjavik.
Meanwhile, on the opposite side of the world, a much more impressive eruption is taking place.
Papua New Guinea's Rabaul caldera deposited ash and dust on local houses and fields, and amateur video showed an ominous scene. There've so far been no reports of injuries or deaths, but in 1994, an eruption destroyed the local town. Qantas has diverted some flights to avoid the area.
---