Facebook ads are pretty annoying. They either seem super random or aggressively encourage you to buy things you've already purchased. Every once in awhile they remind you of something you were thinking of buying, and you realize that that's how they're supposed to work all the time. But generally the process seems pretty disorganized.
If you want to know what's going on behind the scenes, there are some options, though. In June Facebook expanded the information you could get about ads and also started showing a list of the things the company knows about you. If you hover your cursor over any Facebook ad, an "X" shows up in the upper right corner. Clicking the X reveals a drop-down menu (below) that gives you options about how to proceed. If you choose "Why am I seeing this ad?" a pop-out window (shown at the top of this post) gives you some information about what's going on.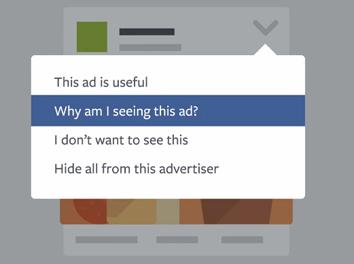 It can be fairly specific like, "One of the reasons you're seeing this ad is because davidgage.com wants to reach people interested in New York University" (I went there for grad school), or "One of the reasons you're seeing this ad is because we think you may be in the 'Technology early adopters' audience. This is based on what you do on Facebook" (I am a tech reporter after all). But they can also be incredibly vague and general like, "You're seeing this ad because hertz.com wants to reach people on Facebook through Turn, an advertising company that uses Facebook's ad exchange." Often the explanations will add, "There may be other reasons you saw this ad. For example, Facebook is always able to use information about your age, gender, location and the devices you use to access Facebook when deciding which ads to show you." Unspecific reasons! Cool!
If you "View and manage your ad preferences," you can see a list of things Facebook thinks you like or are interested in. The list is divided into categories like "food and drink," "places and events," "shopping and fashion," etc. Some of them are pretty general. For me "Maryland" makes the places list because I used to live there. But the more specific ones start to paint a picture of who you are. "Charles Mingus," "PBS," and "physics" pretty much sums me up. At first it's kind of exciting to see yourself captured in a tailored list, but then it starts to feel creepy. You can edit out things that don't represent you, or trick Facebook a little bit by getting rid of all the things that are true and leaving only the stuff you hate that happens to be on there, but eventually your browsing habits are going to betray you.
In many ways it's great that Facebook made its targeted advertising a little more transparent and added some granular controls, but it certainly forces you to confront the reality of how intimately the company knows you. After all, as Time points out, the company made about $5.79 from serving ads to each of its 204 million U.S. and Canadian users last quarter. This is just the tip of Facebook's personal data iceberg.