Update, Aug. 25, 2014: Icelandic officials now believe there was no eruption over the weekend. From Iceland's Civil Protection: "Scientists' observations conclude that a sub-glacial eruption did not occur yesterday as was previously believed. The Icelandic Met Office has decided to move the aviation color-code from red to orange. Therefore, all restrictions on aviation have been cancelled and all scheduled services airports in Iceland are open." On Sunday, Iceland's Civil Protection also lowered the nationwide threat level from emergency (red) to alert (orange). The group also emphasized that, in the coming days, "an eruption can not be excluded."
Update, Aug. 23, 5:40 p.m.: It seems an eruption may not have begun after all. After an Icelandic Coast Guard surveillance flight midday Saturday failed to detect any meltwater coming from the glacier, the Iceland Met Office issued a statement on its webpage late Saturday afternoon: "Presently there are no signs of ongoing volcanic activity." Due to the potential for an eruption at any time, the emergency phase will remain in effect until at least midday Sunday, at which point Iceland Civil Protection will re-evaluate.
The original blog post is below.

Aug. 23, 2014: An Icelandic volcano that's been smoldering all week is now starting to erupt, though initial indications show a relatively small event so far.

The National Commissioner of the Icelandic Police raised the Civil Protection level to Emergency Phase (the country's highest level), and the Icelandic Met Office has classified the volcano, Bárðarbunga, as code red: "Eruption is imminent or in progress."  A large section of Icelandic airspace is now also closed. There are no official ash advisories yet that would affect wider European air travel.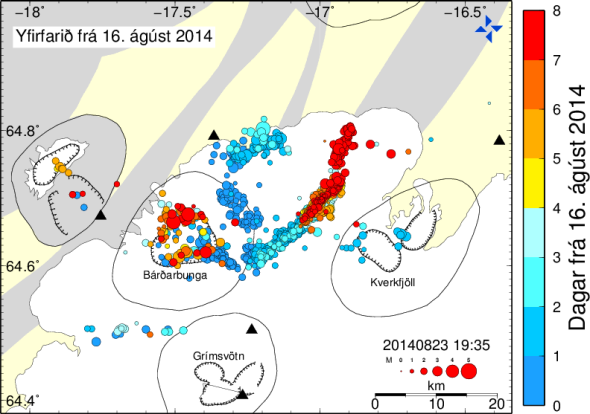 So far, there hasn't been an ash plume or otherwise visible signs of the eruption yet. However, that could quickly change.
In a status report on Saturday, the Icelandic Met Office said lava/ice interaction has now been detected beneath a relatively thin section of the Dyngjujökull glacier, consistent with a subglacial eruption. The IMO estimates the eruption is occurring beneath 100 to 400 meters of ice, and it could be "zero to 20 hours" before lava breaks through to the surface. (The statement was issued at 10 a.m. Eastern.) At that point, one volcanologist says, Bárðarbunga's eruption could become "spectacular."
Here are the most likely scenarios at this point (with help from volcanologist Dave McGarvie, a must-follow on Twitter): With the crust already fractured, it could be a matter of time before magma reaches the surface in large quantities, quickly melting glacial ice and creating a jökulhlaup, or glacial outburst flood. Melted ice could also quickly turn to steam and loft a huge plume of ash into the stratosphere:
On the other hand, if only a small amount of magma reaches the surface, there may never be a visible sign of this eruption on the surface:
A worst-case scenario, a major fissure eruption, could continue for months and permanently change Iceland's geography:
The Icelandic Met Office estimates about 250 million cubic meters of magma have filled a subsurface dyke, similar to the Eyjafjallajökull eruption of 2010. (That was the eruption that majorly disrupted air travel.) It's still very uncertain how much of that may come into contact with the ice or reach the surface, or how quickly the eruption will progress. The good news is that upper level winds aren't currently very strong over Iceland, and, according to an afternoon run I performed of an ash trajectory model, ash from Bárðarbunga would affect only a small part of northern Europe.
On Saturday afternoon, I reached University of Iceland anthropologist Gísli Pálsson by phone in downtown Reykjavik to get a sense of how Icelanders were taking the news:
It's interesting. No one has actually observed the eruption so far, but all the complicated models from the geologists and the data from earlier events indicate that an eruption has actually happened.
Everyone is on alert, but there is no panic. There could be a major thing brewing, the scale of the boiling lava down there is massive. It's big scale.
A live webcam from Bárðarbunga is also available, should the ash cloud break through the ice later today.
For more on Bárðarbunga's history, read my Future Tense post from Monday.