Remember when Twitter was dying?
That was last quarter, when its earnings report showed that it was growing somewhat more slowly than analysts had expected. Clearly, eulogies were in order. (For those not fluent in tech-pundit-ese, "Growing somewhat more slowly than analysts expected" translates loosely to "dead.")
Funny thing about businesses, though: They don't necessarily shut down their operations in shame just because some writers feel that they've lost their momentum.
On Tuesday, Twitter rose from its proverbial coffin to report another round of quarterly earnings, and this time things didn't look half so bad. Not only did it beat expectations for revenue ($312 million, up 124 percent from the same quarter last year) and turn a profit, but the company's key size metrics—monthly active users and timeline views—grew more rapidly than expected.
Suddenly, Twitter is not only alive, it's the hottest stock on Wall Street. Within an hour of the market's close on Tuesday, Twitter's stock had soared 30 percent, from $38.59 to over $50 a share. The chart below is really quite something.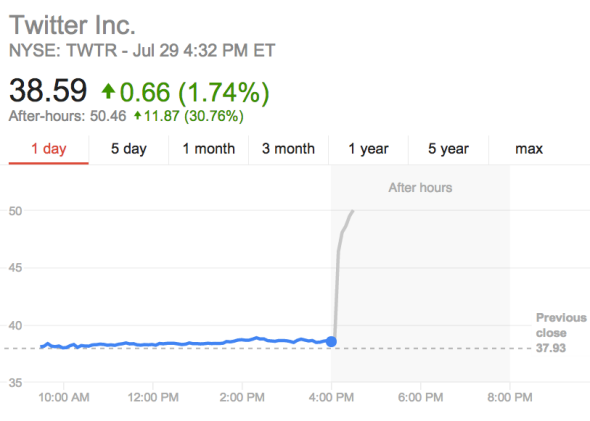 I'd like to say that I sort of predicted this—oh, what the heck, I'll just say it: I sort of predicted this. I pointed out that Twitter is different from social networks like Facebook in that its monthly active users represent only a portion of its true audience. In some ways, it's more like a media platform, connecting celebrities and publishers to their followers and fans—including many who don't actively use Twitter themselves. As such, I proposed that "unique visitors" might be as important a metric to Twitter as "active users." And the former number is much larger than the latter.

Earlier this month, the Wall Street Journal reported that Twitter would in fact unveil "as many as four new metrics that it hopes will illustrate its reach beyond the 255 million users that log in at least once a month." But Re/Code's Peter Kafka clarified on Monday that those metrics weren't yet ready for primetime.
As it turned out, Twitter did so well on its existing metrics last quarter that there was really no need for new ones. That may be partly because last quarter brought the World Cup, which shattered Twitter's records for user engagement. Insofar as Twitter functions as a real-time news service, big news events bring a flood of attention to it, which fuels long-term growth. CEO Dick Costolo also credited some user-friendly recent changes to the site, like its new profile pages, for helping to bring in new users.
Still, on a call with investors Tuesday, Costolo emphasized that Twitter's reach is much greater than its active-user numbers reflect. There are, Costolo said, "hundreds of millions of additional visitors who come to Twitter each month but don't log in." Therefore, he added, "the size of our audience is two to three times that of just our monthly active user base."
For now, Twitter is not focused on making money from those additional visitors, the company's leaders said. But down the line, it will almost certainly find ways to serve advertisements to people who view tweets or timelines even when they aren't logged in, as YouTube already does. It will also run a number of experiments designed to make the site more inviting for new users and for visitors who don't want a Twitter account of their own.

It's clear Wall Street now gets all of this, and Twitter's stock is flying high as a result. It probably won't stay quite this high, but you never know. For now, let's just consider this another reminder that declaring things dead is dead.
Previously in Slate: