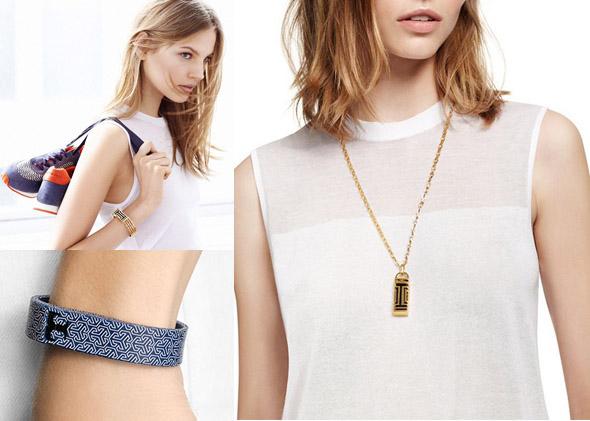 The quest to make wearables attractive continues. On Tuesday Tory Burch and Fitbit announced new designs that are meant to turn the fairly inconspicuous Fitbit Flex into a fashion statement. There's a brass pendant and bangle, plus a silicone band in blue or pink.
The Fitbit Flex comes on a band but can be popped off and swapped into a different casing. The new offerings evoke the Tory Burch aesthetic with strong lines, cutouts, and lots of geometric shapes. A Fitbit Flex is $99.95 and the brass bracelet is $195 while the pendant is $175. The printed silicone bands are cheaper at $38. (All of the Tory Burch accessories are currently in pre-order.)
The pendant seems most successful as a piece of jewelry that you might like whether there is a Fitbit inside or not, but all of the designs were clearly limited by the constraints of the Flex. (I also wonder whether the jewelery will affect data collection, especially when the pendant swings on users' necks, but Fitbit didn't respond to my request for comment.)
As more designers start creating jewelry for wearables, it will be easier to tell when they are actually executing their visions versus releasing whatever they can get to work with a given device. Of course, fashion is subjective, but so far wearables don't seem to be inspiring the next big style trend—they're just trying to keep up. And looking desperate is never in fashion.
Update, July 16, 2014, 6 p.m.: Fitbit sent me a statement about potential false readings from the jewelry. "The Fitbit engineering team has worked hard to develop tracking algorithms that ensure accuracy whether the device is located on your wrist, on your core, or around your neck. Fitbit tested against various use cases and confirmed the accuracy (e.g., steps) with each of the accessary designs (e.g., necklace chain, bracelet)."

---