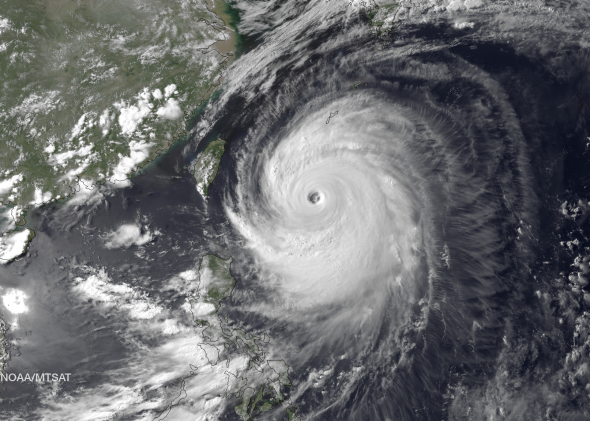 Japan is under threat from the strongest storm so far this year in the Pacific Ocean.
The storm called Neoguri—Korean for raccoon—reached Super Typhoon status early Monday Japan time. It now packs sustained winds of 150 miles per hour (240 kilometers per hour), according to the U.S. Navy's Joint Typhoon Warning Center in Pearl Harbor, Hawaii.
It appears Neoguri will make a direct hit on the island of Miyakojima (which has about 55,000 people) early Tuesday Japan time, battering the shore with waves up to 40 feet high. Japan has issued an emergency typhoon warning—tokubetsu keihō 特別警報—for Miyakojima, the first time such a high-level warning has been issued since a special alert system was introduced last year, according to The Japan News.
Though it should track farther west than predicted in earlier forecasts, Neoguri could also be one of the strongest storms that nearby Okinawa—an island of 1.3 million people—has experienced since comprehensive records began in 1945. The U.S. military began evacuating aircraft on Sunday from the biggest Air Force base in the Pacific in preparation for the storm, which Brig. Gen. James Hecker said would be the strongest typhoon to hit the island in 15 years. In a message to Kadena Air Force Base on Saturday, Hecker said simply: "This is not just another typhoon."
The storm will impact the Japanese mainland later in the week, making landfall near Nagasaki around midday Wednesday as a still-intense storm bearing sustained winds of 125 mph (200 kph), and passing over most of Japan during the following 24 hours as it weakens. The storm is forecasted to still be close to typhoon strength near Tokyo on Thursday afternoon. Heavy rain, coastal storm surge, and mudslides are expected to be the primary risk.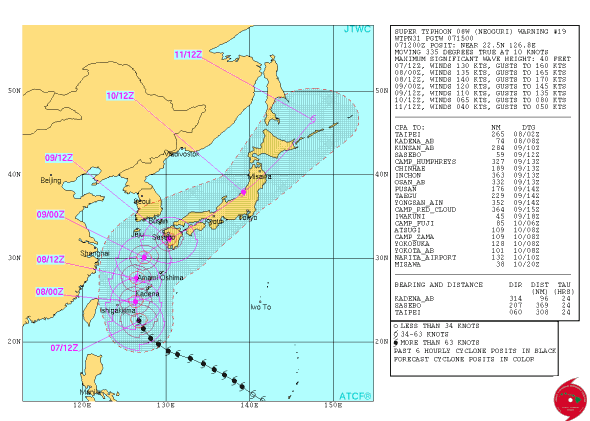 Earlier in its life, Neoguri strengthened from Tropical Storm to the equivalent of a Category 4 hurricane in less than 24 hours over some of the warmest waters on Earth, east of the Philippines. Hurricane and Typhoon are different names for the same phenomenon: an intense ocean storm that draws its energy from warm water and a core of rotating thunderstorms, typically more than one hundred miles wide.
Believe it or not, it could have been worse. Early forecasts for Neoguri were simply monstrous: The Euro model, consistently the most accurate at forecasting tropical systems, at one point forecasted the storm to deepen into one of the most intense ever recorded in the Pacific and for its circulation to swell to hundreds of miles across.
The huge size forecast has proven accurate, with meteorologists making comparisons to 2012's Hurricane Sandy, which devastated parts of the U.S. East Coast:
On Saturday, Astronaut Reid Wiseman captured a stunning view of Neoguri from the International Space Station:
However, despite an impressive appearance from space, the storm has had trouble maintaining a persistent ring of intense thunderstorms in its eyewall over the past day or so, a sign that a weakening trend could be approaching more quickly than anticipated.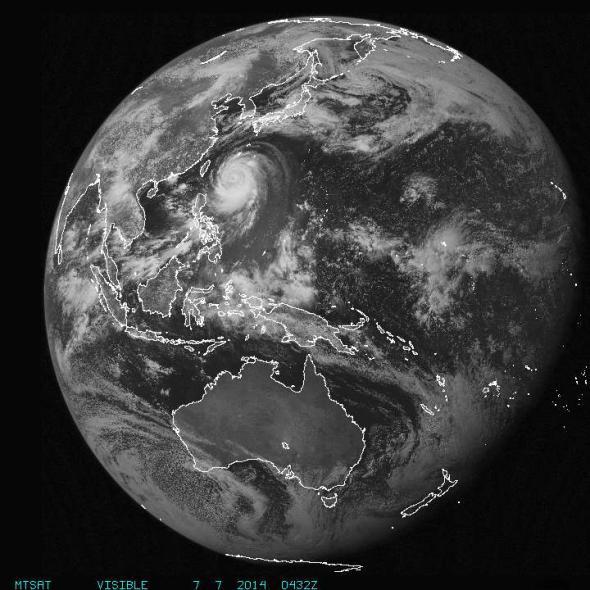 ---