A female octopus will defend her eggs to the death—literally. In species that live in shallow water, the mother guards a den where her eggs are clustered. An open-sea octopus carries her eggs in her arms, protecting them as she drifts through the water. And deep-sea octopuses shelter their eggs while perched in one spot. A new study shows that she may stay there for years.
Researchers observed one female watching over her offspring for almost four and a half years. That means the deep-sea species Graneledone boreopacifica has officially become the longest known brooder in the animal kingdom. She pays the ultimate price, wasting away until she dies protecting her young. But the reproductive payoff is in her octopus prodigies: Hatchlings of this species are the largest and "most developmentally advanced known" among octopus, giving them an upper tentacle in the evolutionary game of survival.
The marathon brooder chose a rocky outcrop 1,400 meters deep in the Monterey Submarine Canyon off the coast of central California, a popular spot for her species, according to a report in PLOS ONE Wednesday. Researchers from the Monterey Bay Aquarium Research Institute, led by Bruce Robison, took a remotely operated vehicle down there in April 2007 and found a single female octopus with distinctive scarring heading toward the rock. When they dove again a month later, the same octopus—identified by her scars—had taken up residence about a meter above the sea floor on the rock, where she guarded a clutch of eggs. They measured about 1.5 centimeters long by 0.5 centimeters wide, like a large pile of white, translucent Mike and Ike candies.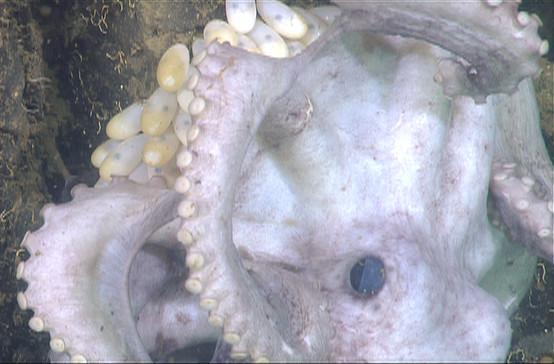 Every few months the researchers checked in on the brooding mama while she gradually deteriorated. She started out with a "highly textured and pallid purple" mantle, but it paled to near whiteness once she began guarding her clutch. Her plump, round body gradually deflated, her skin went slack and lost its texture, her eyes grew cloudy and her tentacles lost their color. Tasty crabs and shrimp ventured by, but she just shooed them away from her eggs when they got too close, never having a snack. The scientists even offered her pieces of crab with the vehicle's robot arm, but she ignored them. If she ever ate, they never saw it.
At 40 months, three quarters of the way into her brooding, the outlines of the baby octopuses inside their eggs were clear. By the last time the researchers saw her in September 2011, the eggs had grown to the size of Brazil nuts. On their 18th dive a month later, she was gone, leaving behind about 160 empty egg capsules. She had spent 53 months brooding her eggs, almost four times the longest octopus brooding time previously recorded, in the species Bathypolypus arcticus. Though elephants gestate for up to 21 months and frilled sharks carry their embryos up to 42 months, the only other creature to come close to this duration is the alpine salamander, which gestate their young up to 48 months.
Why so long? Two reasons: It's cold down there, and growing such fully developed miniature octopuses takes time. The temperature at her brooding spot ranged from 2.8 to 3.4 degrees Celsius, and for cold-blooded animals, the time it takes for the embryos to develop is inversely proportional to how cold it is. The longer development time also allows for bigger eggs so that the hatchlings can take care of themselves immediately after emerging.
The tricky part for the mother is determining how many eggs she can lay against how long she can stick around to keep them safe. An octopus mother's death around the time her offspring hatch represents a balancing act: She must survive long enough to protect her eggs until they hatch, but if she lives much longer past their send-off, that means she could have laid more eggs. The more closely her death and the hatchings are timed, the more accurately she projected how many eggs she could lay compared to how long she could safeguard them, though the mechanism for this coordination is not known.
What remains a mystery is how the mother takes care of herself as she broods. Although her metabolism doesn't require much energy in such cold temperatures while she remains sedentary, it's still not clear how she survives so long without appearing to eat. She might have nibbled on nearby animals, such as crabs that threatened her eggs, while the researchers were away, or she might have fed on unfertilized or diseased eggs as some other octopus species do. However she did it, the time she spent brooding exceeded what biologists knew octopus life expectancy could be.