With less than 36 hours remaining before Tropical Storm Arthur makes its closest approach to North Carolina Thursday night, I'm not going to waste any time:
If you're in the North Carolina Outer Banks, you should seriously consider evacuating today. Here's why.
A hurricane watch and tropical storm warning are currently in effect for much of the North Carolina coast. In a Wednesday morning press conference, N. C. Gov. Pat McCrory said, "don't put your stupid hat on", urging those in North Carolina not to lose sight of the approaching storm. As of its 11 a.m. update Wednesday, the National Hurricane Center's official forecast had Arthur passing less than 30 miles off the coast of Cape Hatteras as a medium-strength Category 1 hurricane during the early hours of July 4. That's well within the historical 100-mile margin of error for a 48-hour forecast from the National Hurricane Center. To be safe, those in the Outer Banks should prepare for Arthur to make a direct hit.
Computer models are nearly unanimous that Arthur will maintain hurricane intensity during its entire trek past North Carolina. A few models show the storm nearing Category 2 before landfall. Arthur will be straddling the warmer-than-normal Gulf Stream its entire path from Florida to North Carolina, which boosts the odds of rapid intensification—something forecast models have a hard time capturing. To be safe, those in the Outer Banks should prepare for a possible Category 2 hurricane.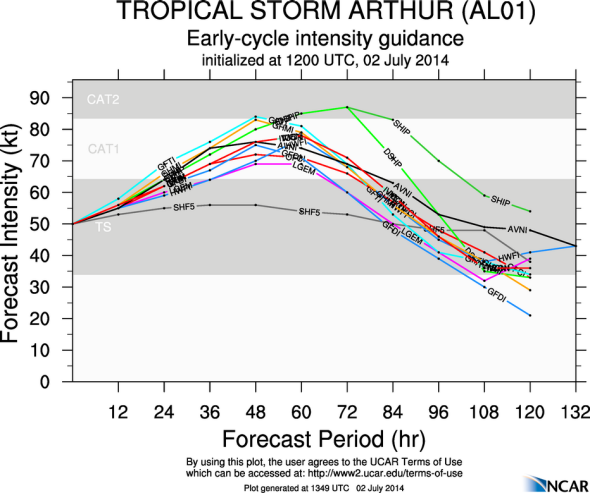 In a reasonable worst-case scenario (defined as a 10 percent chance), the National Hurricane Center's new inundation graphic shows one of the two access points to the Outer Banks (US-56) could get washed out with up to three feet of water due to Arthur's storm surge. To be safe, those who stay should be prepared to be possibly stranded. (You are on a barrier island during a hurricane, after all.)
It's better to be safe than sorry. If you're vacationing on the Outer Banks right now (like 249,999 others are), why take the chance? Since the storm will be a relatively quick mover, every last drop of rain (and even most clouds) should clear out of North Carolina by noon Friday. If the storm's less than expected, you can be back in your beach house in time for the fireworks Friday night. If the storm's worse than expected, you'll be very glad you left.
Despite this, the Dare County, North Carolina Control Group (Dare County makes up the bulk of the Outer Banks) refused to order an evacuation in its 10:30 am update on Wednesday—wrongly, in my opinion. Its reason? An "uncertain forecast." One meteorologist—famous for his early warning during Hurricane Sandy—was puzzled by this explanation:
If anything, the NHC forecast for Arthur has greater than average certainty, though in fairness it is still unclear whether the storm's center will track directly over the Outer Banks, slightly inland, or slightly offshore. Increasingly, it won't matter. In a best-case scenario, the Outer Banks can expect 6-12 hours of tropical storm conditions. In a reasonable worst case, Arthur will inflict a direct hit at Category 2 strength.
Update, July 2, 6:15 p.m.: At 6:05 p.m., the Dare County Control Group issued a mandatory evacuation order for Hatteras Island. There will be no admittance allowed to Hatteras Island after 5 a.m. Thursday. No orders were given for the rest of Dare County, where the bulk of the tourist population is.
For comparison, here's what Category 2 Isabel did to the Outer Banks in 2003:
If they were going to do it, the best time to order a mandatory evacuation would probably have been Tuesday, but that's obviously hindsight now. Since Tuesday, Arthur's official NHC forecast track has barely budged, and the expected peak intensity has actually gone up slightly. As the National Hurricane Center warned at 11 a.m. Wednesday, "any deviation to the left of the forecast track or an increase in the size of the wind field would require the issuance of a hurricane warning."
It's understandable that Dare County officials would want to pose the least inconvenience possible to residents and visitors during arguably the peak tourist weekend in the middle of peak tourist season. But lost tourism revenue isn't worth the risk to lives. (Didn't we learn anything from Jaws?)
The problem is, it may be too late to expect a smooth evacuation at this point. It generally takes 48 to 72 hours to evacuate the Outer Banks, and compliance by year-round residents is typically mediocre at best. Arthur's outer rainbands will begin to arrive by Thursday evening, about 36 hours from when I am writing this. In an attempt to avoid traffic chaos, Dare County may now be locked into its decision.