With the American monsoon season in full swing (yep, there is such a thing), this is the time of year when epic dust storms sweep through Arizona and normally idyllic Colorado mountain streams can turn into raging torrents.
Right on cue, the National Weather Service has been tracking a potential flash flood threat along the Front Range of Colorado for days now.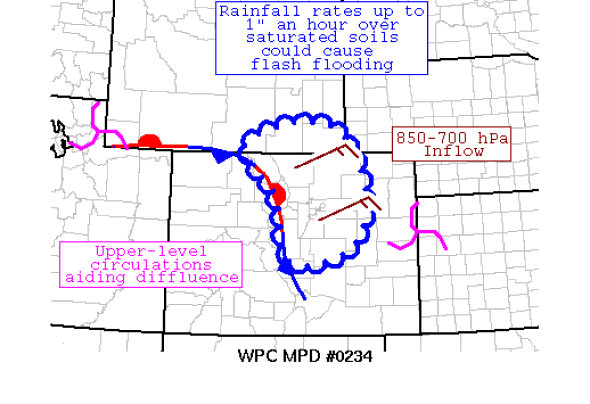 After heavy rain for the better part of two days, totals are starting to add up. Radar estimates and a network of citizen-science rain gauges indicate as much as 6 to 8 inches of rain have fallen in isolated parts of Colorado—half the annual average—though most places have received closer to 2 or 3 inches. On Tuesday, Denver set a new record for that day's rainfall with 1.8 inches, breaking the previous mark of 1.44 inches set in 1989. Weather records in Denver begin in 1872.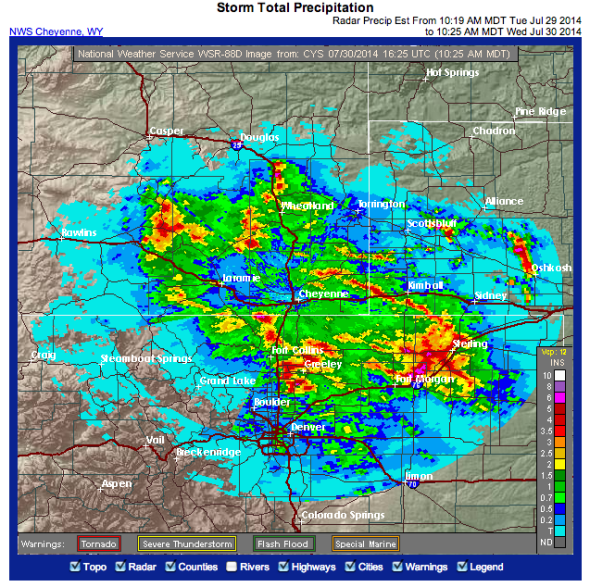 While the current round of flooding probably won't cause widespread impacts, the weather pattern is still packing some hefty moisture content—around the 90th percentile for late July, according to the National Weather Service. Now that the ground is saturated pretty much all the way to Oklahoma, there's nothing impeding all that water from reaching the mountains. The NWS says moderate rains should continue across Colorado "in full force" for the better part of the next seven days or so. Writing on his personal blog Tuesday night, hydrometeorologist Matt Kelsch said the current setup is similar to that which produced epic rains in the region just last year:
The general pattern today, last September, and in other big rain events share some basic similarities. 1) A weak atmospheric disturbance is enhancing mid-level "monsoon" moisture from the tropical Pacific, 2) humid easterly flow in the low levels will bring in Great Plains moisture, and 3) the upslope flow combined with instability will help to turn that moisture into clouds and precipitation.
In an email, he told me that while flooding this time may cause some problems, it's "not on the order of last September."
Although this has been a particularly well-forecasted event, meteorologists are flying partially blind due to the aftermath of record-breaking floods last year. Stream gauges along the Big Thompson River that were washed out by last September's mega-flood are still out of commission. In 1976, the Big Thompson produced the deadliest flash flood in Colorado history. Last year's flood was more widespread and lasted much longer than the 1976 flood.
Forecasting a flood and actually tracking one are two different things. To forecast floods, meteorologists use weather models and rainfall to estimate the probability of a big event happening. But when trying to track floods as they're happening, nothing beats a stream gauge.
And many parts of the increasingly urbanized Front Range simply don't have them. As Kelsch told me in an email, "The gauges were few and far between anyway. And in most small flash flood prone basins, there were never any stream gauges."
Thanks to rapid urbanization (Colorado's population has doubled since 1976) and global warming (a warmer atmosphere holds more water vapor), the risk posed by heavy rainstorms in the mountains funneling their way through narrow canyons and into the urban conglomeration has never been higher.
If this week's Front Range threat is any indication, meteorologists that measure and predict such floods are already having trouble keeping up.