Video games have always been a disproportionately male thing. In the 1980s they were marketed almost exclusively to boys, at the same time that the gender gap in computer science started growing; according to the New York Times, female enrollment in computer science majors dropped even further in the '90s. Just this week John Keilman wrote about sexism in multiplayer online games such as World of Warcraft, while Brianna Wu discussed the harassment and threats faced by female gamers and game developers. Earlier this month Emily V. Gordon wrote about the difficulties of being a feminist gamer, but urged women to stay the course: "Protesting misogyny in gaming by not playing video games is misogyny working."
"[M]en are extremely sensitive to being criticized by women," Wu wrote. And it's gaming and other homosocial worlds where men will feel particularly threatened if women try to join in and try to change the balance. That fear response shows up most acutely when games treat "adult" themes such as relationships and sex.
If you want to behold Exhibit A of this tendency, look back to 2011 to the game Catherine, published by Atlus for the PlayStation 3 and Xbox 360. But you wouldn't have known from the reviews that Catherine was the summation of 30 years of Precambrian game attitudes toward women. As with other major press outlets like GameSpot and IGN, 1UP reviewer Jeremy Parish praised the game's maturity, writing, "Catherine is a game for anyone who's ever feared commitment, dreaded aging, felt their heart stray, dealt with a pregnancy scare, spent long booze-soaked hours commiserating with pals at the local dive bar, or simply questioned the direction their life is going as they close in on middle age."
But the game doesn't confront these issues so much as half-ironically drown in them. Vincent, and the game itself, are soaked in insecurity, indecision, stupidity, and above all, fear: fear of commitment, fear of children, fear of sex, and above all, fear of women.
Catherine is a hybrid platformer/dating sim; its Japanese developer, Atlus, is otherwise best known for the odd, Jungian-inspired Persona role-playing games. (Platformers are Super Mario–inspired arcade games of hopping from platform to platform without falling down; in a dating sim, you play a character who gets to romance different people or, in the case of Hatoful Boyfriend, pigeons.) The women in this case are Katherine (your girlfriend) and Catherine (your mistress). The story isn't very interactive, so it always plays the same way until the end.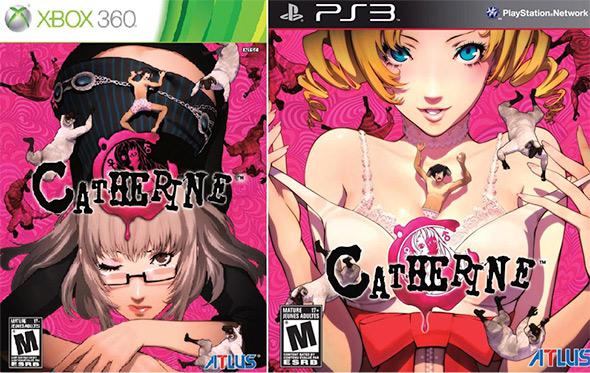 You play Vincent Brooks, who is having serious cold feet about settling down with his career-minded girlfriend of five years, the brunette Katherine. Katherine is finally tiring of Vincent's indecisiveness, and she wants him to clean up his act and settle down.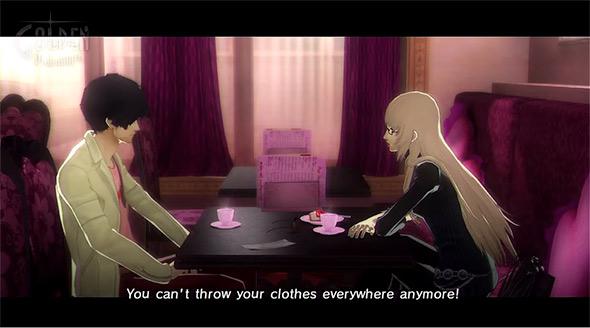 Vincent, who possesses all the spine and articulation of a cephalopod, just doesn't know what to do. His friends shake their head at him, mourning the incipient end of his bachelorhood.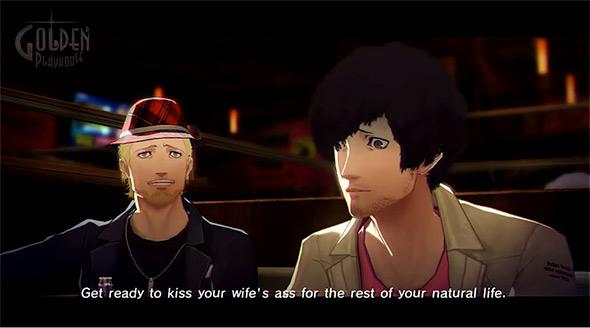 This sets the stage for the entrance of the blond Catherine, a chirpy, fun-loving sexpot whom Vincent meets and takes home. He wakes up the next day naked next to her, remembering almost nothing of the previous night. "But I didn't make a move," he tells himself. "She forced herself on me!" On the plus side, Catherine's not into commitment; she wants Vincent to be free to live his life.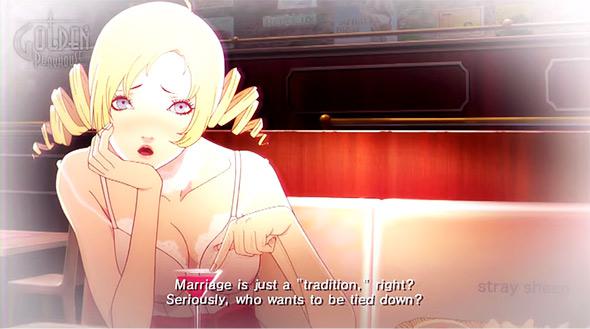 Vincent isn't so sure he likes this. But Catherine, who doesn't know about Katherine, really likes Vincent. Every morning, he wakes up next to her again, though he can never remember actually hooking up. Soon enough, Catherine is stalking him, sending him sexy pictures, and saying she'll kill him if he ever cheats on her. Meanwhile, Katherine tells Vincent she's pregnant. So far, so Fatal Attraction.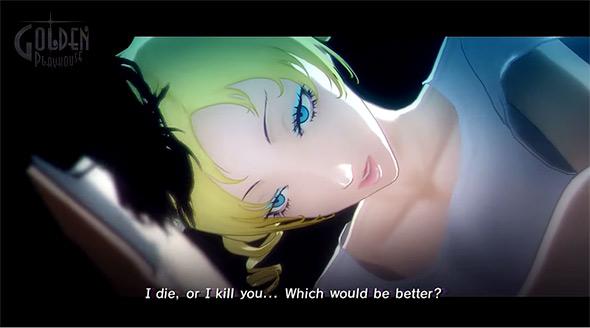 Vincent is less a beta male than an omega male: passive, indecisive, and an inveterate liar. He doesn't want to commit to Katherine; he doesn't want to break up. He lies to Katherine about Catherine. He lies to Catherine about Katherine. (At one point, he gets out of a date by saying "I have really bad diarrhea.") When he finally tells Catherine he already has a girlfriend, she takes it well, but when he tries to break up with her, she beats him up.
Vincent also has trouble remembering things—his trysts with Catherine, and also his crazy dreams in which he's grown horns and is surrounded by sheep-men and has to climb moving blocks lest he fall off and die. (That's the platforming part of Catherine.) A lot of the other men in town are having these same nightmares, too, and a lot of them are dying in their sleep.
As it turns out, Catherine is not really a psycho stalker. She's just following the orders of the bartender at your local watering hole, Thomas Mutton. You see, Mutton is actually the ancient Sumerian demigod Dumuzid, and Catherine is a demon succubus who seduces men by taking on their ideal form.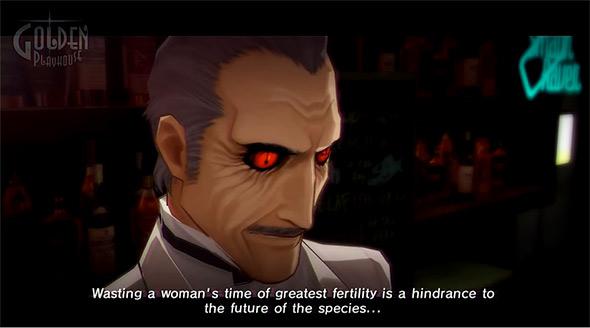 "When there are people like you who spend a lot of time with a partner without commitment," Dumuzid explains to Vincent, "it impedes the population model. So we separate these non-fruitful couples and redistribute the women to men who can follow the natural order."
So, because you wouldn't commit to Katherine and fulfill your biological purpose by having babies, a god tried to break up your relationship by siccing a psycho succubus on you. The upside of all this, though, is that Vincent is innocent! "If the girl doesn't exist, it's not cheating!" he says with great relief. Oh, and Katherine's not pregnant. That was a ruse while she waited for Vincent to confess his affair—which turns out not to have been an affair!—which she knew about the whole time.
The game gives you a choice of three endings: You can settle down with Katherine, live la vida loca with the sufficiently existing Catherine, or stay single and blast off into space (really). If you choose Catherine, you get to co-rule the underworld with a gaggle of succubi at your side. If you stick with Katherine, you maybe get a nice wedding, some kids, and a lot of laundry. It's like having to choose between becoming Han Solo or Homer Simpson.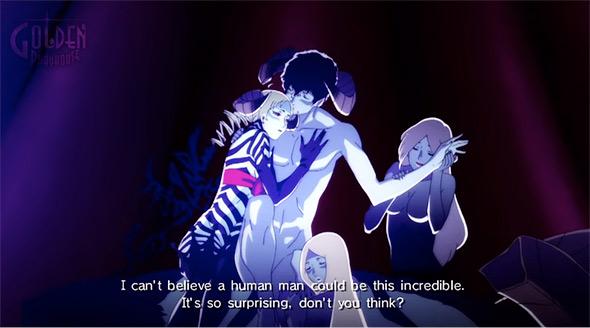 And in the department of having your cake and eating it twice, the game offers a secret, fourth-wall-busting ending for expert players. If you beat the super-hard master level, the game's narrator, goddess of love Ishtar, turns you into a god and has sex with you.
To be fair, the tone is somewhat tongue-in-cheek. Nonetheless, in the game's schema, marriage and children are an abdication of masculinity, autonomy, and selfhood—a journey to a foreign country. The dream world is the only time when the player has control over Vincent's actions, as well as the only time Vincent displays anything resembling competency. The only woman he attracts turns out not to be a woman at all. (And among Vincent's buds, the flirty, free-spirited guy's-girl Erica is revealed to be a trans woman.)
Catherine is, in short, a nightmare portrait of a man totally lacking agency, in which the only thing worse than the gods picking on you is settling down and having a family. It divides the world in half: matrimonial prison reality and male-only video game fantasy. To choose marriage with Katherine explicitly requires you to sacrifice the fantasy life given you by video games. That is to say that succubus Catherine is A) not real, B) a wish-fulfillment fantasy, and C) fine with you seeing other women as long as she's no. 1—in other words, she is video games. Vincent faces a choice between fantasy and reality, but it's also a choice between escapist fantasy and the female gender itself.
Catherine is a bellwether for what tech culture and gaming have come to mean for a lot of men: a safe playspace from the realities that they believe women force on them. Having internalized the critique that video games are escapist fantasies for men, Catherine shows you how superior the fantasy is to reality, then mocks you for taking it seriously. Real gamers, it says, come back to the video game fantasy because they've got nothing else going on—oh, and real women are freaking scary. No wonder, then, that guy gamers often treat the presence of real women in gaming like an alien invasion. Gaming is where men go to escape from women.