Apple's desktop Mail app will be getting three nifty new features when Apple releases OS 10.10, Yosemite, this fall: Markup, which allows you to add circles, arrows, and signatures to attached images or PDFs before sending; Handoff, which allows you to continue an email you first started typing on your iPhone; and Mail Drop, which allows you to send large attachments without worrying about your email server's size restrictions. These are all welcome enhancements to an app Apple has neglected since Lion in 2010. But here are four more that would make it even better:
1. Tags
We all grapple with the great Sisyphean task of keeping email organized. The problem is that email providers and applications force us to work in the limited framework of a folder system, and it's only a matter of time before a modest set of email folders snowballs into a monstrous hierarchy of folders, subfolders, and sub-subfolders. Even with sophisticated inbox rules, just putting an email in the right place may eventually cost more time than it saves. That's why Mail should allow you to tag an email with a keyword on the fly. Until then, MailTags, a third-party Mail plugin, offers this functionality, if you'll hack up $30 for it.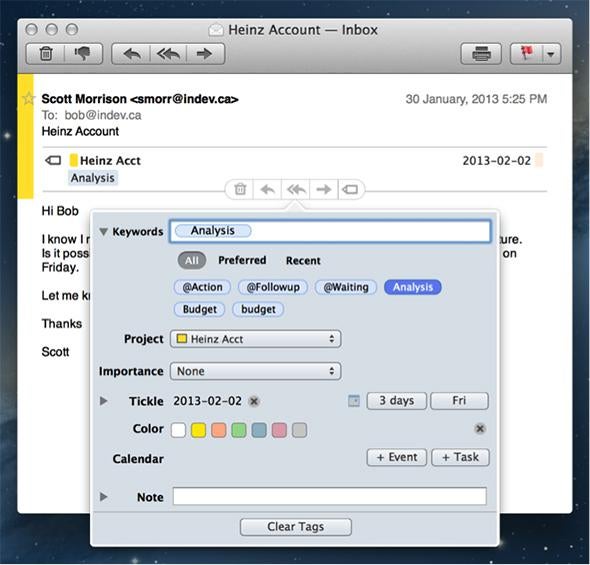 2. Reminders
Let's say that you receive an email that you just can't deal with today—but what about tomorrow, or in a week? MailTags, as well as alternative email clients like Mail Pilot, allow you to seamlessly set reminders on emails so they reappear at the top of your inbox after a specified number of days or on a specified date. It's a way to ensure an email never falls off your radar, even on a busy day when you can't deal with it.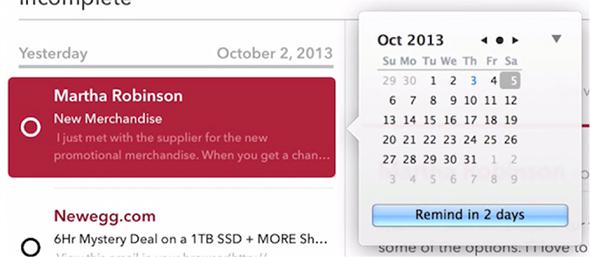 3. Smarter portraits
Mac Mail's inbox is an endless river of Helvetica, a mess of senders and subject lines that becomes harder and harder to parse as the day drags on. Adding portraits to the inbox may seem like a trivial change, but it makes for an experience that is not only more aesthetic but also more efficient. It's no surprise that leaked images of a possible Gmail redesign include inbox portraits. Mail has this option buried in its preferences, but its implementation is not as smart as it could be. You may not see portraits depending on your email provider, and many common senders, like Amazon or Twitter, lack portraits altogether. The result is a bleak column of default portrait icons. Airmail, a third-party mail alternative, cunningly circumvents this problem by fetching the favicon of the sender's domain. The result is more visual diversity, and a more legible, prettier inbox: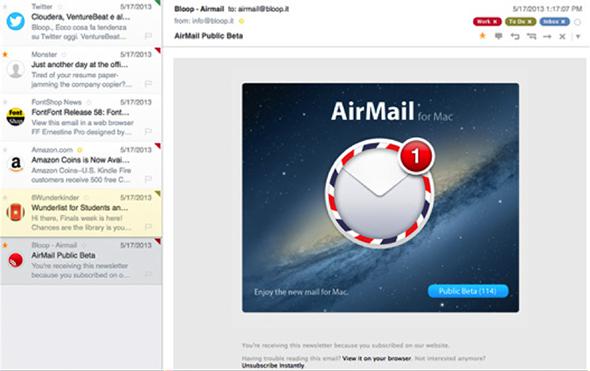 4. Segmented inbox
OK, this last one isn't exactly a killer feature, but it would still be an improvement. Apple Mail's inbox is an unbroken feed of email. Although times and dates are included on each email, it's difficult to quickly recognize where yesterday's emails end and today's emails begin. That's why Mail should make itself a little more like Outlook 365's Web interface and visually separate email received on different days.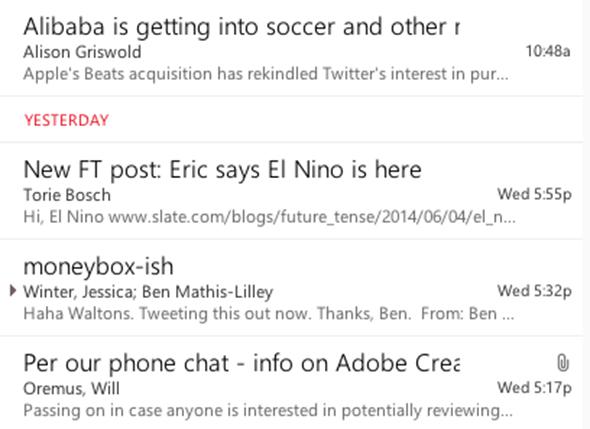 Tiny change? Most definitely. Trivial? Probably, but maybe not if you receive hundreds of emails a week.
With smart mailboxes, a customizable bookmarks bar, and lightning-fast search, Mail is more powerful than many Apple users realize. Still, the application increasingly resembles a dinosaur in an age of Web-based email interfaces. These updates would make it a little more innovative.