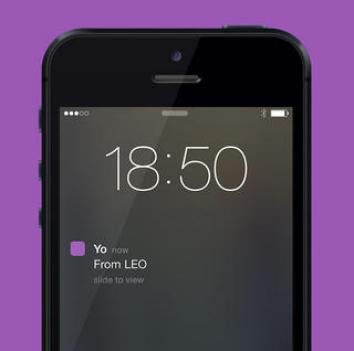 That didn't take long.
Yo, the preposterously popular smartphone app that does nothing but let you send the word yo to people, has been hacked.
A trio of Georgia Tech students told TechCrunch they found a way to grab any Yo user's phone number—"I actually texted the founder, and he called me back," one of the students bragged—or spam people with push notifications, among other things.
Yo founder Or Arbel confirmed the hack to TechCrunch. He added, "Some of the stuff has been fixed and some we are still working on. We are taking this very seriously."
Meanwhile, other images and videos of alleged Yo hacks have surfaced on Instagram and Vine.
None of this should come as a great shock, considering that Arbel built the app on a whim in a matter of eight hours, according to the Financial Times. If there's an upside, it's that the app is so bare-bones that it probably doesn't contain much sensitive information for hackers to exploit, outside of users' phone numbers and perhaps contact lists.

Despite—or rather, because of—its extremely limited functionality, Yo has quickly become a Silicon Valley darling, attracting $1 million in angel funding and earning praise from the likes of venture capitalist Marc Andreessen and Tesla founder Elon Musk. "Yo, best messaging app ever!", Musk tweeted on Thursday. The tweet now appears to have been deleted.
The hack came as Yo had just cracked the top 5 free apps on the iOS App Store, ahead of Snapchat, Instagram, YouTube, and Facebook.
Previously in Slate:
---