In March, I wrote about the appalling state of water conservation in the city that's synonymous with largesse: Las Vegas.
Thanks in part to the epic ongoing drought, the city's main water supply just hit a frightening new milestone low this week. According to Bureau of Reclamation data as of June 2, there's never been so little water behind Hoover Dam since its construction in the 1930s. That's a problem, because Vegas gets 90 percent of its water from Lake Mead.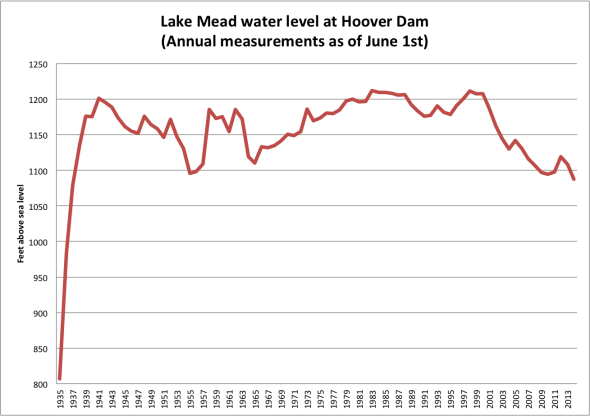 Despite its dwindling water supply, America's driest city continues to push full speed ahead for growth. And that growth is increasingly coming with consequences. An Associated Press analysis this week showed that since 1984 Las Vegas is heating up faster than all but four other U.S. cities, thanks to both global warming and rapid urbanization.
But that's not stopping the city.
Since my article in March, the Southern Nevada Water Authority has launched a pro-business ad campaign with the theme "Water Is Life," showing a drop of water blossoming into a desert topiary that spells out the word JOBS.
From the New York Times:
The focus on desert flora is meant to remind residents that when it comes to landscaping, "we don't all have to look like Lexington, Ky., here," Mr. Entsminger says, a reference to the "wall-to-wall Kentucky bluegrass" that uses up so much water.
"The Mojave Desert has its own beauty," he adds.
Such entreaties not to copy the outdoor look of other locations are "ironic," Mr. Entsminger acknowledges, in a place where "we've recreated New York, we've recreated Paris" as part of casino architecture.
Those measures are necessary if Southern Nevadans want to continue "growing our community in the desert," he says. "Having it be sustainable growth is at the heart of the campaign."
A recent article in the Los Angeles Times dips into the rationale of water use in the desert city:
John Entsminger, the water authority's new general manager, says such seemingly careless spectacles as the elaborate fountains at the Bellagio resort feature recycled water. "The Strip uses only 3% of the region's water but supplies 70% of its economy," he said. "That's not a bad bargain."
"Recycled water" is a term the SNWA uses often to imply progress in the face of the massive headwinds of climate change and just general being-in-the-desert-ness. But recycled water is still water, and its ultimate source is still Lake Mead and the Colorado River, in the case of Vegas. If it wasn't used to water lawns or wow tourists at the Bellagio, it could be used for drinking.
As I wrote back in March, "about 70 percent of the city's nearly maxed-out water diversion from Lake Mead still goes to landscaping." Meanwhile, the city is featuring topiaries in an ad campaign about water conservation.
In its response to my March article, the SNWA mentioned efforts to make water use more efficient in Las Vegas, including its goal to reduce daily water use to 199 gallons per person by 2035 from their current levels: 222 gallons per person per day in 2011. No matter how you calculate the numbers, an 11 percent improvement in 24 years is nowhere near ambitious enough. I applaud Las Vegas for the gains they've made in recent years, but they're still in week two of The Biggest Loser. There's a long way to go before the city can pat itself on the back.
Tim Barnett, a scientist who works on the interplay between climate change and western water issues at UC-San Diego's Scripps Institution of Oceanography, has calculated a 50/50 chance that Lake Mead will reach an unusable state—so-called "dead pool" levels—by 2036, barring aggressive cutbacks in water use.
The SNWA is already planning for this contingency. A new water intake tunnel to Lake Mead is currently under construction, which—when completed next year—will give the city the new ability to suck water from the lake down to the very last drop.