On Thursday Google announced a new initiative to get adolescent girls excited about coding. Dubbed Made w/ Code, the program is a way for Google to provide resources and act as a central body through which groups like Girl Scouts, Girls Who Code, and Black Girls Code can coordinate and advertise programs.
At a launch event in New York's trendy Chelsea neighborhood on Thursday evening, Chelsea Clinton, Mindy Kaling, and women from organizations like Pixar and UNICEF spoke to a group of about 150 12- to 18-year-old girls. The setting was club-like down to the pink-ish mocktails, and dance group iLuminate got the crowd going. The presentation ended with Swedish DJ duo Icona Pop performing a short set that included their hit "I Love It."
Google is investing $50 million over the next three years in organizing events itself and funding programs for Made w/ Code partners. Megan Smith, the vice president of Google's research lab Google[x], explained that the main goal is to use the Made w/ Code website as a portal through which girls can get encouragement, do basic coding projects, and find videos and information about strong female role models who use programming in their jobs every day. She told the girls at the event, "We found out that one of the things that happens with high school girls is they sometimes get discouraged from doing code because no one is encouraging you. Nobody's telling you the value … nobody's telling you why it's so impactful on the world. You couldn't see a lot of heroes."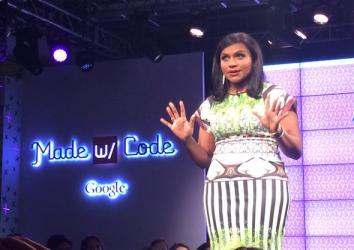 And Smith spoke to parents, too, saying that you don't need to have a technical background or knowledge of programming to encourage an adolescent girl to learn coding skills. "Just tell her she'll be good at it because she will [be]," Smith said. That might be a bit overoptimistic, but the goal of the event seemed to be to show that being a programmer isn't lame or dorky. It's cool, mainstream, and even glamorous. Mindy Kaling was definitely reading from a teleprompter, but seemed enthusiastic enough about being the emcee for the evening.
But for the most part, the teens at the event are already involved. Multiple speakers noted the enthusiastic, high-pitched screams whenever someone would name drop code advocacy groups like Girls Who Code. The bigger question is how Google and its partners will do long term on outreach. But it's unclear how much of that is on Google and how much is on the young generation. As Chelsea Clinton said to the assembled teens,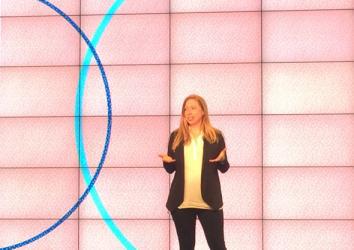 "You're at the front lines of helping to change [things]. … We do need to build a movement, and I'm sorry if there's a lot of pressure on you, but candidly there is a lot of pressure on you, because only if you participate in helping to build a future in which you're coding and you're imagining, and you're doing will all of us benefit."
It was an exciting, high-energy launch, but I couldn't help thinking that the reality of working and trailblazing can't possibly be as glamorous as the party atmosphere of the event. I don't think of improving gender ratios in fields like medicine and law as being fueled by cool pump-up parties.
The strangest thing about the Made w/ Code event was offhand remarks from Kaling, Clinton, and others joking about their ages and implying that they were jealous of the audience's youth. Icona Pop even shouted, "You all look so pretty tonight!" into the crowd. It's difficult to make a totally clean break from traditional societal expectations like the idea that women are more valuable when they're young. But using glamor as a selling point can only go so far anyway. Given opportunities through Google, school, or another source, girls have to decide that they like programming and then pursue it—while everyone else works on thinking of that as completely normal.