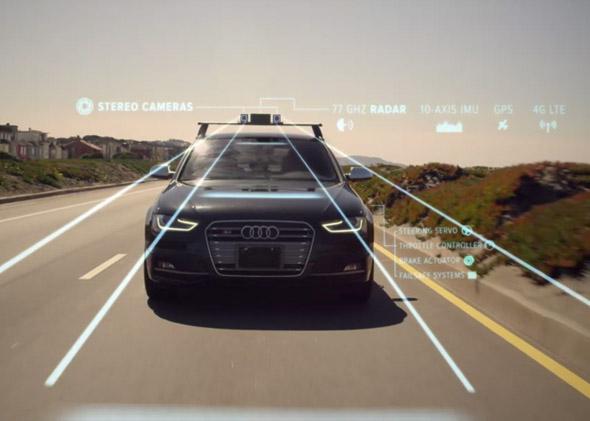 Google made a big splash last month in May by announcing its prototype driverless hamster cars. It was all very exciting. But a consumer debut of self-driving cars from Google or traditional auto manufacturers is still years out. Enter Cruise, a seven-month-old startup that is about to leave everyone in its dust (kicked up by a self-driving car, of course).
This week Cruise opened preorders on its $10,000 kit that converts newer Audi models to have a comprehensive autopilot mode for highway driving. Currently Cruise cars will only be able to drive on highways in the San Francisco Bay Area, because those are the roads Cruise has mapped. Cruise is also only offering 50 preorders right now, though that's also a lot if you think about 50 people taking the plunge and trusting their car/life to this company.
As Re/Code reports, Cruise uses cameras and radar mounted on the car's roof, plus a computer in the trunk that's controlling actuators for braking, steering, and acceleration to make the cruise control happen. Once activated, Cruise can take a car around curves and make judgments about keeping a safe following distance. It also decides to speed up or slow down depending on traffic conditions.
People have been talking about driverless cars for decades, but actual products for autonomous driving are very new and may seem scary. But the idea didn't go from retrofuture to reality overnight. Cruise's CEO Kyle Vogt told Re/Code, "On a software standpoint this is actually a pretty mature field. People have been trying to teach cars how to drive for like 30 years now. So we're just taking the best of that and putting it in a consumer product."
Cruise's first 50 preorders are expected to be fulfilled at the beginning of 2015, and according to Re/Code, most similar companies are looking at a 2016 release timeframe at the earliest. Cruise plans to expand list of cars it can modify, as well as the roads those cars can drive on, but it's still not nearly the most ambitious driver-less car project out there. The difference is that it's ready for market now, and those projects aren't. When you're cruising with Cruise, you don't even need to keep your hands on the wheel.
---