Apple has one. Google has one. Now Amazon has a smartphone to call its own, too—and a surprisingly ambitious one at that.

At an event in its hometown of Seattle on Wednesday, the online retail behemoth showed off the Amazon Fire Phone. It's a 4.7-inch, Android-based smartphone with a high-definition display, a quad-core 2.2 GHz processor, and a 13-megapixel camera. The price starts at $199 with a two-year contract through AT&T, which will be the exclusive carrier. It's available for pre-order today on Amazon.com and will be released on July 25. (UPDATE: The phone will come with one free year of Amazon Prime, which normally costs $99. If you're already a Prime member, you'll get the next year free. For a lot of people, this could be a big incentive.)

But enough specs. The real headliner is a feature called Dynamic Perspective that can alter the perspective of whatever's on the screen based on the angle at which you're viewing it. So if you're looking at a 3-D map that shows the Empire State Building from above, the building not only appears to protrude from the screen, but its angle of protrusion shifts based on the position of your head relative to the display. If the building is blocking your view of what's behind it, you can virtually peer around it.  
The feature is called Dynamic Perspective, and you can also use it to do things like scroll through a carousel of Amazon product images or scroll down a Web page or e-book by tilting your phone. And it has the potential to add a new dimension to games, figuratively as well as literally.
"The key is knowing where the user's head is at all times," explained CEO Jeff Bezos, according to Engadget's live blog.
In the best case, the 3D-like feature could represent a permanent leap forward from static screens and touchscreen-reliant controls that force you to hold your phone in one hand while operating it with the other. In the worst case, they could amount to a dizzy-making gimmick, with your phone's display changing on you all the time, even when you don't want it to.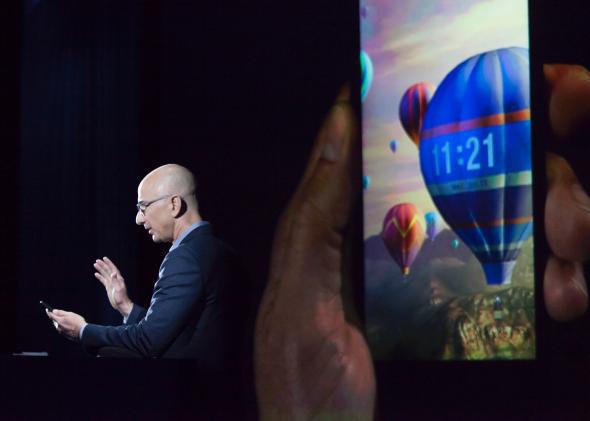 For Amazon's sake, it had better be the former: The company appears to have invested a ton of resources to make this wizardry possible, including not one, not two, not three, but four front-facing cameras, each equipped with an infrared light. Amazon also had to train its software to become expert in facial recognition in order to differentiate the user's head from the other objects in its cameras' view. And it risks creeping people out by building a device that is essentially staring them in the face at all times. 
In short, Amazon has built a phone that could either be wondrous or disastrous. It's a surprising move from a company that has tended to view hardware chiefly as a handy delivery mechanism for its products. While its Kindle e-book reader was a pioneer, its Kindle Fire tablets and Amazon Fire TV set-top box have been more of the "me-too" variety. 
All of its devices are set up to encourage you to buy content from Amazon, whether it's e-books, music, TV shows, or movies. And they're meant to integrate with the company's cloud services and Amazon Prime features, including its recently announced music-streaming service, Amazon Prime Music. The Fire Phone is no exception. It will offer free unlimited photo storage and on-demand videos through Amazon Prime Instant Video. "People use their phones more and more to watch video," Bezos said. "We have made video awesome on this phone."
As with the Kindle Fire, the Fire Phone will also come with Amazon's slick tech-support service, Mayday, which connects you with a real person via video chat whenever you need it. And it has a new feature called Firefly that can recognize bar codes, songs, works of art, and even TV shows via the phone's camera and/or microphone and pull up information about them within a second—so that you can then (you guessed it!) buy them on Amazon. It's like Google Goggles for shopping addicts.
Firefly is just the kind of feature you'd expect if Amazon's goal were simply to build a serviceable smartphone that integrates seamlessly with its retail offerings. Dynamic Perspective, however, suggests the company is aiming higher. If it's a hit, the Fire Phone could soar above the competition. Or it could go down in flames, Icarus-style, a monument to Jeff Bezos' hubris.
You can read more about the phone's features, pricing, and specs on Amazon.com.