When she patented her "backless brassiere" in 1914, Mary Phelps Jacob would probably have found the notion of her now ubiquitous undergarment being sold at Victoria's Secret a bit odd. She didn't have much success at making a business of marketing her wares and sold the patent for $1,500, or about $21,000 in today's terms. (The American lingerie industry had revenues of $12 billion last year). But we have Jacob to thank for subsequent decades of freer dress, the myth of the bra-burning that no doubt pushed up the feminist cause, and wonder-bras (patented in the United States in 1941, though invented by a Canadian company).
It is the misfortune of quotidian but important things to go un-fêted. Though many of us may not know it, we walk out our doors dressed by the fruits of American intellectual properties. Anyone wanting evidence of this country's curious (and at times outlandish) ingenuity need look no further than the patented products on offer for the female form.
Some inventions were to improve comfort, while others care only to flatter vanity. The bra had utilitarian purpose from the beginning: "To provide a garment in which a number of features of novelty and utility are combined," read Jacob's original patent. A pre-bra predecessor, invented by Marie Tucek in 1893, purported "to provide a new and improved breast supporter"—a truly timeless endeavor—but also, "to be worn more principally with loose dresses of the so called empire style," popular at the time—a more transient mission.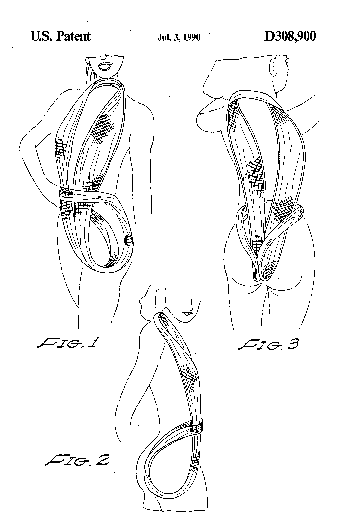 The thong, on the other hand, is all for show—whether for the discreet to present a seamless backside, or for the more daring to flaunt a cheeky pertness to the sun. Rudi Gernreich, an Austrian-American fashion man, designed and patented a thong for that particular use in the 1970s: He was, in part, protesting a ban on nude beaches. But the patent proved too hard to enforce, and no arrears are owed. Thanks to that, the one-piece body thong could emerge, ready to wrap around the body like a tortured Mobius strip, in 1990. Borat, I'm sure, was grateful.
Compared with the bra and the minimally dressed up gusset, pantyhose seem distinctly dull. Few women wear them now, though those familiar with Spanx, a miraculously minimizing midsection squeezer (the first patent filed in 2001), might know that Sara Blakely, its inventor, owes a great debt to the pantyhose, first patented in the United States in 1958.
Spanx is currently in the midst of a legal battle. Last year, Yummie Tummie, a competitor, filed suit against the company for patent infringement. It promises to be a lively court case—so much so that it has inspired a blog post from the American Bar Association Journal titled "An ode to the Spanx design patent duel." (The dispute also showed up on this season of The Real Housewives of New York City—a more unexpected source for legal commentary). At its debut in the mid-20th century, pantyhose were the subject of similar contention. A case on the subject was heard before no less a personage the Honorable Hiram Widener of the 4th Circuit. (Tights Inc. won.) All stomach-gripping stuff.
Some of the most important fashion inventions are things not meant to be seen, like zippers—patented by Whitcomb Judsonin 1893, originally as a shoe fastener—or Velcro closures. Clothes are occasionally patented (under either a design patent or a utility patent), but insiders lament that crimes of fashion are too frequently being committed because designers underuse this form of protection. Garments are more likely to be trademarked or copyrighted, but those offer fewer yards for intellectual property coverage.
There is something to be said about the economic benefits of foregoing those rights. Patent leather, a treatment method popularly used to make purses and fancy shoes shine, sounds like a misnomer, as it was never patented. A clever tinkerer named Seth Boyden came up with the process in the 1810s after witnessing French artisans smooth leather with a glaze, and seeing a stiffened German leather helmet. The "patent" in patent leather means the varnishing and drying process, not a registration with the U.S. governmental office. Tanners in Newark, where Boyden lived (and enjoyed success as an entrepreneur before patent leather) copied his work. Brad Tuttle's history of the city notes that by 1837, Newark was "home to 155 patent-leather manufacturers" and a few decades later produced 90 percent of the patent leather made in America.
But other items are plenty subject to patents. If you decide to dab a splash of color to your lips before rushing out, you might stop to reflect that the lipstick tube, twister, and case are all things that have been patented—some, several times. (A fun Harvard Law School paper on the legal history can be found here: Kudos to the student who picked the subject.) And, as we are now entering summer, you might choose to get your hair off your neck by tying it up with a scrunchie, patented in 1987. This might be more likely, I am guessing, if you are a millennial nostalgic for your '90s girlhood. (But as my colleague Amanda Hess recently reported, the scrunchie is not back.)
The point is, grandees named Christian or Yves or Valentino are not the ones who do the most for a woman's routine fashion ministrations. High street's pricey exclusivity has nothing on what creativity holds together the wardrobes of the everywoman. The U.S. Patent and Trademark Office granted 302,948 patents last year. No doubt one or two among them will be items that, in time, will become part of the standard issue of daily dress.